Cycling Adventures
75.4 Miles Of Hellish Ecstasy - Enervating Beginning
Editor's Note: Some of the names contained herein are fictitious. If you think you recognize any of the characters as being yourself or anyone you know, you are sadly mistaken. Especially you, Chuck and Nancy.
Do you recall your first real bicycle ride? Not necessarily the first in terms of chronology, but the one that was the defining experience in your progession from "bicycle rider" to "cyclist"?
For Debbie and me, that ride came in 1984, on a seventy-five mile circuit known locally as the Fort Davis Loop. (You can read about this route in more detail in Andy White's book, "The Best Rike Rides In Texas". In doing so, you will note that he classifies this route as a "classic," the most difficult rating in his system. Unfortunately for us, Andy's book wasn't published until 1995. Click here to see a simple map of the route.) If you were paying attention, you will recall that we had been led into cycling by Glen and Coleen. After a few months of block-circling and neighborhood-touring, we knew we were ready for bigger things. Thus, when another pair of cycling friends (let's call them, say, Chet and Natalie) suggested tackling Fort Davis, we jumped at the challenge.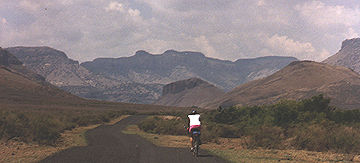 Pedaling along on a later - and happier - day
We carefully planned and plotted our ride, and eventually settled on the following detailed approach: (1) drive to Fort Davis, (b) ride the loop, and (3) drive back to Midland. In hindsight, we possibly should have inserted step (0), ie. ride about a thousand more training miles before step (1). But hey, we were young (sorta), we were smart (compared to tree moss), and most of all, we were proud (an awfully temporary condition, as it turned out).
We rendezvoused at the town square around nine on Saturday morning and began unloading the bikes. Chet pulled Nat's mixte-framed bicycle and his Easy Racer recumbent out of their van while I unloaded our nearly new Fuji touring bikes from the car rack. We knew that there was no water on the route and so Chet had made special provision in the form of a 2.5 gallon plastic jug strapped to his rear rack. The rest of us each had three full-sized bottles in cages.
We mounted up and set out before ten, heading southeast. We would ride the loop clockwise, meaning that we wouldn't encounter the real hills until the fifty-mile mark. But, we figured, that would give us time to get good and warmed up.
We made quite a caravan, with our mix of bicycle styles, oversized helmets (this was 1984, remember?) and fifty pounds of water distributed among various containers. We were less than stylish, for a group of cyclists...not a trace of lycra among the four of us.
The weather was cooperative, the crisp high-desert air initally overcast but giving way quickly to blue as the winds swept it clean. Ah, the winds...more about them in a minute.
The first twenty-five miles went by slowly. Nat managed two flats, and the route had a gentle but steady incline which allowed no pedalling breaks. By the time we stopped for lunch, we had made only about thirty miles - less than halfway - and we were starting to do a little second-guessing.
But, fortified by our nutritious repast (little cans of tuna, crackers, some cheese..."carbohydrates? We don't need no stinkin' carbohydrates!"), we set out once more, almost like we had good sense.
Yep, we set out...right into the teeth of your standard issue Texas-style southwest wind. Hills are nothing compared to wind; at least you can coast down 'em. But wind? No, there's something downright sinister about wind, the way it makes you pedal constantly, continuously. Sometimes, it makes you pedal downhill, and your mood alternates between raging anger and piteous despair because no matter what you try or how you plead, the wind JUST WON'T GIVE IT A REST!
Not that we were complaining, mind you. No, we had other things on our minds...like we were now less than forty miles into the route, it was early afternoon and our riding partners were fading fast. We knew that the most challenging part of the ride lay ahead of us, and that we were probably in over our heads. We made a tough decision...we agreed to split up.
Debbie and I would take the keys to the van and ride ahead, trying to make it back to Fort Davis before dark, and return to pick up Nat and Chet...who would continue to ride on at whatever pace they could maintain.
As we slowly pulled away from our friends, Debbie and I were lost in our private thoughts. "Will they be OK?" "Are we up to this responsibility?" "Will we have time for a cheeseburger at the drugstore before we come back for them?"