Cycling Adventures
The Vacation That Almost Wasn't
We had been
looking forward to our Colorado vacation for months. Our one-year-old
Ryan Duplex
(recumbent tandem) was loaded on a modified Thule tandem rack atop our new Dodge Durango and we were set to explore the many miles of bike paths in Summit County, including the Frisco-Vail route that had always looked so enticing from the interstate.
It was Saturday afternoon when we pulled into the La Quinta parking lot in Amarillo for a night's rest before completing our journey. My Lovely Bride ("MLB") pointed out the 8' clearance sign on the covered entrance and asked if that was enough for us. "Sure," I replied, as I confidently eased under it.
Well, you can probably guess the rest of the story. We heard a sickening "thump," then I reinforced my rapidly growing reputation as a dimwit by immediately backing out, thereby generating another, even louder reverse "thump." Without getting out of the car, I knew things were bad.
My visual inspection confirmed the worst. The stoker's right seat frame tube was severely bent, but probably salvageable. However, the damage on the right seat tube was worse: the cromoly tube was completely parted, and obviously irreparable.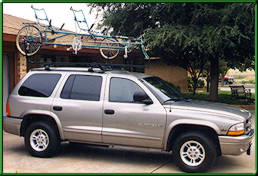 Our Duplex in pre-trip condition...ready to travel,
but, apparently, not to duck...
Our vacation plans flashed before my eyes. We had intentionally left the mountain bikes behind, planning to spend as much time as possible on the tandem, which was now unrideable. (To add insult to injury, this bike was our 25th wedding anniversary gift to each other in 1998.) There was no hope of finding a replacement seat at a dealership, as tandem recumbents don't exactly grow on trees. What a predicament!

Well, I reverted to the behavior that men have employed since the beginning of time when confronted with stressful situations of their own making - in other words, childish, immature and absolutely useless railing at the inanimate objects and blind fate that conspire against us. Meanwhile, MLB set about in that maddeningly logical manner unique to members of her gender - in other words, to fix things.

She hauled out her laptop computer quickly located the website for the new manufacturer of our recumbent. It seems that Ryan Cycles, which was located in Massachusetts, was acquired by Longbikes last year. It also seems that Longbikes is located in - of all places - Littleton, Colorado, which just happened to be on our route to our final destination, Keystone. Hmmm...interesting.

She also found an e-mail address on Longbike's website, so she transmitted a pitiful message describing our plight and sent it off, along with our hopes. At least, we thought, we could perhaps drive back to Littleton from Keystone later in the week and see what could be done.

To say we spent a fitful night in Amarillo would be a gross understatement. We got an early, grim start the next day (Sunday), praying for the best but fearing the worst. It was hard to concentrate on the scenery during the morning drive, thinking about our situation.

We stopped for lunch in Trinidad, Colorado, just north of the New Mexico border. We had no sooner gotten back in the car to resume our drive when our cell phone rang. The voice on the other end belonged to none other than Greg Peek, president and founder of Longbikes! Greg said that he didn't always check his e-mail on the weekend, but happened across our message and wanted to help. He offered to meet us at the Longbike factory - today! - and see what he could do. Remember, this is a Sunday afternoon we're talking about, not exactly "regular business hours," at least not for a bicycle manufacturing facility.

To make a long story shorter, we met Greg at Longbike's unassuming but immaculate facility. He pulled into the parking lot in his Dodge Durango (!) and his first words were "so that's what my bike looks like on a Durango." He and his well-mannered golden retriever, Rose, escorted us onto the shop floor, where he quickly picked out a replacement seat frame and some mounting hardware that had been damaged. He also took the time to show us some new features on the bikes they were now making. He took our credit card number and contact information, wished us a good vacation, and we were back on the road in less than thirty minutes. Our vacation was saved!

An important postscript to this story is that the Longbike invoice was in our mailbox when we returned home. The price charged for the equipment was significantly less than we expected (and significantly less than we would have been willing to pay!)... and Greg had even looked up the Dupont Imron code for our custom-painted frame in case we wanted to have the new seat frame painted to match!

We can't thank Greg Peek and Longbikes enough for the courtesy and help provided to us at a very desperate point. We have a substantial financial investment in our tandem (even without the replacement parts!) and it's very comforting to know that the excellent service previously provided by Ryan Cycles has been maintained and even improved upon by the new owners. If you are ever in the market for a high quality recumbent tandem, we give an unconditional recommendation to the Longbikes Duplex! And, even if you aren't looking for a recumbent (although we can't imagine why you wouldn't) Longbikes also make an excellent conventional tandem.

Also, just in case you failed to catch this subtle point - there is an immutable mathematical law that we would all do well to remember and take to heart:
8' does not equal 8' 2"
P.S. We had a great time bicycling in the Keystone/Dillon/Frisco/Vail area. There are over 100 miles of dedicated paved bike paths in Summit County, traversing some of the most beautiful countryside imaginable. The paths are well maintained (many appeared to have been recently resurfaced) with rest areas with picnic tables and restrooms at regular intervals. We did day trips of 20-30 miles each from our Keystone home base.

The routes range from moderately to very challenging, and if you're not accustomed to the altitude (over 11,000' feet in places), you will want to take it easy for a few days. Also, be prepared for occasionally heavy traffic in the form of other cyclists, pedestrians and skaters, especially in the Lake Dillon area. However, we saw suprisingly few tandems (mostly rental bikes) and even fewer recumbents - and no other 'bent tandems.

We didn't make it all the way to Vail from Frisco, due to bad weather atop Vail Pass, where we turned back, so we still have an adventure to look forward to. That path presented a new challenge to the 10' wheelbase of our Duplex: a couple of tight uphill switchbacks that made us wish our frame was hinged in the middle! Still, we managed to power through them, although we were fortunate that no one was coming the other direction as we had to occupy the entire path to make the curves. There was also a short tunnel just before Vail Pass that was filled with water from recent rains, and this presented a briefly scary moment.

Any of the local bike shops and sporting goods stores have trail guides; the city of Frisco also sells a guide for $3 that is a little more in-depth. These are well worth getting if you are new to the area.