Cycling Adventures
'Bent Double...And Loving It!
On April 16, 1998, my My Lovely Bride and I became the proud owners of a new, jade-green Ryan Duplex recumbent tandem. At that same moment, we also achieved a sort of local celebrity status, among cyclists and non-cyclists alike. That fact alone should be sufficient to give one pause before making the substantial financial investment that accompanies ownership of this machine.

Simply put, if you and your tandem partner:

would rather ride through broken glass than chat with a stranger at a stoplight,
can't stand the thought of the neighborhood kids congregating each time you pull the bike out of the garage,
cringe at the idea that drivers will smile/grin/chuckle/laugh out loud when they see you,
are unable to cope with the fact that cars will actually slow down to pass you on the street...
then this bicycle is not for you. Plain and simple. Go buy one of those boring, glitter-purple titanium Santanas and enjoy your anonymity.

We expected some of this. After all, riding even a conventional tandem in the vast pickup-dominated landscape of west Texas is considered the equivalent of running naked through church, from the standpoint of being something you just don't see every day (at least not where we attend church). So when we started toying with the idea of the recumbent dualie, we sorta figured the "stare factor" was about to increase to some extent.

We weren't even close.

I can't imagine that Lady Godiva got more stares than we do on the Ryan. We've seen grown men risk whiplash from the doubletakes as we pass through intersections. We have literally feared for our safety as passing drivers try to eyeball us in their rearview mirrors, and thus ignore inconsequential things like oncoming traffic, stoplights, etc.

And, boy, is it ever fun!

But I digress. Let's start at the beginning.

We've been riding bicycles for close to fifteen years, and have ridden a Cannondale conventional tandem since 1990. We went the tandem route for the usual reasons: it's a way for both of us to get a good workout and still ride together, and it's a healthy common interest. I also ride a conventional single bike, and MLB is an ardent runner.

The aging process being what it is (inevitable), I began to weary of the pressure point- and unnatural position-related aches and pains of conventional riding, some of which were admittedly aggravated by substantial time spent in front of a computer screen. The more I read about those strange creatures called "recumbents" the more I began to believe that they held the only true promise of world peace and comfortable riding. MLB agreed. Of course, she saw the additional advantage of being able to significantly improve the normal scenery in front of her...that being my south end as we rode north.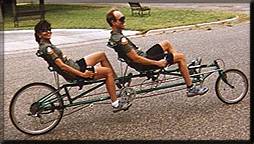 The Ryan Duplex - A true "long bike"
(Helmetless for the camera - don't try this at home!)

So we began in earnest our research. It wasn't long before we had narrowed our choices down to the Duplex and the tandem model built by Rans, with the unfortunate name of "Screamer." The latter is a short-wheelbase, above-seat steering design and is marketed with an emphasis on performance (hence their slogan, "Speed Comes, Pain Goes"). On MLB's top ten list of things to look for in a tandem, speed in sufficient quantities to justify a name like "Screamer" comes in a distant fifty-third. Rans, are you listening?

The Ryan, on the other hand, was pitched with photos of women doing needlepoint from their stoker position, and a quote from an issue of Bicycling Magazine: "this may be the safest and most comfortable bike in existence," or something to that effect. MLB was immediately sold. Plus, the Duplex was the only recumbent tandem we'd actually seen in real life, having ridden a few miles alongside a perfectly contented couple during a tour of the Texas Hill Country last year. To my eye, it looked a little ungainly and unnecessarily complicated, what with miles of chain and a steering rod and enough cro-moly tubing to assemble a fair-sized jungle gym in the backyard.

But, the more we read and thought and discussed, the more the Ryan seemed to be what we were looking for. I contacted the company via e-mail and Karl Ryan (the founder's son) took great pains to answer all of my questions. With amazingly little cognitive dissonance, we took the plunge and ordered the bike. The only hitch in the order process came in selecting a color. We were springing for the optional, extra-cost metallic paint, from which we could select any of the Dupont Imron fleet colors. Assuming, of course, that we knew what those colors were. Ryan doesn't have a color chart, and neither did anyone we could find locally. I ended up describing to Karl the shade of green we had decided on ("we want it dark, but not too dark…"). He suggested we go with the Jade color and the order was placed.

The bike arrived via Fed Ex less than three weeks later, ahead of schedule. I had made arrangements with the local bike shop (Peyton's Bikes) to assemble it, after learning from Karl Ryan that this was probably not a job for a nervous amateur (not his words, but my feeling). After sneaking a peak inside the packing crates, I realized that letting the LBS do the work was one of my all-time better decisions. The bike was shipped with headset, bottom brackets and front derailleur installed, and nothing else. Ryan's printed assembly instructions were sparse, apparently assuming (and ensuring) that experienced mechanics would do the job.

Fortunately, Howard Barbee, the mechanic at Peyton's, was as excited at the prospect of assembling the bike as I was at having him do it. No one at the shop had ever seen a recumbent tandem, much less worked on one, and they were eager to get going. I knew that Howard would treat our new baby like it was his own; as I left the shop, he warned me that he was going to take his time, so I shouldn't get impatient.

Forty-eight hours later, I was wheeling the sparkling, almost-new bike out the front door of the shop. I say "almost new," because a fair amount of mileage had been put on the bike by the folks at the shop testing and dialing it in…all with our blessing of course, because that's part of the reason you pay a professional to do a job like this. Plus, it's one of the perks that comes with being a mechanic!

I knew the bike was something special when Howard's wife, who will not even get on a conventional bicycle, asked me if the Duplex was available in white. She had just returned from a test ride with Howard, and had fallen in love with the recumbent experience.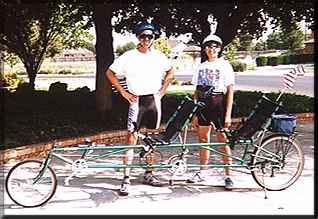 Decked out for a Memorial Day ride
(Notice the flag waving in the breeze?)
Following a quick tour of the bike's features (including how to adjust the seats and steering) by Howard and David Ham, the shop owner, I set off by myself to see if I was up to this new challenge. Holy cow! It was like riding a bike for the very first time. The 20" front wheel and underseat steering combined with the new seating position to make me feel very tentative. I made a couple of laps around the block, then announced that I thought I was ready to ride it home. Despite some interesting route choices necessitated by my inability/unwillingness to make turns of less than about fifty feet in radius, I made it home unscathed, with somewhat more confidence than when I started. Throwing caution to the wind, I invited MLB to join me astride our steed, and we headed off into the sunset, to live happily ever after.

OK, so I got a little carried away. Over the next week or so, we had some embarrassing experiences, mostly related to starts (hint: make very sure you are in a properly low gear before attempting to pull into a busy intersection from a standing start on an incline!) We also had to do a fair amount of positional fine-tuning, since we had no experience and no documentation as to how this bike should fit us. We gradually moved our seats back, and found that it is absolutely critical to rider comfort that the mesh seat bottom adjusting straps be vigorously tightened, more than casual logic would indicate. Interestingly, the addition of clipless pedals was a wonderful move, making us much more efficient in our pedaling, and much safer to boot. And, while the steering twitchiness has not completely disappeared, submission to the natural laws of cycling physics has made us much more relaxed.

One of the concerns we had at the outset, based on our limited research of recumbents, was whether we would be in sufficient physical condition to ride the bike for long periods. As it turns out, those concerns were groundless. The recumbent doesn't so much require the use of different muscles as perhaps a slightly different use of the same muscles, if that makes sense. We experienced a little leg soreness (I even got a hamstring cramp during one particularly hard ride), but in the same areas as you would expect after a hard ride on a conventional bike. I had some knee soreness, but quickly figured out that was due to being too close to the pedals, just like on a conventional bike.

We are slower on the recumbent, vs. our Cannondale. I believe this is due in part to our less efficient pedaling, as we gradually adjust to the new position. It is also due to the twelve extra pounds of weight packed onto the Duplex; it's an honest 52 pounds, with clipless pedals, although it doesn't feel that heavy when lifting it. And, finally, most of our rides thus far have included significant legs into stiff winds, and the 'bent is not as aero as the 'Dale, despite assertions to the contrary by recumbent evangelists.

But you know what? We don't care! It is so cool for both of us to be able to take in the scenery, carry on a normal conversation and pedal without any pressure-point pain, that previously important things like average and max speeds no longer matter much. I suspect the speed will eventually come; we've already made some pretty impressive sprints to beat lights (just to avoid the previously mentioned standing starts!). Another interesting phenomenon is the freedom that comes from not being able to reach the cycling computer (the mounting bracket is several feet in front of the captain). As a result, I was forced to put the computer in auto-stop/start mode, which I previously detested, because it ran even when we were stalling at two MPH for a light change…which really hammers the old average speed. Now that we can't do anything about that, we've found that it wasn't that important to begin with. (Not that I'll ever drop the computer altogether; I can't deny my accountant background and resultant need for data!)

Not that there aren't some negatives that you need to understand. While we don't experience many hills here in west Texas, our favorite rides are in areas like the Davis Mountains and the Hill Country of Texas, and the southern Rockies in Colorado. The 'bent will, I suspect, be a snail on the hills, especially since we're unable to stand on the pedals. Even slight changes in elevation are more noticeable to us than on the Cannondale. Another practical consideration is the lack of places to mount conventional bags, packs and cages. The latter is easily solved with the use of CamelBak-style systems, which can be strapped to the backs of the seats; you can also use a fanny pack style system around your waist, turned to the front, of course. The installation of a rear rack and bag solved the problem of not being able to accommodate a handlebar or seat bag.

The ride is a little less smooth than on our Cannondale, which is a little surprising considering the natural cushioning of the sling seats. My guess is that the laid-back seating position eliminates some of the advantages of the unconscious shock absorption of your back, arms and shoulders in the conventional, bent-over position. However, the ride characteristic difference is not uncomfortable or tiring; it's simply something that you note, then move on. In fact, we notice the difference most when we're conversing on rough roads, in the slight vibrato in our voices. It's worth noting, however, that on the 'Dale, on those same roads, we most likely wouldn't feel like talking to begin with.

Finally, there's the obvious transportation problem that is inevitable with a ten foot long bike. We elected to forego the $600 S&S coupler option; instead, I extended our Thule cartop tandem carrier using two lengths of square tubing. This arrangement works very well, although it requires both of us to load onto our Durango. I do recommend the Thule carrier, which has a V-bracket and clamp which attaches to the rear quick release, and a standard fork mount up front. It's high dollar and may be hard to find, but like all Thule products, in my experience, is well-made and worth the money. It's also easy to lengthen without having to make permanent modifications that would make it unusable for a conventional bike. Although at this point, I can't figure out why we'd want to take a conventional bike anywhere... and leave the Duplex behind!

In summary, we feel that we've made an investment that will pay dividends for many years to come. I'm not naïve enough to suggest that a recumbent tandem is the key to world peace, as I previously mentioned, but anything that brings smiles to so many faces - participants and onlookers alike - has to be a step in the right direction!
---
Notes: The Duplex is no longer being manufactured, but Longbikes of Littleton, Colorado builds a similar model called the Gulfstream; it actually evolved from the Duplex. Ryan Cycles is no more, although Dick Ryan is still active in the recumbent world.

We are now (2010) exclusively recumbent riders, although I keep an old Cannondale mountain bike for occasional around-town errands. A dozen years after writing this report, the Duplex continues to be our favorite bicycle of all time, and we ride it every chance we get. It's showing its age, but we should all age so gracefully.