The local Destination Imagination teams competed at the state level a couple of weeks ago and did very well. Here's a report from Cindy Hammond, proud mom of one of the participants (and here's the back story, via the MRT):
The Midland High School level team … ended up taking 2nd at State and are advancing to the Global levels held at the Univ of Tenn in May. A 5th grade team also took 2nd place in the elementary division and is going to Globals as well. All 4 Midland teams received medals at the State tournament. The two 6th grade teams that went received a 5th & 4th place medal. So, it was a good day all around. I will point out that the High School team is made up of 9th graders from Midland Freshman, Lee Freshman and an 8th grader from Abell Jr. High. They competed against 15 other teams in the High School division (9-12 grade). So we are quite proud!
The High School team also won a Renaissance award. The Renaissance Award is for demonstrating extraordinary amounts of effort and preparation, or outstanding skill in engineering, design or performance. (I had to look this one up on the internet. We've never won this particular award before.) The team received a DaVinci award at Regionals.
Here's a photo of the proud members of the High School Destination Imagination team: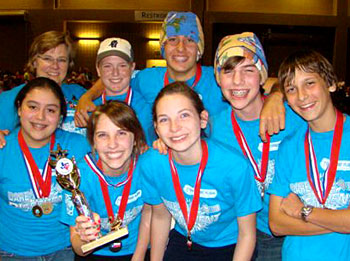 And proud they should be. Congratulations to all! But that's just the beginning. Not only was the group skilled and intelligent, but they also had the presence of mind to take along their Valuable Fire Ant Merchandise (in this case, two coveted ceramic coasters). And thus we have the following officially documented Fire Ant sightings: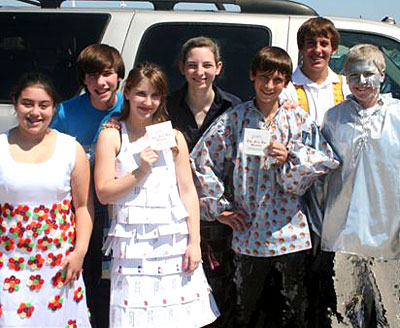 You might think that this is the first Fire Ant sighting involving someone wearing tinfoil pants, but then you've probably never been to one of my family reunions. You can also read these kids' minds: I can't believe Elizabeth's mom is making us do this!
This next photo requires a little more explanation. Cindy gave me permission to use it only if "you can make me look younger." Well, I gave it my best shot, but, frankly, it creeps me out:
I don't know who that person is on the right.