I recently took possession of a 1960s-vintage 12 gauge single-shot shotgun, formerly owned by my father-in-law, who says the gun was shot only a few times. This was partly because the unchoked barrel made the gun pretty uncomfortable to shoot, but he also wasn't a hunter. So, the gun has been rusting away in a closet for decades.
It's a Stevens Model 94 manufactured by the Savage Arms Corporation. According to this article, Savage turned out more than a million of these shotguns, starting in the 19th century, in a variety of gauges. They were inexpensive, and by the time this particular model came into being, "inexpensive" was an acceptable synonym for "cheap." What looks like a nice walnut stock is actually grade-A genuine plastic. These shotguns generally sell for around $100-$150 dollars in the aftermarket.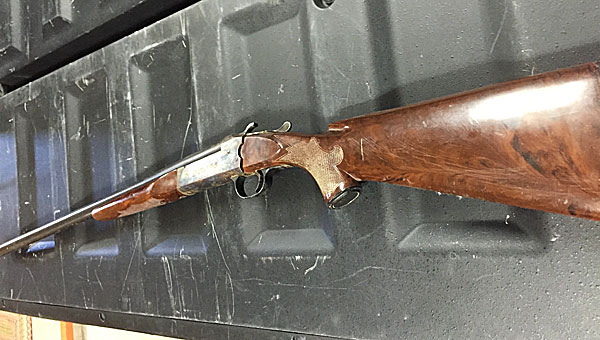 I've cleaned the gun a bit, although as you can tell by the first photo, it's still rusty. Somewhere along the line the bolt that tightens the stock loosened, and I can't tighten it so there's a wiggly gap (that's a highly technical gunsmithing term, I'm sure). In short, this shotgun is no longer destined for shooting. So, I've removed the firing pin, and I want to "repurpose" the gun.
Here's where you come in, oh gentle and creative Gazetteer. I need your ideas for turning this gun into yard art, either as a standalone piece or something that will hang on a brick wall. I could always just mount it as is and stick a flower in the muzzle, but that's awfully cliched (although perhaps age-appropriate for a hippies-vintage gun) and I'm sure you guys can come up with something better. The only caveat is that it has to be something that I can actually do…so try to think like a third-grader.
And, seeing as how today marks the 12th anniversary of the Fire Ant Gazette, I figured we should make this a little more special than usual, so if you have the "winning" idea, I'll immortalize you on these pages as a character in a short story. (Eventually.)
So, if you can think of some creative uses for a shotgun that has a little sentimental value, but none otherwise, please share them via email. Thanks in advance, and may the blast be with you.