Late last month we were confronted with the sad sight of three nestlings that had apparently fallen from their nest attached to a stone column about ten feet above our back porch. Two of the baby birds were already deceased and the third would soon be.
There was no sign of a disturbance in the nest, and the parents continued to fly to and from the nest. We were at a loss to explain why the nestlings would have fallen from their well-protected home. But, such is life (and death) in the natural world.
A few days later, early on a crisp April morning, we heard a commotion from some upset birds in the vicinity of the back porch. We went out to investigate and were greeted by a small snake, perhaps eighteen inches in length.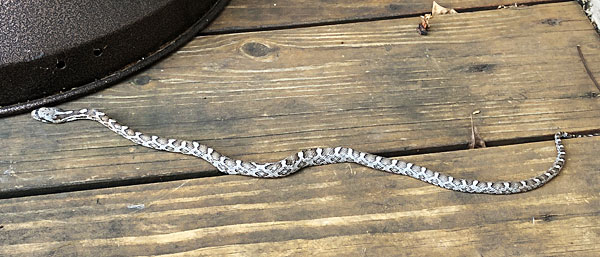 The snake was somewhat lethargic until I got close to it, when it became more animated. While it didn't seem particularly aggressive, I noticed one behavior that alarmed me just a bit.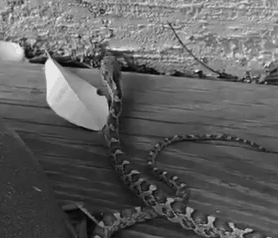 Pay close attention to the tail in the gif on the right (which I've slowed down by 50% and converted to black and white to save bandwidth). That vibrating tail is an easily recognized characteristic of a rattlesnake — and this obviously was no rattler — but it's also a behavior of some other species, including the copperhead, another venomous pit viper, and a species not uncommon in the Texas Hill Country.
I'm not very familiar with copperheads, as they aren't normally found in the parts of West Texas where I spent most of my life, and my frame of reference for them was limited to the aforementioned tail-shaking behavior (they're thought to do this in the dry leaves where they're often found as a warning to would-be predators). Given that, I made the decision to dispatch the serpent, not wanting to take a chance on having a poisonous snake lurking around our back porch.
Later, after spending some time googling images of copperheads and other tail-shaking snakes, I came to the conclusion that I had misidentified the recently departed; it was, in fact, a juvenile rat snake.
I confess that I felt a bit of guilt about killing a non-poisonous snake. Rat snakes are useful for controlling the rodent population (although this one was probably too small to be much of a threat to anything but the tiniest of mice). I've never subscribed to the philosophy that the only good snake is a dead snake.
However…
MLB and I got to thinking about the agitated birds that brought the snake to our attention, and from there it was an easy mental leap to those unfortunate baby birds I mentioned at the top. And, unlike with copperheads, I do know a few things about rat snakes, including the facts that (1) they are skilled climbers, and (b) they've been known to raid bird nests.
Armed with this knowledge, and insight gained from year's of watching CSI, I deduced that those nestlings hadn't just accidentally fallen out of their nest, but were in fact panicked by the presence of something — well, let's just say it: a snake — and in their frantic state fell to their demise.
Now, I can't prove that the snake I killed was the same one that raided that nest, but I suspect it had climbed up the rock column to the nest seeking eggs…and further, that it had returned to the scene of the original crime. As I said, I can't prove any of this, but neither can I disprove it, and the facts seem to fit better than OJ's glove did.
Having reached that conclusion, I also conclude that karma was visited upon that snake in the form of a hoe wielded by yours truly. Justice was served.
That's not the end of the story, however. The non-descript birds* have nested on that column for a couple of years, returning each spring to raise their young. I don't know their species, but I do know they're not barn swallows. Anyway, after losing that first set of younguns, I thought they might move on to more hospitable environs, but they're persistent little guys. We've noticed that one of them is often on the nest while the other keeps watch from a nearby rooftop or hummingbird feeder hanger. The photo at right was taken through the blinds of our bedroom window, hence the weird composition.
*Update (4/24/19): My pal Sam, amateur birdwatcher and all-around renaissance man par excellence, has identified the nesting birds as black phoebes.
Curiosity got the best of me this evening, and I affixed my phone to a tripod, fired up a video recording, and hoisted it up to where I hoped I would get some images of the contents of the nest. Sure enough, there are five eggs in the nest, and we can thus expect to see another batch of hatchlings in the near future. I hope their existence unfolds in a much happier manner.