Howdy, buckaroos…it's been a minute since we did a Random Thursday post.
Today is National New Hampshire Day, which is a made-up thing about a state that doesn't actually exist, as far as I know. Nevertheless, I recommend that you spend a bit of time with your favorite block of granite in solemn reflection of the sacrifices made in the pursuit of kitchen countertops throughout our great country.
Moving right along, we have some tremendously important things to share…

There are three kinds of lies: lies, damned lies, and statistics.

— Mark Twain…amongst many others
I lead off with this well-known quote in an attempt to defuse the inevitable outrage that will proliferate after I inform you that the 2024 Wall Street Journal survey of the best colleges in the US [paywall] ranks Texas A&M University (my alma mater) as the best university in Texas, the 6th best public university in the nation, and the only Texas university in the top 50 in the nation.
Even as I take a fair amount of pride in this report, I also readily admit that the only such surveys that are valid are those that support my preconceived notions of what is true and proper. There are as many different ways to measure the quality of a college as there are colleges.
Regardless, I'm pretty sure that this WSJ survey is the best. *duck and run*

We might dispute college rankings, but what's not disputable is the drought that we're experiencing in the Hill Country.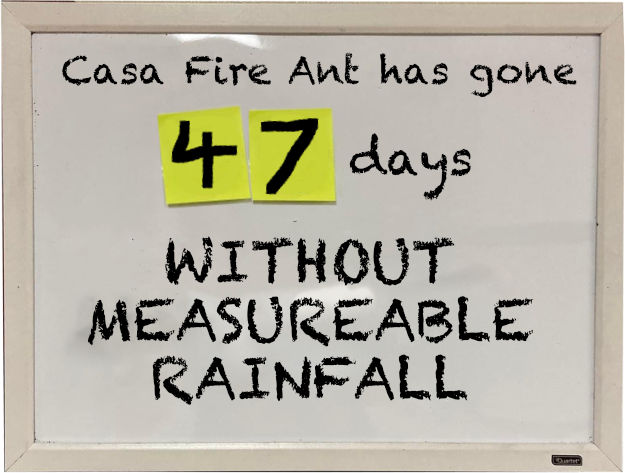 There's a glimmer of hope in next week's forecast, as there is a prediction of rain as well as high temperatures in only the low 90s starting around mid-week. And we're nonetheless feeling a bit blessed at thus far avoiding any serious wildfires.

One apparent effect of the drought has been to drive more wildlife into neighborhoods as the pastures and woods become less and less able to provide sustenance. We've noticed a huge influx of armadillos at our house, as evidenced by the following trapping stats:
We've trapped ten armadillos since July 31, and one raccoon (I'm counting that unfortunate critter that got its head stuck in the armadillo trap). It's important to note that I haven't set out a trap for anything except armadillos in more than a year, ever since I realized that I was actually attracting those animals, and also that relocating fur-bearing varmints is illegal in Texas.
What I haven't even thought to include in these statistics is the presence of porcupines. While they're not unheard of in these parts, they're still encountered very rarely. That may be changing. Some of our neighbors who live a couple of blocks away reported that their little dog had a run-in with a porcupine a few nights ago…in their backyard. They removed about twenty quills from its snout; fortunately, they weren't large or embedded deeply so there was no significant injury. But we've put all the dog owners in the neighborhood on notice.

Here's a question for you automotive trivia experts: what high-end sports car manufacturer introduced a four-door, short bed "performance" pickup in the late 80s, before the term "SUV" became a popular designation?
Ferrari
Porsche
Lamborghini
Aston-Martin
Maserati
If you picked Lamborghini…you're much better informed than I was. In 1986, Lambo introduced the oddly-named LM002, with an shocking list price of $120,000 (Lamborghini's current SUV, the Urus, starts at about $230,000 and the top end model is around $400K).
Car and Driver Magazine referred to it as the Rambo Lambo in its review published in October, 1987, declaring it "insane and outrageous fun" to drive. Apparently, they were the only ones who thought so, as Lamborghini made only 300 of them during its six year run. (C&D reported that Malcolm Forbes was one of the early owners. He died three years later. Coincidence? You decide.)
The LM002 was ahead of its time, but was hardly under-engineered, or at least under-engined. It sported the same V-12 as the Countach, with six Weber carburetors (remember them?), and it ran on 87-octane gasoline. Top speed was a claimed 120 mph, which C&D could never obtain.
Styling wise, it was a box on wheels, and to my untrained eye, was basically shaped like an International Harvester Scout on steroids.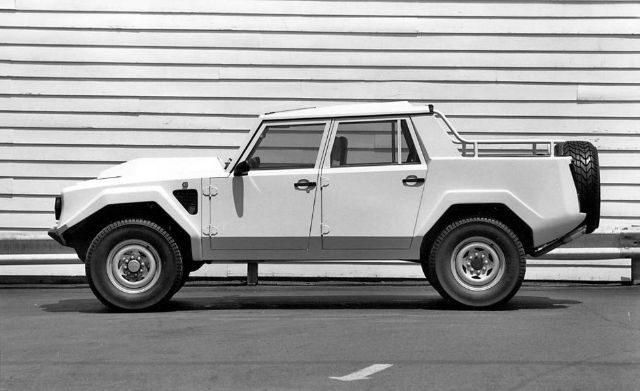 Bible Verse of the Day [Illustrated]