A year ago, MLB and I hiked to the top of Guadalupe Peak, which at 8,700′ and change is the highest point in Texas. We were exceedingly fortunate in that the weather was beautiful — clear, calm and cool — something that cannot be counted on in that part of the country during this time of the year.
We decided to return this year and try a different challenge: hiking the 11 mile El Capitan trail. The limestone face of El Capitan provides the trademark image of Guadalupe Mountains National Park; it's recognizable from more than 50 miles away by observant travelers on Interstate 10, and it's flat out imposing up close. El Capitan is not as tall as Guadalupe Peak, giving up about 700′ in elevation, but it's more famous.
You can't actually hike to the summit of El Capitan, and as far as I know, climbers are not allowed on the rock face. Given that the hike simply takes one past the base of the mountain, we figured this to be a fairly easy walk in the park…literally. We were, of course, wrong.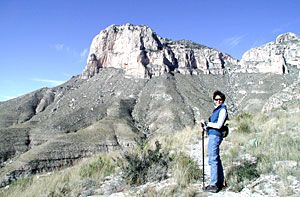 We overnighted in our home town of Fort Stockton, leaving Abbye with MLB's dad. We were on the road at 6:00 a.m. the next morning, intending to get a quick breakfast at the McDonald's in Pecos (and also supplementing our Clif bars, homemade trail mix and other assorted munchies with a few extra McMuffins for a post-hike snack before heading back home). Imagine our surprise — nay, shock! — to find the McDonald's boarded up. Ditto for the Pecos Dairy Queen. (How do national chain fast food joints located on interstates go out of business?) We ended up having a very good breakfast at the Swiss Clock Inn, but couldn't follow through on our afternoon snack plans.
Despite the minor setback, we were buoyed by the beautiful weather as we drove on through Orla (pop. 5? 10?), where one turns left (west) and approaches the national park. The thermometer in the Durango read 40-42°, but the winds were relatively calm and the sky was crystal clear. We began to re-think our dressing plans, which originally involved several layers of light clothes topped with windbreakers, and accompanied by gloves and earmuffs.
We arrived at the trailhead around 9:00 a.m. and the temperature had risen to the lower 50s (which, by the way, was the forecast high for the day, according to the what-do-they-know-anyway TV meterologists). That was enough to convince me to go with a lightweight long-sleeved Capilene top, a windbreaker stuffed in my CamelBak for insurance, and no gloves or muffs. That proved to be one of the better decisions of the day.
We hit the trail around 9:30, a half-hour ahead of my mentally-computed schedule. I noticed that we were the only hikers who had signed in for El Capitan for the day; most people come here to climb Guadalupe Peak. That was fine with us. A crowded trail takes some of the fun out of the experience.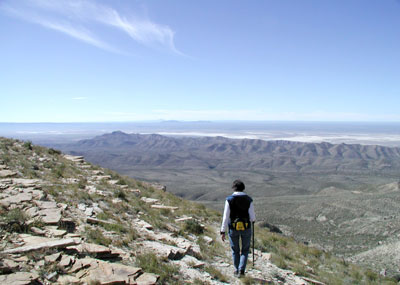 The El Capitan trail is relatively flat at the beginning, a little downhill even. MLB later admitted thinking to herself, after about 15 minutes on the trail, "well, this certainly isn't very challenging…or fun!" She would later rethink that thought.
This area of the country, like most of west Texas, has received abundant rainfall this year, especially during the late summer and fall months. Every draw we passed from Orla to the Park had water running or standing in it, something I've never seen before. The result of that rainfall could also be seen in the thick and tall prairie vegetation which crowded against the trail and occasionally obscured it. This was a mixed blessing. The scenery was grander than usual, but the plant life was aggressive in attaching itself via various adaptations to one's clothing (and skin).
Word to the wise: don't do this hike in shorts, unless you have the hide of a rhino. Besides the mostly annoying pasture grasses, the trail is crowded with seriously sharp things like cholla, prickly pear, century plants, Spanish daggers, mesquite and yucca. Long pants are recommended and, in fact, the longer the better, to help keep your boots or shoes free of sticking seed heads.
And, as long as we're sharing warnings, here's a couple more. If you are a mad dog or Englishman and feel you must do this hike in the dead of summer, pack more water than you think you'll need, then add some to it. There's almost no shade to be found on much of the trail, and no reliable sources of water. One guidebook referred to a natural spring in one location, but we didn't find it.
I carried a 100 oz. CamelBak backpack and MLB had a smaller one configured as a fannypack. Even in the cool weather, the low humidity, strenuous activity and direct sun had us sweating and guzzling all afternoon. We ended the hike with about a pint of water to spare.
Make sure your footwear is top-notch, and by that I mean that it offers good ankle support and has better-than-average protection for the bottoms of your feet. The trail is exceedingly rocky and in places the footing is quite iffy due to the shale that shifts and slides under your feet. We both have quality hiking boots (hers by Tecnica and mine from Salomon, both being highly-regarded makers of ski boots), but by the end of the day our feet were aching miserably due to the rough terrain. I'm not sure what would improve the situation if we do the hike again…perhaps some thicker gel insoles?
The route itself is complicated, winding around, up and down hills, through and across arroyos, circling back on itself several times. Interestingly, you're hardly ever out of sight of US Highway 62 that runs west all the way to El Paso. There's no danger of getting lost, even if you somehow manage to lose the trail. But it's almost impossible to anticipate where the trail goes next. At one point, atop one of the taller hills on the route, I looked down and saw what looked like a tangle of trails and thought, "man, you've got a lot of choices for hiking around here." I later realized that we would be walking every inch of every one of them, "them" being one snaky trail…the one we were on.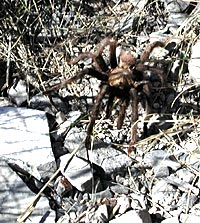 We didn't see a lot of wildlife, as least not the sensational kind. We did meet the guy (gal?) shown at right, clambering up one section of the trail as we clambered down it. Apart from a portly rock squirrel (looked more like a marmot, really), there were no other mammals to be seen, although there were plenty of droppings along the trail to indicate that the countryside wasn't as deserted as it looked.
The scenery was grand enough to distract us from the narrowness of the trail (hardly ever wide enough to walk two abreast) and the unsteady footing. The panoramas in this part of the world are awe-inspiring, with a desolate beauty that I don't have words to describe (and my camera doesn't have pixels to capture). This landscape isn't for everyone; you either acquire the taste for it or your brain fires in a peculiar fashion to allow you to process the beauty. But if you fall into either of those categories, this is a place you need to go and be in for a few hours.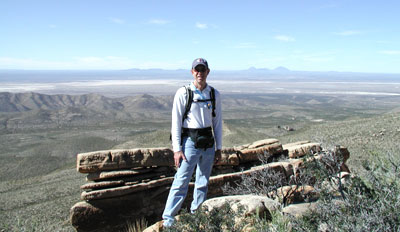 Just don't count on any Egg McMuffins at the end of the day.