Springtime in Texas, following a wet fall and a mild winter, means wildflowers. Now, the Hill Country and parts of central Texas get most of the publicity for those flowers, especially the bluebonnets and Indian paintbrush…and rightly so. But I have to say that even in the desert climes of west Texas, under the right conditions, Mother Nature can paint some wonderful pictures. Like this one: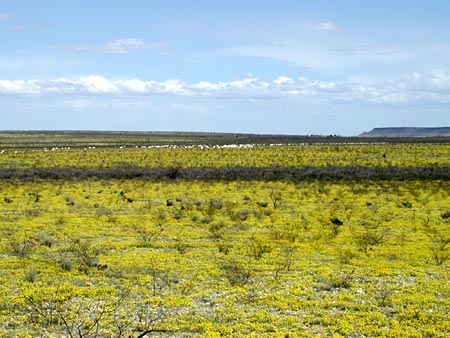 This is a ranch a few miles north of Fort Stockton on Highway 18. (Those white dots are sheep moving across the pasture.) The yellow flowers are known in these parts as antelope clover, according to my plant expert brother. Google doesn't recognize that name and I'm sure there's another more official title for the plant, but that'll do for our purposes. Anyway, the countryside is covered by these flowers for miles on end. I've lived in west Texas for decades and have never seen such a widespread display.
I also understand that the Big Bend region is practically lush with wildflowers thanks to the unusually wet fall and winter. No matter where you live in Texas, you won't be far from a visual feast this spring!