Spring means different things to different people, but to quite a few folks in this part of the country, it means time to start watching out for rattlesnakes.
Take the fellow in Abilene (a couple of hours northeast of here), for example, who was using a forklift to clean up Patterson Drilling's yard. He picked up a pit* liner and immediately set it back down, phoned the office and said "we need some men with shotguns."
According to the report, they killed 62 rattlers…but as many got away as they shot.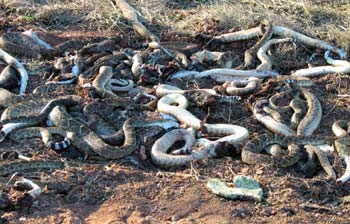 Now, I'm all in favor of live and let live when it comes to giving the occasional slithering reptile the freedom to keep the place free of rats and other vermin, but nobody needs twelve dozen rattlesnakes.
*Gives a whole new meaning to the term "pit viper," doesn't it?
Tip o'the hat to MLB who also expressed an ever-so-slight bit of sympathy for "the poor poisonous little guys."