When this key snapped off in the door leading from our garage into the house, it thankfully was a minor incident, hardly worth writing about. Unless, that is, you use your imagination and picture one of the infinite number of scenarios that could accompany such an occurrence.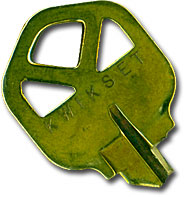 Of course, merely picturing something is hardly edifying or entertaining to the rest of us. On the other hand, if you were to, say, give us an opening sentence in a novel that had a broken key as one of its major plot elements…well, now we're getting somewhere.
What say ye?
Update: OK, here's my offering…
Martin had many things he wished to share with his fellow criminals in the special corner of hell he now inhabited, and many questions he wanted to ask them should the demons that attended them provide a brief respite from their torment, and not the least of those questions would be whether any of them, in their collective careers as rapists, muggers, burglars, and all-around thugs, had ever encountered someone who could employ the jagged end of a broken house key to such deadly ends as the tiny red haired female who was Martin's final intended victim.