Alert readers (and I know that includes all of you, because you don't let me get away with anything) will recall that our dance last Saturday night featured something different, something that to my knowledge had never been tried in the 20 year history of the Ballroom Dance Society: prerecorded music in place of a live band.
I'm happy – nay, ecstatic – to report that the experiment was a smashing success*. Not only did we save a bunch of money, which was the primary motivation, but we got a lot of positive feedback from those in attendance (some of whom were pretty skeptical going in).
Of course, the music playlist was instrumental (ha!) in the event's success, but we had a secret weapon that was the cherry on the sundae, the icing on the cake, the sugar in the tea. OK, you get the picture. We actually did have a band…sort of: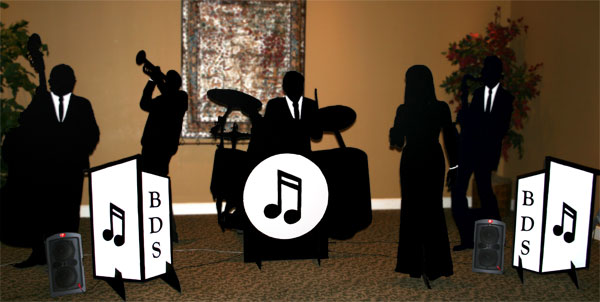 We created this "band" from foam board, and set it up on the Midland Country Club stage with the sound equipment (basically an amp and an iPad) hidden behind the drummer. It added a bit of atmosphere that somehow made the unattended music seem less, well, unattended. In fact, there was a steady stream of people throughout the night having their photos made in front of the band (which someone dubbed "The Cutouts").
This
Madmen
-style of black silhouettes with minimalist white accents provides a classy effect that's surprisingly striking. The photo doesn't really do it justice. If you look closely, you'll note a pearl bracelet on the singer's wrist, and a hint of a shirt cuff on the trumpet player. The shirts on the bass and sax player and drummer are actually just two pieces of white foamboard glued to the black backing board. The bandstands are flat, but appear to be 3D because of the way they were drawn.
There's a lesson here: sometimes, you need to go a little above and beyond what's expected to help people decide to accept a significant change.
If you're interested in the playlist, I've uploaded a version of it (we made some minor changes before the dance) to the iTunes Store. This link will open in iTunes if you have it installed on your computer.
*We did learn a few things. Ten seconds is just about the right gap between songs, if you don't have a DJ. The Rascals' version of Mustang Sally is too slow. If you can hear everyone's feet on the dance floor, the music needs to be louder. You can never play too many waltzes. Who's Been Talkin' by the L.A. Blues Alliance makes for a smokin' rumba. Jaci Velasquez, who's better known for her Christian contemporary recordings, has a song called Tango that's really a cha cha…and it's another fantastic dance song. And even George Strait and Willie Nelson create some great ballroom dance music!