Here's a photo of what arguably is the most compelling conversation piece in the history of pieces of conversation: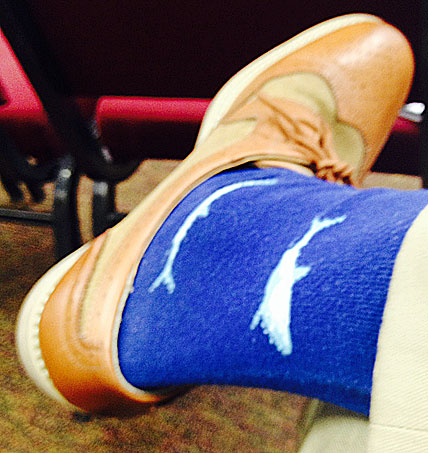 No, not the sock – although shark socks definitely haven't yet jumped the you-know-what. It's the shoe, seen here in fashionable out-of-focus fashion (hey, you try taking a surreptitious photo with your phone in Sunday School while pretending to pay attention to the lesson*).
I bought this shoe (and another one remarkably similar that goes on my other foot) last weekend in Denton, at the DSW shoe store. I've worn it – along with its partner because otherwise, that would be weird – three times since then, and on all three occasions they've elicited public comments in great disproportion to the significance that should normally accrue to new footwear.
I probably have only myself to blame. Apart from athletic models and
Manly Footwear
, I tend to buy shoes roughly every 30 years, whether I need them or not. Seriously, I haven't bought a pair of dress shoes since around 1980.
I do tend to buy good quality shoes on those rare occasions that I reluctantly acquire them. My last few pair were solid, if decidedly non-flashy** Johnston & Murphy wingtips, which cost around $120, if I recall correctly. Now,
in inflation-adjusted dollars
, that's about $345 today, and in my opinion, anyone that pays $345 for dress shoes has more dollars than sense, if you know what I mean. [Note: Boots are a totally different matter, and are not to be judged on the same basis.] Rest assured that these shoes did
not
cost $345.
Given the hubbub over these new shoes, I'm very cautious about revealing that during that jaunt to DSW, I actually bought a second pair. I'm just not sure the universe is ready.
*Not really, Mike. I was paying attention. We were in Ezekiel. Or Habakkuk. It was definitely the OT, well before the invention of wingtips.
**Unless you're a practitioner of the actuarial sciences or a funeral director, then you'll think they totally rock.