[Insert pithy yet winsome introductory text here. Please.]
Every now and then, something happens that restores my faith in humanity and I think that perhaps there really is some hope for mankind. Then I read Facebook comments and come to my senses.
Forget Ebola. What I want is a concentrated scientific and medical research effort to find a cure for that strange malady that results in the loss of use of a person's left index finger the moment they get behind the wheel of a car in Midland, Texas. You know, the finger that activates the turn signal.
Similarly, what is it about grocery store parking lots that cause otherwise sane people to acquire the emotional state of a rabid menopausal bobcat with hemorrhoids? Last night, a "lady" almost rammed me trying to get to a parking space before me (and I wasn't even trying to park). Fortunately, I was able to nudge her walker out of the way with my truck bumper and get on with my business.
In keeping with the mindset that anyone who drives slower than me is an idiot and anyone who drives faster is a jerk, I believe that women drivers don't use turn signals because they're too preoccupied with cell phones, and men don't use them because they think that communicating their intentions is a sign of weakness.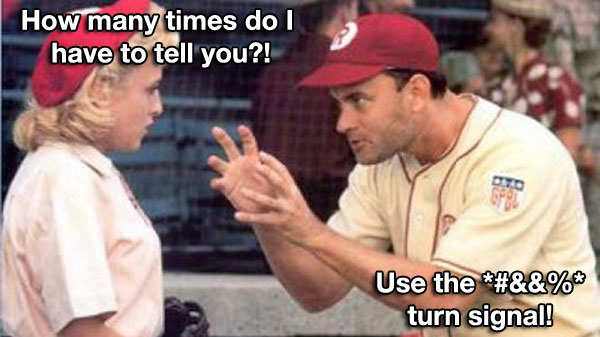 If the Cold War turns hot and we have to start building bomb shelters again, I'm making mine out of the cardboard that Chobani uses in their four-packs. I'm pretty sure that stuff could withstand anything the Russkies could throw at it.
I'm so Midland, I think the name of my city is an adjective. (Seriously, folks…stop it. Just stop it.)