Note: The following is an unabashed plug for a local business. If you're a competitor, don't take it personally. Better yet, use it as motivation.
So, my truck suddenly developed a rather severe front-end shimmy (a highly technical automotive term, implying that my vehicle was demon-possessed), and I began to imagine all sorts of complicated (and expensive) issues. When my usual strategy of ignoring mechanical issues until they went away didn't work, I decided to seek professional help.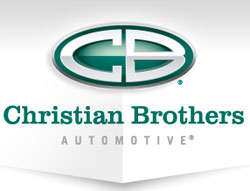 I'd had some mildly unsatisfactory encounters with the dealership, so I did some research and selected Christian Brothers Automotive, a nationally franchised business, as the Shop Least Likely To Disappoint And/Or Bankrupt Me. The business had a very high ratio of positive-to-negative reviews on Google (including at least one from someone I knew), plus their location and hours were very convenient. Here's what happened…
I arrived at the shop a couple of minutes before opening time at 7:00 a.m. Not only were the doors unlocked and the lights on – something that hadn't always been the case at the dealership's advertised opening time – but they were instantly ready to help. I didn't have to wait for the computer to boot up, or for the coffee to finish brewing, or for the front-desk guy to adjust his attitude.
I explained the problem, gave them my contact information and key, and was assured of a call as soon as they'd had a chance to check things out. I was in their clean and comfortable courtesy car (driven by the shop's very personable owner, Trey) on my way to the office by 7:15.
I got a call shortly before 8:00 telling me that they had narrowed things down to a possible issue with one of the tires, and asking permission to rotate a couple of them to test the theory. I told them where to find the security socket for the locking lug nuts, and hung up with another assurance of a call when they had something else to report.
I had another call before 9:00 telling me that the tire swap had indeed eliminated the shimmy issue, but that I probably should get a replacement tire pretty quickly. They theorized that the tire might be delaminating on the inside, since there was no obvious external defect. In any event, the truck was ready to go, and I was relieved to know that there were no complicated (and expensive) repairs to deal with (not that a new tire is an inexpensive proposition nowadays*).
My wife dropped me off at the shop at lunch and I went in the office to settle up. They grabbed my key off the rack, handed it to me, and said "you're all set."
"Uh…OK…but what do I owe you?"
"Nothing. You don't owe us anything."
"Wait a minute…I know you spent some time working on it; surely you need to get paid for that."
"Don't worry about it. Have a great day!"
Alrighty then. That, my friends, is a textbook strategy for creating loyal customers. Customers who also act as evangelists for the business. Customers like, well, yours truly.
*The cloudy lining to this blue sky story is that the following day I had to drop $300 on a new tire. Another technical car repair term is "ouch."