We spent another long* weekend at Horseshoe Bay, where the six-week dry spell was broken, albeit in an insignificant way, by a quarter inch rain shower on Saturday morning. Normally, we would have groused about the disruption of our plan for a morning bike ride, but in light of the drought conditions we were happy to linger over coffee. And by early afternoon, all signs of the rain had disappeared.
The change in the countryside due to the sudden absence of rainfall is startling. After record spring precipitation that raised lakes to levels not seen in years and produced a stunning crop of wildflowers, most of the Hill Country had no rain in July, and the dry spell continues in August. Couple that with a long streak of triple digit temperatures, and the effect is depressing, and a little dangerous, as the threat of wildfire is very real.
Below are some pictures that illustrate the change in conditions. These photos show the land adjacent to our townhouse. They were taken about a month apart, and the differences are striking.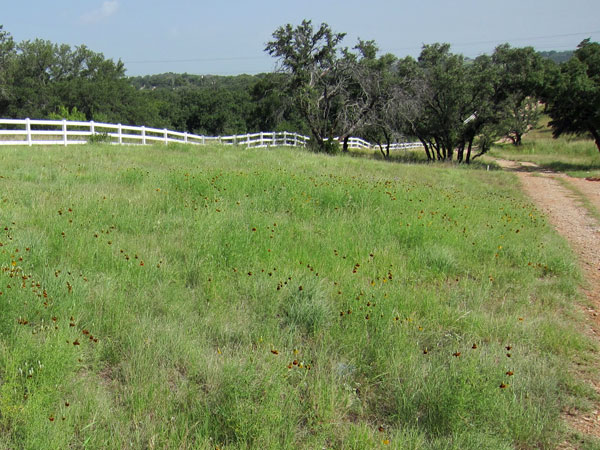 There's a small catch pond behind our neighborhood. It collects rainfall runoff, and up until now, it has stayed full. Again, here's a view from July, compared to now.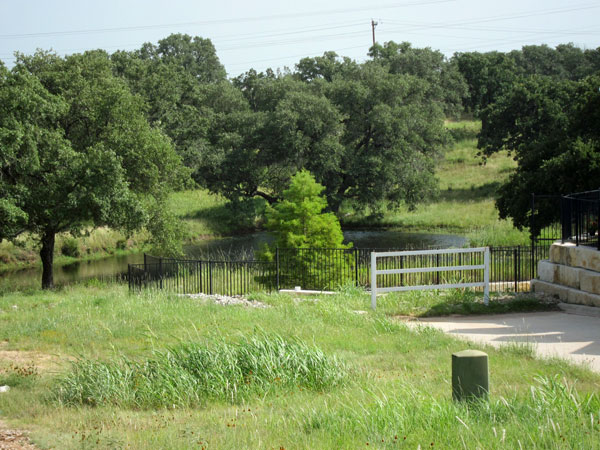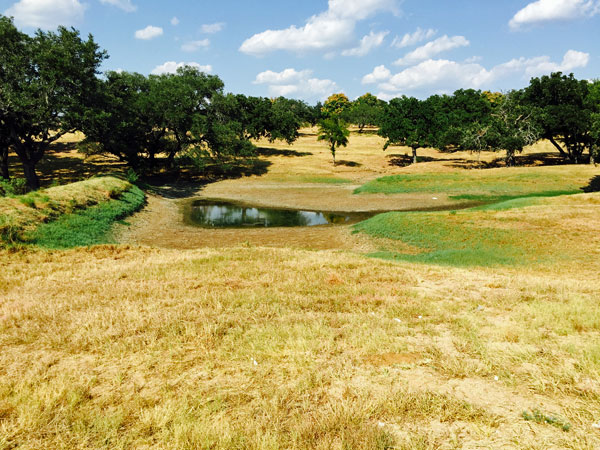 The second photo was taken after the rainfall I mentioned above. I suspect the pond is now completely dry.
I mentioned the wildfire threat, and it's very real. We saw evidence of small fires along the highway, and Horseshoe Bay itself had a fire that burned more than 100 acres a few weeks ago. On the drive home last Monday, we encountered a fire that had just started on the side of the highway between Llano and Brady. It was actively burning and was large enough that there was nothing we could do with our small extinguisher; Debbie called 911 to report it. I trust it was contained because I've seen no reports about it.
It's a strange state of affairs when the countryside in West Texas is greener than that in the Hill Country.
Despite the depressing heat and drought, we still managed to enjoy a dance. We stopped off at Pecan Street Brewing in Johnson City for dinner…our first visit, but definitely not our last. We then headed over to the Mercer Street Dance Hall in Dripping Springs where the People's Choice Band was performing.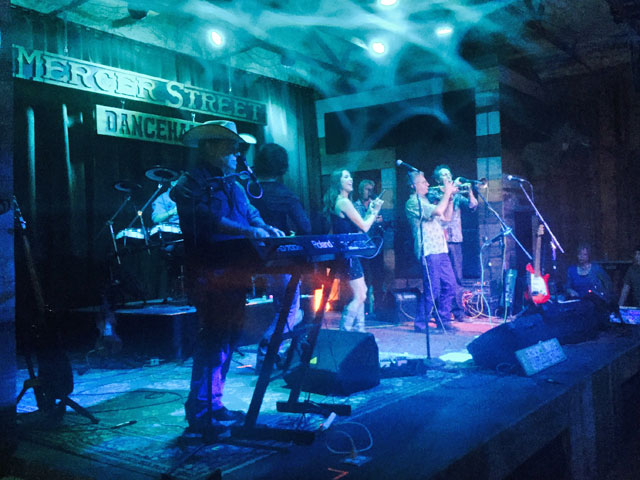 People's Choice is a cover band from Austin and they are, in a word, awesome. Their set was primarily country, no doubt because of the venue, but they played everything from Patsy Cline to Meghan Trainor, and from Uptown Funk to Luckenbach. The lead singer bears a physical resemblance to Jim Morrison, but I doubt the Lizard King could have pulled off such an uncanny vocal impression of Willie Nelson. Anyway, if you have the chance to catch PCB (as they refer to themselves), my advice is to not miss it.
As I previously reported, Mercer Street is a great dance venue, but this Saturday night event wasn't without its challenges. It seems that the owner's daughter was celebrating her 16th birthday and so we had to contend with more than fifty teenagers in addition to the usual adult crowd. It was literally standing room only for much of the night, and there were times when the dance floor was so packed that we elected to remain observers. Here's an example (keep in mind, however, that this was a line dance, meaning that even if you couldn't dance or didn't have a partner, you were still qualified to be out there).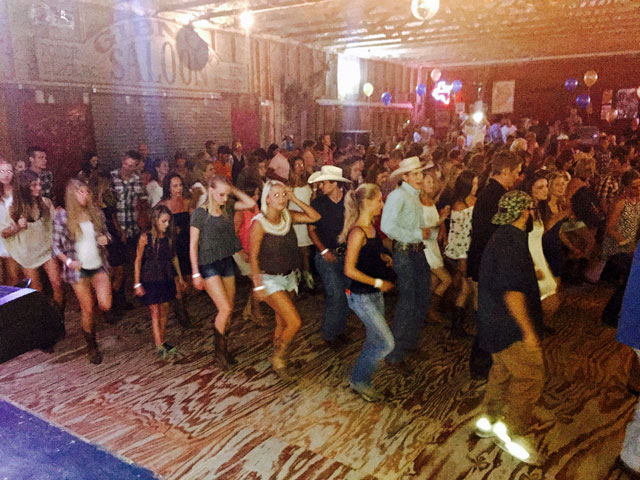 It would have been easy to resent the presence of the kids (and, honestly, had we known in advance about their presence we might have elected to stay home) but they were well-behaved and entertaining to watch, so we rolled with it. Crowded dance floors are just a fact of life, and there's no point getting stressed about it.
It's an hour's drive from Dripping Springs back to Horseshoe Bay, so we bailed a bit early and got home around midnight. But we were up early enough on Sunday morning to make the 9:00 service at First Baptist Church in Marble Falls, where they were enjoying their first service in their new complex overlooking Lake Marble Falls. It's a beautiful facility and is a few minutes closer to us than the old location. The planning for the new church began thirteen years ago; a lot of hard thought, hard work, and financial commitment went into the project and it shows. At some point, if our plans work out, this will be our post-retirement church home.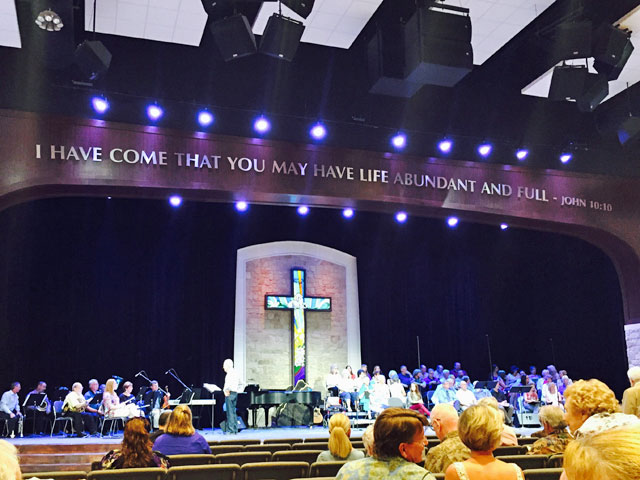 The church's worship center has large windows on one side that I think give a view of the lake. They had remote controlled covers which were closed during the service, which I assume was to lessen the temptation to gaze at the scenery instead of listen to the sermon.
We also had a little wildlife excitement during the weekend, when Debbie spotted this snake in the corner of our garage.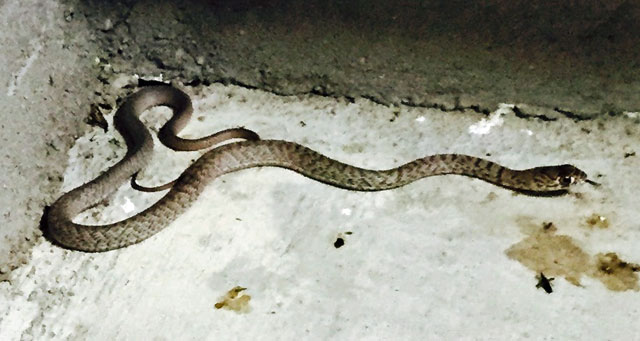 It's hard to get a true sense of scale (no pun intended) from the photo; the snake was about 18 inches long, but very fast and very aggressive. There was quite a debate on Facebook about the identification of the species, but the final consensus is that it's either a rat snake or a coachwhip (I'm going with "rat snake"). Neither is poisonous, which is good, since it disappeared under an exterior wall just outside our garage.
I did manage to get a video of the snake, which I think is interesting because of its "warning" behavior. Note the vibration of the tail (near the end of the video), like you'd see from a rattlesnake. As it turns out, many species of snakes exhibit this behavior (including the venomous copperhead).
We discovered that Monday mornings are probably the best times for paddleboarding on the lake. We ate breakfast at the resort hotel, then grabbed our Bic SUPs and spent more than an hour on glass-smooth water. I think we saw a total of three boats and one jet ski during that entire time…it was wonderful. Afterward, we hopped on the bike for one last ride around Horseshoe Bay West, and then it was time to bring the weekend to a close.
Returning to 5:00 a.m. alarms, 9-hour work days, and lawn mowing chores is difficult, but without them, a vacation is more satisfying because of the contrast.
Ah, who am I kidding? I could get used to "vacation" on a permanent basis!
*"Long" in this case refers only to time, not perception. Our "long" weekend passed all too quickly.