July was Live Music Month here at the Gazette, as we had the opportunity to hear – and sometimes dance to – the music of an interesting variety of Texas bands. Here's a quick rundown of what we saw and heard, and also a brief review of each venue in case you want to visit any of them.
The Fourth of July weekend found us at the Mercer Street Dance Hall in Dripping Springs. Two bands were on the bill that night: Silo Road, an Austin quartet playing Texas country and Americana and the headliner, the Tejas Brothers out of Fort Worth.
We arrived in time for just a few songs from Silo Road, but found them to be musically tight and danceable. We'd like to hear more from them in the future.
The Tejas Brothers are musically diverse, playing everything from George (Jones and Strait) to Joe Ely and Freddy Fender. Besides being excellent musicians, they're also polished entertainers, and whether you dance or simply listen, you'll enjoy their show. Frontman Dave Perez is an accordion virtuoso with vocal skills and personality to match.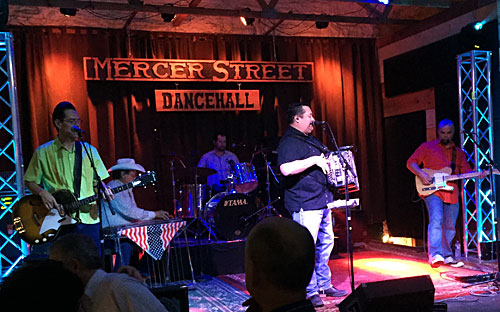 Tejas Brothers
Venue Overview: Mercer Street Dance Hall is a relatively new (opened in 2013) venue with a unique terraced seating area, full bar, and a family-friendly non-smoking atmosphere. It has a good-sized plywood dance floor that was perfect for boot scootin'. The clientele was diverse, with a big local contingent sprinkled with Austin hipsters.
The following week we made our way to Buchanan Dam for the regular Wednesday live music dance at Pardner's, where Bubba Cox and the Can't Hardly Playboyz did not live up to their name, because those guys can flat out play some classic country and western swing. Bubba's 'Boyz are the house band at The Cotton Club in Granger, but they make the trip west to Buchanan fairly regularly. A highlight was the vocals of the keyboardist, David Kyle.
Venue Overview: Pardner's is the prototypical Texas honky tonk, with an octagonal (and very slippery dance floor that was often too crowded for spot dancing…you'll be fine if you keep moving, though) and a demographic that skews to late baby boomer (not a surprise when you consider the music starts at 5-ish on Wednesdays). It's a big venue, but be warned: smoking is allowed. Fortunately, we didn't see many smokers, and the ventilation system is top-notch.
Our next stop was at the historic Luckenbach Dance Hall to hear The Merles, an Austin quintet that specializes in "classic country and western swing." They had just begun their set when we arrived, and we experienced a bit of cognitive dissonance trying to match the look of the musicians with their sound. I won't try to guess their ages but I feel confident that the music they played was that of their parents (or grandparents). I would also venture to say that Bob Wills, Merle Haggard (the band's namesake), Patsy Cline, and Waylon Jennings would give hearty approval to their musical homage. Their drummer confirmed that they come by their musical tastes honestly; he told me he grew up listening to those classics in the cab of a tractor in the middle of a cornfield in Iowa.
We look forward to hearing them again.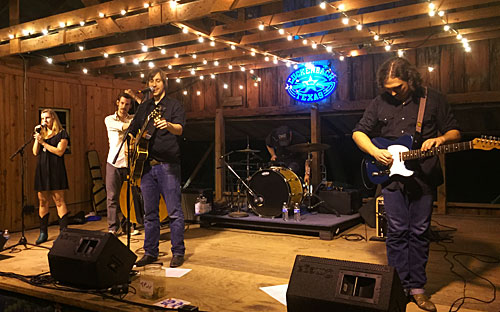 The Merles
Venue Overview: Luckenbach probably competes with Gruene Hall for the title of best known dance hall in Texas. We've danced there on many occasions and always enjoy it. It's another family-friendly venue. The dance floor can be a bit on the crowded side, but on this particular night the tables and benches were arranged so that the dance floor extended down the center of the entire length of the hall, which seemed to open things up more than usual. Note that Luckenbach has no air conditioning, so come prepared to sweat.
We later traveled to Fredericksburg for the annual "Night In Old Fredericksburg" festival, which took place at the Gillespie County Fairgrounds. There was a variety of music throughout the day and night, and we sampled three distinctly different acts.
The first was a polka fusion group (that's totally a thing) from Austin called Off the Grid Band. Forget all of your preconceived notions about polka bands; these guys rocked. They did play some traditional German polkas and Cajun zydeco, but they also covered some rock and pop classics (e.g. the Stones' Paint It Black, Steve Miller's Swingtown and Mungo Jerry's In the Summertime).
Highlights included the use of a Zendrum as the primary percussion instrument, and the absolute shredding skills of the picker who played a Steinburger-looking guitar. (Here's a good review of the band by a polka expert, which I'm not.)

The Off The Grid Band
Venue Overview: OTGB was placed under a tent on a gravelly section of parking lot, so dancing was out of the question for us. That wasn't a problem as much of their music didn't lend itself to our style of dancing, but it was so enjoyable to listen to that we didn't mind. This is another band that we'd like to hear again, although preferably in a non-100-degree afternoon outdoor setting.
We returned to the fairgrounds later that evening in time to catch the end of the set by The Seven Dutchmen Orchestra. I counted nine people in the orchestra, so someone is confused about either nationality or gender. Anyway, this group does specialize in traditional polkas, although we danced one very nice waltz and then watched a Chicken Dance competition that went on far too long (one might say that's redundant, and I wouldn't disagree). If this is your musical stein of beer, keep an eye out for them.
The headliner of the night was the Chris Story Band, based in Kerrville although the members live throughout the Hill Country. We've danced to their music multiple times through the years – they've played in Midland on several occasions – and they're consummate professionals (for example, the piano player was in George Strait's band until his retirement last year). Their first set was a little too heavy on the "bro-country" genre that's unfortunately dominating the contemporary Nashville recording scene at present, but the group is quite versatile and you're sure to hear much that you like throughout the night.
Side note: The most amusing encounter that evening was when a Hispanic gentleman came up to us and gushed about what good dancers we were. "Why," he said, "you're just like Fred Astaire and Gene Kelly!" I think we were able to conceal our mirth while thanking him for his gracious…if slightly misinformed…compliment.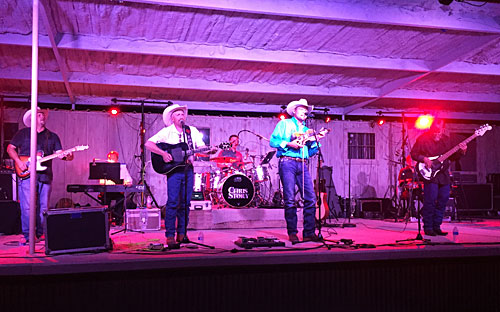 The Chris Story Band
Venue Overview: The evening dance was held on the "dance slab" at the fairgrounds, a huge uncovered circular chunk of concrete that will easily accommodate fifty couples or more. Although concrete is not the ideal dance surface, this installation is smooth and works just fine with leather-soled boots. And there's nothing quite as enchanting as dancing under the Texas night sky, with a slight breeze to dispel the day's heat.
Our final stop on this musical tour was at the annual "Beer By The Bay" festival at the Horseshoe Bay Resort. It's two nights of music, food, and of course, beer, held on the lush grounds of the resort hotel. We didn't attend the Friday night performances that featured Pam Tillis and Dale Watson, due to previous commitments, but we were there for the Saturday night performances. (In the interest of full disclosure, even though I'm calling this our "July Live Music Month Tour," the following took place on August 1st. I'm sure you can deal with that.)
The first of those was by Brandon Rhyder, another Texas Country (I'm using that as a genre; if you're from Texas, you'll know what I mean) singer/songwriter from Austin. He had a number of enthusiastic fans (and family members) in the audience, but frankly his music didn't suit us, and the sound system was unfortunately turned up to the point of painful distortion. It may be that the environment was such that we didn't get a chance to fully appreciate his talents.

Brandon Rhyder
The next performance was, for us anyway, everything the previous one was not. The Nightowls are a 10-piece soul/R&B/pop ensemble from – you guessed it – Austin, and they had the crowd on its feet throughout the night with original and cover tunes and choreography that evoked Michael Jackson, Stevie Wonder, Earth, Wind and Fire, and the Temptations. We bought one of their CDs after the show, but this is a group that you have to see and hear in person to fully appreciate. Highlight: The closing performance of Shout, complete with audience participation.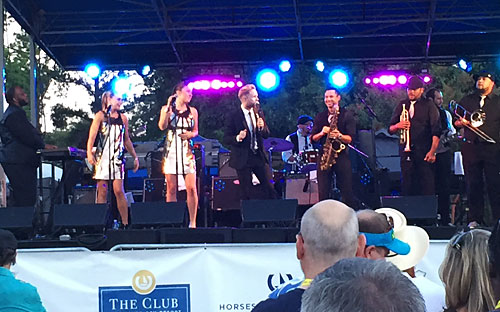 The Nightowls
The BBTB finale featured the legendary Asleep at the Wheel, a group that's been in continuous existence since 1969, although the only constant member is Ray Benson, its founder.
This was our first time to see this group live, and I had wondered if they could live up to the hype. Listen, you don't win nine Grammy Awards for phoning it in, and we found that, if anything, the hype fell short of the reality. You may not even like Western Swing, but if you get a chance to see them in concert, don't pass it up. Highlights included: a completely unexpected and animated sax solo by the steel guitar player, Eddie Rivers (whose persona up to that point appeared to be an incarnation of Junior Samples in a straw Stetson and pearl-snapped short-sleeved shirt); several astounding fiddle duets; and the ultra-bass notes that Benson hit on one song that could be the cause of the earthquakes that are starting to pop up around Texas.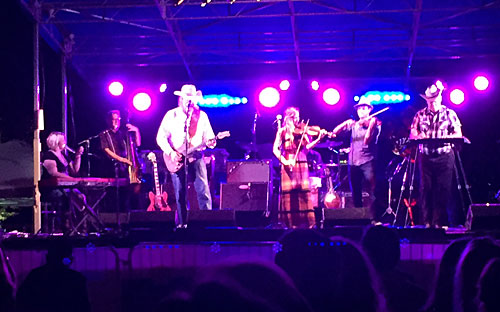 Asleep at the Wheel
Venue Overview: The grass-covered grounds of the Horseshoe Bay Resort are a pleasant setting for these performances, but it's a crime against nature to have groups like The Nightowls and Asleep At The Wheel appear at a venue without a dance floor. Nevertheless, more than a few people braved the lawn in front of the stage to dance, and MLB and I got in a very nice swing dance to one of AATW's tunes. OTOH, if you like to get up close and personal with the musicians, you'll find no better setting that this. There are no barricades in front of the small, low stage so one can get almost uncomfortably close to the performers.