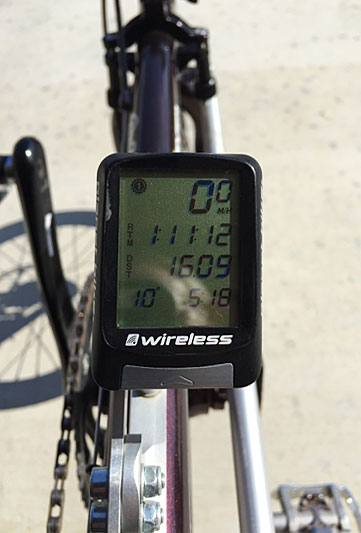 The photo shows one of the computers on our tandem bicycle following our ride this afternoon. The number in the lower left corner of the screen is the temperature in degree Fahrenheit. No, it wasn't 10º in Midland, Texas, in August; the computer is obviously not designed for hot weather as the temperature readout only has two digits. So, it's actually reading 110º.
However, that's not accurate either. It's always read much higher than the actual temperature (Weatherbug said that it was really only 100º), at least in hot weather. It's fairly accurate in more temperate conditions.
Regardless, 100 was plenty warm. We don't normally choose to ride in this kind of heat but because of other obligations and errands, it just worked out that we didn't start until almost 4:00 p.m. We were out for only about an hour, and it wasn't horrible, but that's about our limit in these conditions.
We have Camelbak packs on our bike and so it's easy to stay hydrated. But even that's a challenge because the water in the short length of plastic tube heats up quickly, so that your first mouthful is bathwater warm. You quickly learn to spit out that first mouthful in order to get to the cold water.
It is possible to acclimate to the heat, and to some extent we've done so. You can't live in West Texas in the summer without getting accustomed to it. And while it's often said as a joke, it is true that a dry heat is much easier to bear. Humidity this afternoon was only 19%…and even that is a bit high; it's not unusual to have humidity less than 10%.
This isn't the worst heat I've ridden in…not even close. On June 27, 1994, Midland experienced its all-time record high temperature: 116º. I was curious about how it would feel to bicycle in that kind of heat and so I went for a ride – a short ride. It wasn't much fun, to be honest, and I don't recommend it.
But we've also ridden in a few Hotter'N Hell Hundreds, and the heat and humidity in Wichita Falls in late August is just brutal. Again, it's something that you might want to experience just to say you did it, but it takes a special kind of crazy to ride it year after year. If you fall into that category, you have my respect.