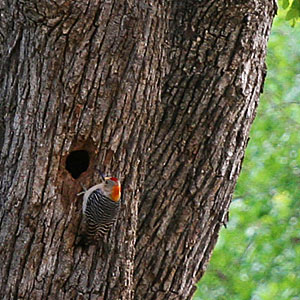 Earlier this spring, an oak tree across the street from our house attracted the attention of a pair of golden-fronted woodpeckers*. The tree's trunk has a hollowed-out place about twenty feet off the ground and the opening faces our front windows; I can see it from my usual seat in the living room.
Since April, MLB and I have watched as the woodpeckers made a home in the hollow trunk. They diligently climbed in and out of the hole in the tree, bringing out mouthfuls of dust and debris to clean out the space, presumably in preparation for a nest and young. They were constantly flying in and out and around the tree and we grew accustomed to them as neighbors.
Then, a week or so ago, I noticed an exceptionally busy flurry of activity. The birds were even more active in flying up to the hole in the trunk, stopping for a moment, then flying away. I noticed movement in the hole, and theorized that the adults were feeding a batch of newly hatched progeny in the nest.
I set up a video camera on a tripod behind a tree in our front yard, zoomed in on the hole, and started recording at around 6:00 p.m. I left it running while I went in for supper. The battery on the camera was good for only about an hour or so of recording, but I hoped that it would pick up something interesting in that short time.
Boy, did it ever!
Instead of piling several thousand words on you to describe what we viewed, here's a semi-short video (~13 minutes) distilling a couple of months' worth of action, leading to a completely unexpected climax.There are really three different storylines in the video; I hope you find it enlightening, if not entertaining.
So, if you're in the TL:DW mode, here's a quick summary:
Woodpeckers occupy hollow tree
They create a happy home
Said home is invaded by a rat snake
Outcome is negative for occupants of bird home
Turns out, there are actually TWO snakes in that tree
As I note in the video, we think the snakes are Texas rat snakes; their behavior and appearance are consistent with what we've been able to glean online. These snakes are non-venomous and non-aggressive. They are excellent climbers (duh) and seek out birds' nests for food. They will also eat rodents, including squirrels. As serpent neighbors go, we could do a lot worse.
The woodpeckers have relocated somewhere else in the neighborhood. I still hear their calls, but haven't seen them again. We enjoyed watching them, but also recognize that they are somewhat destructive birds so their absence is not personally devastating. We do hope, however, that what the snake dined on was eggs and not live young.
The snakes remained in the tree for a couple of days after the final video. We have additional footage of them climbing up and down the tree in search of more prey, much to the chagrin of a small bevy of tiny birds who were obviously disturbed by one of the snake's presence. However, we never spotted their nest(s) so we have no idea of the outcome of that confrontation.
For our timid neighbor's information — that would be you, Kristi — the snakes are now gone as well.
*For the longest time, I thought they were ladder-backed woodpeckers. But while researching the species for this article, I realized that the coloring and especially the call were wrong. So much for my career as an ornithologist.