Alert Gazette readers will recall our encounter with a cottonmouth (aka water moccasin) last fall. Then, a couple of months ago we discovered a four-foot-long blotched water snake [Update: which I now know is more correctly known as a plain-bellied water snake] in our courtyard. The latter encounter taught me that distinguishing between the poisonous cottonmouth and the non-venomous water snake wasn't as easy as I had initially assumed.
If you google "cottonmouth vs water snake," you'll see that I'm not the only one who needs some help with this subject. There are many articles and videos that attempt to teach you how to correctly distinguish these species, something that could literally be a life-and-death skill. Unfortunately, in the real world, snakes don't carry ID cards, and making an absolute identification is hit or miss.
Case in point: a few days ago MLB and I were walking on the trail that encircles our neighborhood, and which roughly parallels Pecan Creek for about half its length. Something in the creek caught my eye and I scurried over to investigate. I'll save you a few thousand words, and substitute the following video instead.
According to "the experts," there are several factors to consider when trying to decide if the snake you're confronting will deliver a potentially fatal bite or just a very painful one (yeah, they pretty much all bite). But I think there are drawbacks to each of those factors.
| | |
| --- | --- |
| Distinguishing Trait | Why It Won't Work |
| Unique body pattern/coloring | Ha. Good luck with that. They all look alike. |
| Cottonmouths float when they swim. Water snakes swim with only their heads above water. | The truth of this is debatable. Plus, they're not always IN the water. |
| Cottonmouths have thicker, heavier bodies than water snakes. | A common defensive measure of a water snake is to flatten itself to appear thicker and heavier. |
| Cottonmouths have triangular heads and thin necks. | A common defensive measure of a water snake is to flatten its head so that it appears, well, triangular. |
| Cottonmouths have heat-sensing "pits" between their nostrils and their eyes. | Those pits aren't readily discernible unless you're really, really close. |
| Cottonmouth eyes have vertical pupils. Water snakes have round pupils. | This is probably the best differentiator, but you still have to get close enough to discern the shape. [Update: "Best" is not even remotely true, as I have now learned that those vertical pupils will become round depending on the lighting conditions. Don't rely on this identifier, please.] |
So, while I lean toward identifying "our" snake as a cottonmouth, I wouldn't bet the farm on it. In any event, we're stepping more cautiously when we're out in the yard, even though the likelihood of one coming that far from the creek is pretty small. I'd hate for either of us to make a positive identification of a cottonmouth in the worst possible fashion.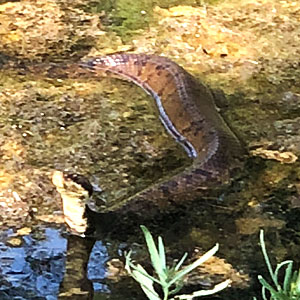 You decide.