It's been a long time since I wrote a book review. I don't feel really comfortable doing book reviews, because they require some wisdom and contextual insight that I lack. But sometimes it's enough just to say here's a book I like because… and then let you, the perceptive reader, decide whether what I like might also be something you like.
I've recently read two books that deal with the subject of music, and one that is a series of brief essays that are, like this blog, focused on nothing in particular other than what strikes the writer's fancy.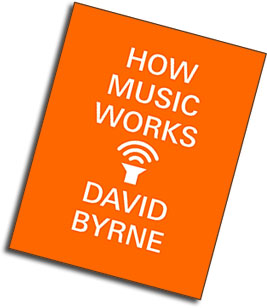 How Music Works is not a new book, but it was new to me when I picked it up in a bookstore in Santa Fe last fall. It was published in 2012, authored by David Byrne, probably best known as the frontman for the musical group Talking Heads. Byrne is without a doubt a gifted musician, but he's so much more than that. He's also an historian, an artist, a businessman, and a darned good writer.
The title can be viewed as having a double meaning: the author explores the physical and emotional effects music has on listeners, but he also delves into the business of music. Byrne is quite transparent in describing his personal experiences in dealing with record companies and performing venues, down to giving dollar figures for how certain recordings performed financially. It is, so to speak, a peek inside the musical sausage factory.
The business aspect of the book won't be riveting to many readers, but anyone who is interested in the pop and rock music scene (and I don't know why you'd buy this book if you're not) will enjoy Byrne's anecdotes and insights about his career and those of his fellow musicians. Byrne's prose is easy to digest, conversational almost, and unlike the stereotypical rock deity, he's self-deprecating in a winsome manner in describing both the ways he's succeeded as well as his [few] failures. I was also impressed by the sheer width of his musical interests, including country, gospel, so-called world or indigenous, classical, and, of course, rock and roll music. He doesn't simply dabble; he gets immersed.
Bottom line: I liked this book a lot. (And, as an erstwhile graphic designer of little talent, I love the cover.)
Continuing with the music theme, I recently downloaded The Birth of Loud by Ian S. Port after reading a glowing review in the Wall Street Journal. Port is a music critic and a guitarist, and his passion for music shines in this history of the electric guitar. He has interwoven the stories of Leo Fender and Les Paul to make a framework for a fascinating account of the evolution of what is arguably the most important development in the history of modern music.
Why Leo and Les? Well, each has a firm claim on the invention of the electric guitar, and they leapfrogged each other throughout the instrument's early history in terms of enhancing it. Leo was an inventor but not a musician; Les was both, but didn't have Leo's engineering expertise. He teamed up with the Gibson Guitar Corporation to compete with Fender's company for the hearts and money of the world's guitarists.
Their rivalry (and personal quirks) makes for interesting reading, but where Port really shines is in the retelling of the anecdotes around which the myths of some of the most iconic rock musicians are built. Case in point: a riveting account of the evening that a not-yet-legendary Jimi Hendrix caused the already-a-guitar-god Eric Clapton to question whether he (Clapton) should ever bother picking up a guitar again. You'll also learn that the earliest adopters of the electric guitar were folks like Buck Owens and other pioneers in the Bakersfield country music scene who sought to move beyond the pedal steel that everyone else was using.
Whether you're a guitarist or not, if you grew up with and loved rock and roll, you should read this impressively researched book. Prepare to be disappointed, however, at how quickly it ends, even if your e-reader tells you there are many pages left to go…that's how extensive Port's supporting footnotes are.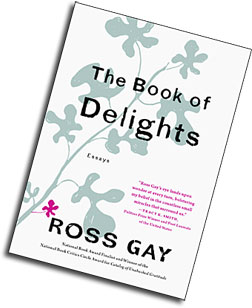 And now, to quote Monty Python, for something completely different. The Book of Delights (hereafter referred to as TBOD) is a collection of short essays — very short; the author calls them essayettes, and most are a page in length, and a small page at that — by Ross Gay, an award-winning writer and poet and college educator. He set out to write one story per day for a year, from one birthday to the next, about things… people… events… whatever… that, well, delighted him. He didn't quite make his daily goal, but the book contains 102 of these essayettes.
A long time ago, in the early days of the Fire Ant Gazette, I coined the phrase "Content-Free Blogging" as a self-deprecating warning not to take most of what I wrote too seriously. TBOD is content-free essaying. I continually tried to put myself into the author's shoes, or head, or heart as I read his observations about what in his environment or memories caused him delight, and I wasn't always successful. But sometimes I was, and sometimes what delighted him did the same for me, even if it wasn't what he was describing but the way he was describing it. I wish I could say this was the case in all 102 essays, or even in the majority of them. Your mileage may vary. As they say.
As a primer for an aspiring writer who wants to learn more about how to observe people, places, and things, TBOD is not a bad one. Details are important, even if those details don't accrue to subjects you're personally invested in. Gay's ability to focus on the mundane (he finds delight in the vulnerability of a … carport) and then describe it was a helpful reminder to me, even as his focus on things I didn't care about provided a cautionary note to be mindful of my blogging audience.
Coupla things of note. If the world ever runs short of commas, we can blame Ross Gay. In one paragraph of one essay, I counted 23 of them. The man does take delight in commas. And, of localish interest, three of the essays arose from observations made in Marfa, Texas. You have to get close to the end of the book to find them and they're not focused on anything unique to Marfa, but they're there. And, finally, he tends to get embarrassingly specific about his own bodily functions and anatomy at times, thereby employing the official/unofficial #nofilter hashtag that I apply to modern poets. If you shy away from reading between the lines, let's leave it at this: don't pick this as a book for group study by your Sunday School class, unless it delights in kegs, smokes, and ribald limericks at its get-togethers.
TBOD is not written in a style that appeals to me, and the writer often gets a little too twee for my taste, but I stop short of saying the book was a waste of my time. I can't give it an unqualified recommendation. But, then, I don't appreciate poetry either, so that's on me.