In an earlier post I alluded to an episode in my life involving a Speedo swim suit and an embarrassing situation. Looking back, I realize that, when considered together, those two references are redundant but it's too late to undo history.
Sitting at home with little to do other than recuperate from minor oral surgery — another story for another time — I figure now is as good a time as any to share the details of one of the more traumatic episodes in my life. And that's saying something given that I once watched a wheel roll past down the street past my car, only to realize that it was MY wheel.
In 1986, Debbie and I, along with two other couples, rented a house on Jamaica, in a town called Runaway Bay, situated between Montego Bay and Ocho Rios. I mention these details not because they're relevant to the story, but only to give you the impression that I'm a seasoned and sophisticated traveler.
Actually, I'm mentioning this particular trip because it was the first time for us to snorkel in the ocean and that experience eventually led to scuba training. It was also the first time for me to wear a Speedo swim suit. I can't recall why I decided to do this, nor whether anyone else in my household thought it was a good idea. But I did, and it was a liberating experience…at least when no one else was around.
For those of you who have met me in person, I apologize for the mental images.
By the way, the Chernobyl nuclear disaster occurred during our trip; I should have taken that as a sign.
Fast forward to 1989. Debbie and I are now certified scuba divers and have been on dive trips to the islands of Cozumel and Bonaire. That year, in early July, we found ourselves diving off the coast of the volcanic Caribbean island that could have inspired the King Kong movies: Saba.
If you're not a diver there are few reasons you should know about Saba (pronounced Say-bah). The nearby islands of Saint Martin/Sint Maarten and Saints Kitts and Nevis are more popular tourist destinations than the five-square-mile Saba, whose primary attractions are the abundant and varied sea life and underwater pinnacles surrounding it.
The island has only one main road, imaginatively referred to as "The Road," the construction of which was a feat of engineering so impressive that it warrants its own Wikipedia page. It connects the airport on the northeast end of the island to the port on the southwest end, and even though that's a distance of less than 3 miles, The Road is almost nine miles in length, which gives you an idea of the windiness of the drive. Very few residents now own vehicles, and car rentals weren't an option when we visited. So, we relied on the inexpensive and efficient taxi services for transportation.
We were assigned an affable driver named Anthony (Debbie remembers; I don't) who would be our guy for the week. He would be responsible for getting three of us and our gear from our guest house in the village of Windwardside down to the port near the capital city of The Bottoms where the dive boats departed, and back again, as well as any other day trips we wanted to take.
Now, scuba diving is a gear intensive undertaking and the taxi minuscule and so Anthony sometimes had to make two trips each way, one to transport our stuff and another to take us. It was only about five miles from the port to Windwardside, but it took almost an hour for the round trip. These details are important; you might want to take some notes.
I think it was the first full day we were there — and I know it was a Sunday — we finished our second dive and were ready to return to our lodging. It was mid-afternoon and after dropping some of our gear in the boat for the next day's dive, we waited for Anthony to arrive and take us home.
We waited…and we waited…and…
We never learned why Anthony was late. Perhaps the logistics weren't not yet worked out that early in our stay. It would be years before we had a cell phone so we couldn't call anyone, even if we had a number to call, which we didn't. In any event, several hours elapsed before he and his little taxi appeared.
If this doesn't sound like an awkward situation, it's only because I've omitted a few details. To wit…
When I dive in water warm enough that a wetsuit isn't necessary, I wear a swimsuit underneath what's called a dive skin, which is basically a thin lycra jumpsuit. Dive skins provide a bit of warmth — not as much as a wetsuit, but they're much less bulky — and also protect against coral scrapes and jellyfish stings. Because they're tight-fitting, I elected to wear a Speedo under mine that day. When we got off the boat, we let the dive guides have everything that needed to be rinsed before the next day…and that included my dive skin. And since we were told our ride would be waiting for us at the dock, I didn't even have a shirt, just a pair of flip-flops. I might have also had a cap.
So, we're hanging around the dock, and I'm not feeling too out of place yet, because after all, this is a popular dive destination and while I might look ridiculous in my own right, I'm still not incongruous. That was to change.
After a while, we grew weary of standing around, and we walked a short distance toward town and sat at the edge of a large open paved area…sort of a public square kind of place, where we could watch a few passers-by.
We soon noticed that the "few" were becoming the "not so few," and growing toward "the many." Crowds of people seemed to be meandering in from the town and congregating in that open area where we sat. Even worse, they were a very well-dressed crowd, almost as if they'd all come from church services. Also, the majority of Sabans are Black; some have ancestors who were brought to the island from Africa as slaves.
It's about then that the live music begins, and many in the crowd begin to dance.
So, let's recap, shall we? There's a large gathering of well-dressed Black people gathering for a dance a few feet from where an almost-naked, terribly white guy is sitting. Did you ever have that dream where you find yourself in the crowded hall of your high school and you realize you have on nothing but underwear? Well, this was worse, because it was really happening.
As it turned out, this was a weekly event on Saba, and we just happened to be hapless party crashers. Fortunately, Sabans are a friendly and hospitable lot, and while nobody offered me a suit jacket, neither did they report me to the authorities. At least the music was catchy.
Anthony finally showed up a few hours after we expected him, and we made it back to our lodging in time for supper. I don't recall the fate of the Speedo, but I'm pretty sure I never wore it unaccompanied again.
Despite all of this, if you ever have the opportunity to visit Saba, I recommend you do so. It's a beautiful and fascinating place, and not at all the clichéd and hedonistic Caribbean resort destination. Also, you'll be able to say that you flew into one of the ten scariest airports in the world. (Debbie and I have actually flown into three of the ten and lived to tell about them.)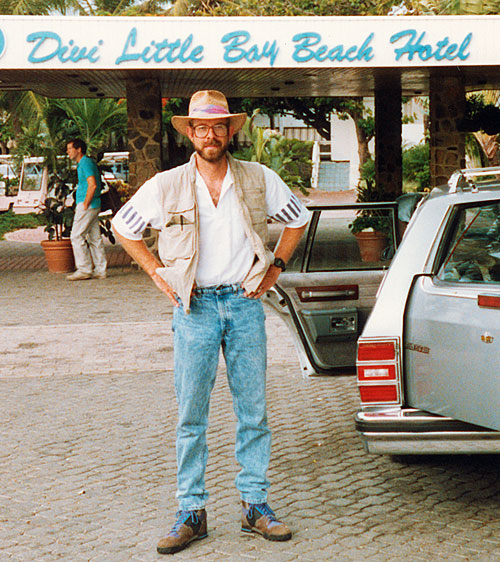 Me on the return trip home, taken on the island of Sint Maarten. I know it's a temptation, but don't bother undressing me with your eyes; there's no Speedo.