No, this isn't a post about Maxwell Smart (sorry if that's disappointing; maybe we'll get to him later); it's about this guy (or girl; IDK…no preferred personal pronouns were exchanged):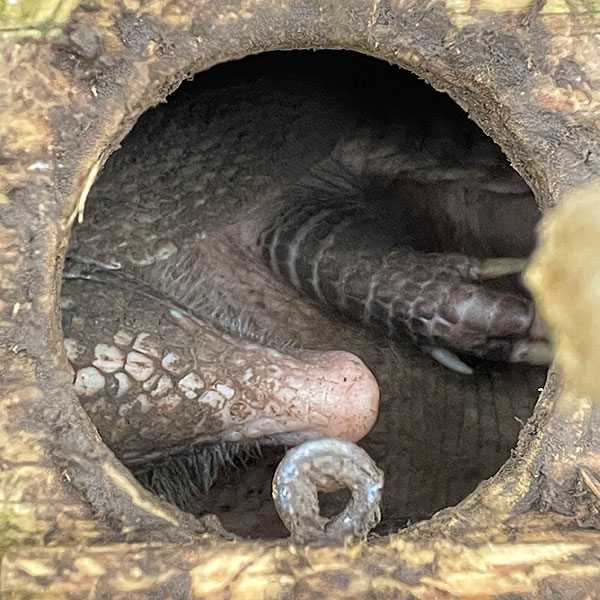 That's right, Armadillo #86 — I assume you've been keeping count — has been safely relocated from our back yard to an undisclosed location.*
The photo might be a little confusing. The critter is inside the wooden trap, lying on its back, presumably snoozing away until I rudely awakened it for transporting to the aforementioned sanctuary (i.e. someplace that's not in our yard). That circle at the bottom of the photo is part of the trap, not a weird armadillo appendage.
This is the third armadillo I've captured in the past ten days, following almost nine months of relative peace and quiet. I actually had to retrieve the trap from a neighbor to whom I had loaned it (he never caught anything) after our back yard lawn was terrorized by the Texas state mammal (Dasypus novemcinctus).
Given that nine-banded armadillos always give birth to identical quadruplets, it stands to reason that there's still one lurking about, assuming it's not the black…uh…sheep of the family and is hitchhiking through Europe. However, there's also the possibility that what I'm trapping are the paroled inmates from other folks' traps who think our somewhat secluded neighborhood is a great place for catch-and-release. But let's not go there; it's too depressing to contemplate.
Anyway, with the latest captures here's where the total species count now stands (let the record show that I'm no longer even putting out traps for anything but the armadillos; the T-rex trap is still in the conceptual phase):
*"Undisclosed location" is not a euphemism for "sleeping with the fishes" (can a euphemism be applied to another euphemism?); I really do take the armadillos out into the countryside for release.