Hello, again…thanks for dropping in to this obscure corner of the blogosphere. Today is National Vanilla Cupcake Day and also the United States Marine Corps Birthday, and I can't think of any greater polar opposites than cupcakes and Marines.
We've got quite a bit to cover today, so let's git 'er done.

Did you watch the Country Music Association (CMA) Academy of Country Music awards show last night? Debbie and I took a chance on it, primarily because of the publicized tribute to Loretta Lynn. We've been somewhat (greatly?) disappointed in the show lately because of the way it's strayed from its true country roots — WAY too much bro-country-pop-rap-crap, pardon my française, but we were pleasantly surprised last night.
Even before Luke Combs referred to the welcome return to "true" country (my adjective), Debbie remarked about the nature of the music, and I chimed in with my thanks for the relative absence of weirdly-forced duos (thank you very much, Kid Rock…now please exit stage left). Of course, the minute those words left my mouth, Thomas Rhett and Katy Perry stepped on stage and did the lamest non-country song of the evening.
Highlights for me were Lainey Wilson (newly-crowned Female Vocalist of the Year and New Artist of the Year) singing with HARDY — not sure what's up with the all-caps, but WHATEVER, THEY ROCKED with wait in the truck (not sure what's up with the all-lower-case, but whatever…it's the best revenge song since Miranda Lambert's Gunpowder & Lead). Here's a short excerpt from wait in the truck, and I'll explain why I picked it out.
Did you catch that phrase, judge under a seat? Now, I may be reading too much into it, but there could be a double meaning. The obvious one is that justice is about to be dispensed at the end of a gun, but perhaps the less obvious reference is to the actual model of the gun itself. The Judge is a line of revolvers manufactured by Taurus famous for its ability to mix-and-match .45 caliber bullets with .410 shot shells. Maybe this interpretation is a stretch, but it does lend some authenticity to the lyrics. In any event, the high-powered performance brought the crowd to its feet.
Another highlight was the Zac Brown Band's teaming up with Marcus King on Out In The Middle. Couple of surprises for me. First, I didn't realize that Caroline Jones was now a full-fledged member of the ZBB…the first female member of the band, and a definite asset.
Second — and I perhaps should be embarrassed to admit this — I was not familiar with Marcus King. I was taken aback by sight of the pudgy-fingered guitarist with his too-small cowboy hat, but when the band turned him loose for a solo, it was obvious he's something special. On the basis of that 20-second riff, I now own his last two albums, El Dorado and Young Blood, pleasing mixes of country, blues, and rock.
The most fun performance of the night went to the trio of Kelsea Ballerini, Kelly Clarkson, Carly Pearce on You're Drunk, Go Home; they were reminiscent of the Pistol Annies, Miranda Lambert's side project.
And speaking of Miranda Lambert, her rendition of Geraldine (an in-your-face answer to Dolly's Jolene) was high energy, but I still prefer her acoustic performance on The Marfa Tapes (which is, in my opinion, one of the best country albums ever).
If last night is any indication, country music is in good hands.

While we're on the "Sounds" portion of today's topic, here's one for you:
This loud-mouth bird was disturbing the peace in our back yard this morning. While it was a familiar call, I couldn't place the species, so I turned to Merlin, the bird ID app from the Cornell Lab. It provided a trio of possibilities, only one of which — the Carolina wren — was an obvious match. They are very common around here, and I should be able to remember this next time…but I'm not holding my breath.

Moving on…I'm about to do something different than I normally do on these pages, and that's spotlight some photos from people other than myself. The next two pictures caught my eye for what I hope you'll agree are obvious reasons, and I wanted to share them with you. In both cases, I asked for and received permission from the creators — neither of whom make their living via photography — to post them here.
We were fortunate to receive some rain via a series of storms that passed through the area a few days ago. Tara Wietz captured this dramatic scene in Marble Falls. If you live in the Highland Lakes area and are on Facebook, you might have already seen this photo, but it's worth a repeat view.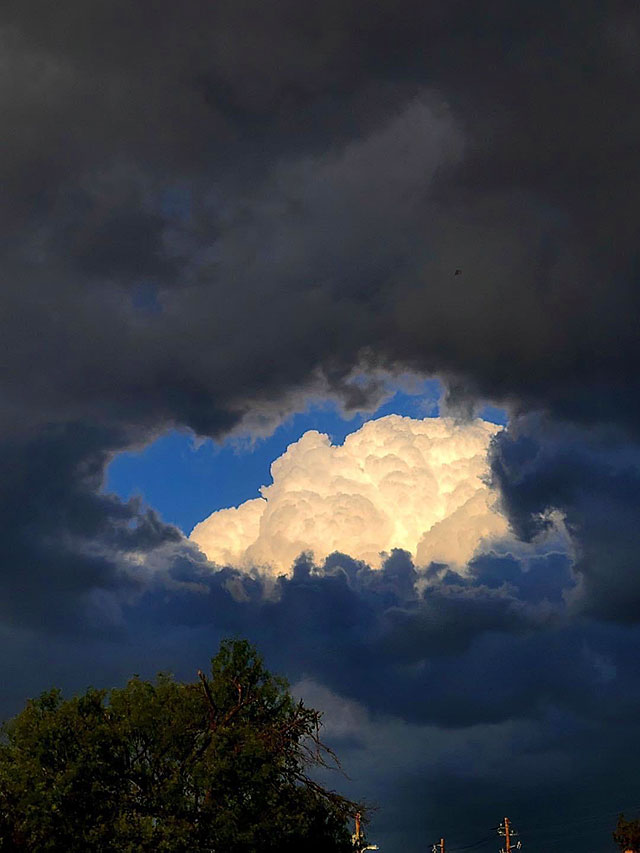 © 2022 – Tara Wietz
Next up is a photo shared with me by my pal David Gerstman, a New Yorker now living in Baltimore. David and I go way back, virtually-speaking, as he was a long-time blogger in the good old days (although he wised up and spends his time in more meaningful pursuits). We share a love of black-and-white photography, and I've been very impressed by some of the images that come from his Samsung Galaxy S21 phone. In fact, I told him that if I didn't have such an huge investment in the Apple ecosystem, I'd consider switching just for the camera.
Anyway, I love the stark contrast of shadow and light with the trees in this photo, which was taken a couple of hours before sunset.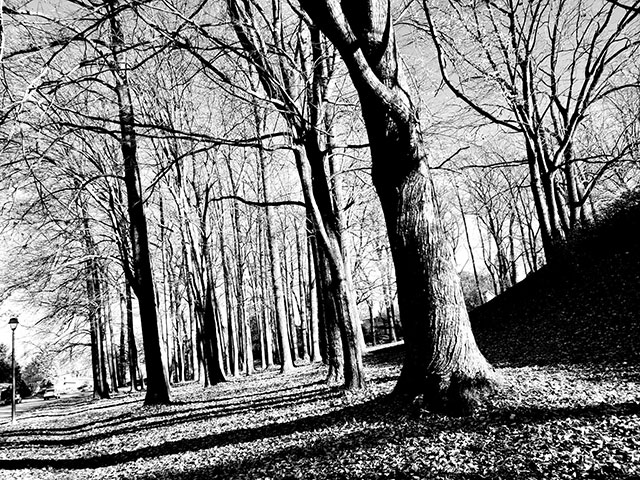 © 2022 – David Gerstman
You can tell that David's photo wasn't taken in Texas…our trees are still mostly leafed out. In fact, here's a photo of the fall color across the creek from our house. Eat your hearts out, Vermont and New Hampshire!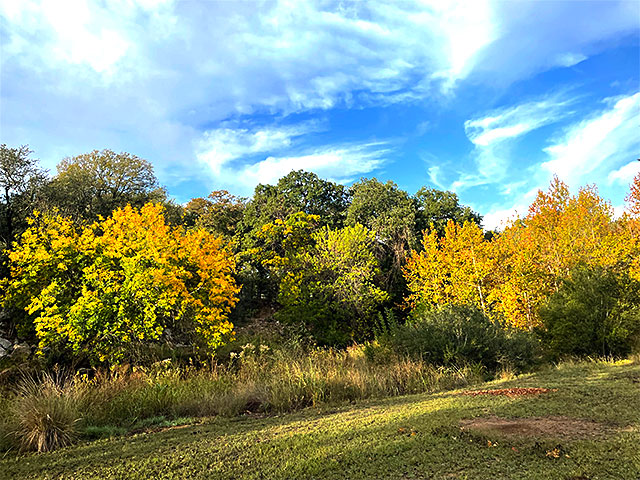 Perhaps not breathtaking, but we kinda like it.

Closing Shot…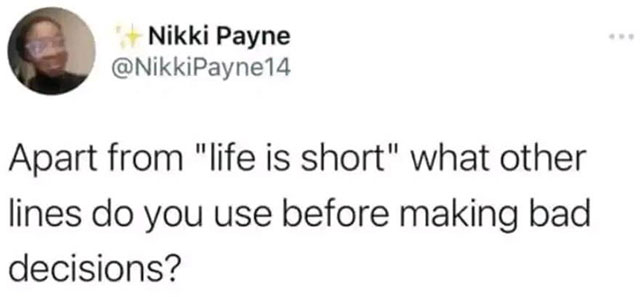 My go-to? "I'm totally blogging this."