I was finally able to spend a few more hours on The Project, with the following outcome: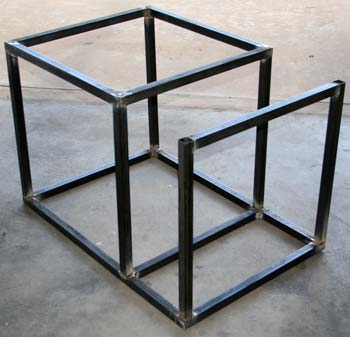 If you look closely, you'll notice that I abandoned my initial strategy of beveling the ends of the tubing to make nice seams. I might have continued with that approach if the resulting seams had actually been nice, but they weren't so I'm not and I've decided, in true making-lemonade-from-squashed-and-mutilated-lemons fashion, that I'll be able to use the open ends of the tubing to store stuff. And no, I don't know what; that's not even important so don't worry about it.
Despite the appearance in the photo, the frame is about as square as an Escher print. But it's strong and acquiring roughly the same shape as my blueprint and at the end of the day, I'm satisfied with it.
Stay tuned for more exciting developments. But first, I have to find some expanded metal grating, which may be a challenge.