The next step on The Project was to attach the casters, so I can roll the whole shootin' match around the garage, as needed. I picked up four wheels at Home Depot and welded them to the bottom of the frame: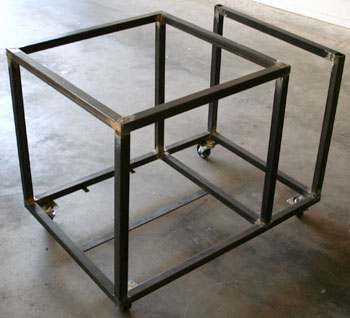 You can also see the metal flat welded across the bottom of the main compartment, and — if your eyes are sharp — a couple of small tabs on the bottom rail farthest* from the camera. The flat and the tabs will serve as attachment points for the expanded metal floor for that compartment.
I realize that it appears that I haven't made much progress since the last report, but the lack of progress is in my reporting, not the construction. I've made excellent progress, to the point where I'm actually using the device for its intended purpose, even though there's still some major additions left to be done. I'll try to put up another report over the weekend so that you can sit in awe of my ode to the manly art** of metalworking.
*I refer to you Garner's Modern American English for a thorough and definitive explanation of why "furthest" wasn't chosen for this mission, despite my initial inclination to do so.
**Although, I must admit that it sort of ruins the effect when, in the midst of flying sparks and the crackle of the welder, the iPod playing over the powered speakers in the garage serves up It's My Party by Lesley Gore. At least it was quickly followed by Hendrix doing Voodoo Child.