One of the challenges of owning a bicycle with a wheelbase of more than 9′ is transporting it. Conventional bike racks just don't work.
In the past, we've used a Thule roof rack system along with a Thule tandem carrier that I extended with a length of square tubing and a second welded-on "foot" for attaching it to the rack. Here's what the bike looked like mounted on our previous vehicle, a Dodge Durango.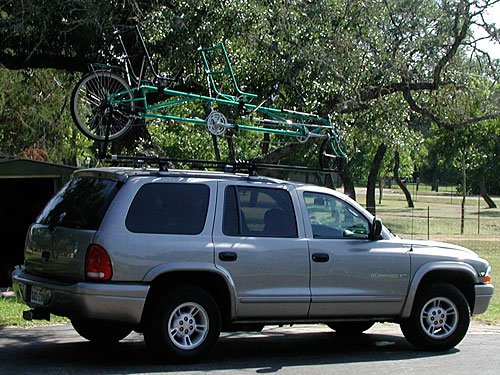 As you can imagine, lifting a 50 pound bike up and onto the carrier was quite a job. Fortunately, I was able to effectively supervise my wife as she did the job and I thought it worked quite well. OK, you got me…this was a two-person job, one of which I could never farm out to somebody else.
Now that we have a pickup, you'd think the job would be considerably easier, wouldn't you? But the bike's wheelbase is only about a half foot shorter than the truck's, and the bike is several feet longer than the truck bed with the tailgate down. Nevertheless, by continuing to use the Thule carrier and enough tie-downs to moor the Queen Elizabeth, we can transport the bike in the Ridgeline's bed in effective, if ungainly, fashion. Click on the following photos for evidence.
Now, the issue should be obvious. While the bike is quite secure, I worry about it extending so far in back of the vehicle. There's little chance that someone would run into it during the daytime (it's apparently quite an eye-catching sight traveling down the highway, judging by the reaction of other drivers on I-20 last weekend), but night is a different matter. I'll mount reflectors on the carrier for nighttime use, but I'd prefer a completely different solution. We may have to revert back to the roof rack approach, which is unfortunate, as it will require both of us to load and unload. I can handle the current setup by myself.
I don't want to alarm anyone, but there could be a welding project in my future!