In late April Canon released a new point-and-shoot camera, the PowerShot N. I pre-ordered it from Amazon.com (where I now see that it's temporarily out of stock) based primarily on two features described in a preview article: an 8:1 optical zoom, and built-in WiFi. It didn't hurt that the camera is about 20% smaller than my all-time favorite P&S, Canon's workhorse PowerShot S95 (which has been replaced by the S110), and came with a price just under $300.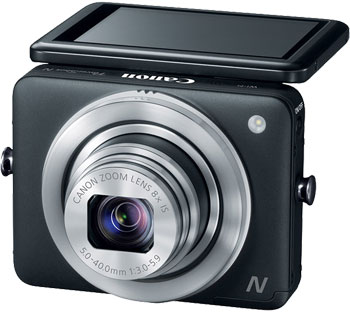 After a too-lengthy wait, the camera arrived and I've been using it for a couple of weeks. It's taken some getting used to, thanks to some design decisions made by Canon's engineers (or are they engineering decisions made by their designers?). If you look closely at the photo, you'll see a silver ring with three notches encircling the lens. That's the zoom control; twist it one way to zoom in and the other to zoom out. Another ring that protrudes past the zoom ring – it's difficult to discern from the photo – is the shutter release. You press that ring from either the top or bottom to take the photo.
These unusual controls are designed to give you more flexibility in camera position, in order to take advantage of the flip-up LED screen that covers the entire back of the camera. It's easier to hold the camera at a low angle and take photos than it would be with conventional shutter and zoom buttons. I haven't had a lot of reasons to try that out yet, and while it may indeed be a helpful design feature, I've also had some accidental snaps while I get accustomed to the layout.
Photo quality is good, especially outdoors. Flash photos leave something to be desired; the flash isn't much more powerful than in a smartphone. That's a compromise that comes with such a tiny form factor. Don't expect to use the 8x zoom to get details from across a dark room.
The camera takes full 1080p HD video and provides the welcome ability to snap a still photo while recording video without interrupting the movie. It also offers a super-slo-mo, 120 frames-per-second video recording capability (but only for short recordings) that provides some pretty amazing results.
It's said that the best camera is the one you have with you, and from that perspective, the N is a good choice due to its combination of small size and innovative features, especially if you want to share photos on-the-go via Facebook or Twitter. Being able to take high quality photos and HD video (better than you can get on your phone) and then use your phone to put them on social media is a hard-to-resist capability.