One of the many cool features about Google Earth is the ability to step back in time to see how an aerial scene has changed. Beginning with Google Earth 5.0, introduced in 2009, "historical imagery" was integrated into the application. As far as I can tell, much of the imagery (dating back to around 1984) came from the USGS, but there are a lot of images which are dated well before that. The results are inconsistent, but here are a few of the oldest images for some well-known cities:
San Francisco – 1938
Las Vegas – 1950
Los Angeles – 1989
NYC – 1978
Dallas – 1995
Miami – 1994
London – 1940
Berlin – 1943
Linwood, Ontario, Canada – 1930
OK, so Linwood, Ontario, probably isn't that well-known, unless you happen to live there, but by all accounts the aerial photo from 1930 is the oldest one in Google Earth. So, there's some fodder for your next family trivia night.
I was curious about what the historical imagery would show for our neighborhood and the immediate surroundings. Our development is only about ten years old, built in what was previously open pasture, and a lot has changed during the intervening years. It turns out that Google Earth has eight distinct views of the neighborhood, dating back to 1996. That first image is black and white, and there's a seven year gap until the next image shows up. Updates are more frequent thereafter.
I decided to create an animation to show the changes from 1996 to the present. (That capability is supposedly present in Google Earth but I couldn't make it work.) I took screen shots of each unique point in time, then created an animated GIF in Photoshop. Here's the result. Note: This is a very large file and the animation may not run if you don't have a lot of bandwidth. Feel free to right-click on the image and download it to your desktop to view if it stalls.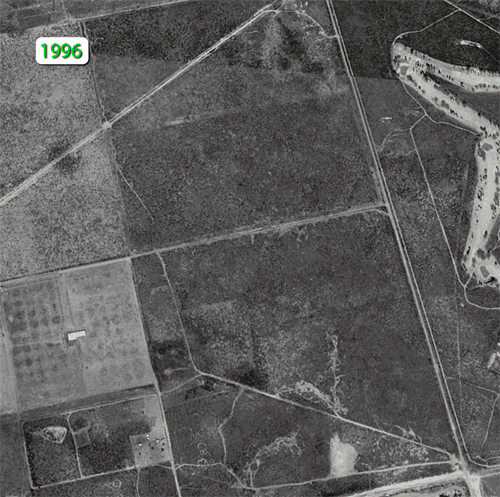 There's not a lot of change during the latter years, although if you live out here, you'll be familiar enough with the neighborhood to spot the differences. But one thing I had never noticed before is that the development is has a distinct shape that's oddly familiar. I can't quite put my finger on it…but maybe you can figure it out…