Last weekend we met friends in San Antonio and spent a few days enjoying some quite varied activities and events in that amazing city. If you haven't been to SA before, or if your exposure has been limited to the often frantic and always touristy downtown portion of the Riverwalk, the following is a sort of travelogue with some ideas for you to consider.
Friday, October 29
We booked rooms at the Wyndham Garden Riverwalk/Museum Reach. As you may or may not know, the San Antonio Riverwalk extends north of downtown for about two miles, ending at the Pearl District. This is the second quietest section of the Riverwalk (the quietest being the long stretch south of downtown which runs past the King William District and eventually dwindles down into the undeveloped portion of the San Antonio River), and you can probably guess why part of it is called the Museum Reach. The museums and the Wyndham are about halfway between downtown (to the south) and the Pearl District (to the north).
Debbie and I booked a river view room, and it did have one, but the view from a ground floor room is a bit less than spectacular. Still, the room was convenient to the hotel's coffee bar each morning.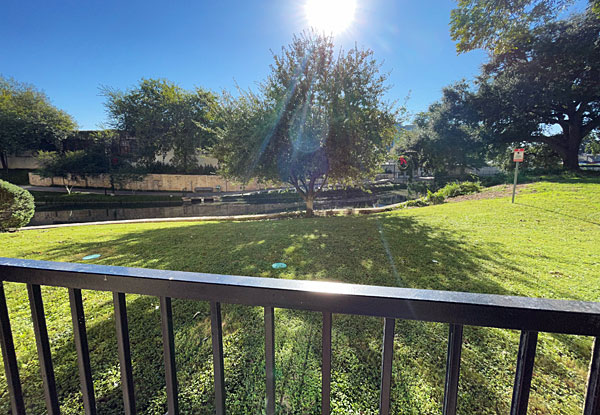 The view from our "balcony" was not breathtaking, but it was peaceful.
After reading a rather glowing review in Texas Monthly, I had booked a reservation for us at Mixtli, a "progressive Mexican restaurant" located just south of downtown. The restaurant features a fixed, multi-course tasting menu that focuses on the cuisine inspired by a specific region of Mexico. This menu stays in place for an extended period of time, then it moves to another region. Our visit corresponded with the focus on the Chiapas region, which is in the southern part of Mexico, down to the border with Guatemala.
Dinner proved to be quite an adventure, beginning with my inability to even locate the restaurant despite knowing the address. We finally parked and walked to another restaurant to ask directions. As it turns out, we were parked less than a hundred yards from Mixtli; they could really invest in better signage.
The Chiapas menu began in September and runs through mid-December, so the preceding link may or may not be out of date by the time you see it. But I've provided a list of the courses below and their published ingredients, and in some cases my best guess as to as explanation of some of those ingredients. I've also provided photos of some of the courses. We were given a brief primer about each course by a chef or server, but the noise level in the restaurant along with MANY unfamiliar culinary terms and Mexican references generally prevented us from gaining any meaningful education. Mixtli would do well in the future to provide a written synopsis for diners to take home with them.
Our quartet judged the experience as worthwhile, to the point of considering repeating it when we're back in January for a concert. Not every dish was a home run with every one of us; for example, the Arroz Verde didn't do much for me, but the other three enjoyed it greatly, while the Costillas Chiapanecas (pork ribs) were a big hit with three of us, but the fourth didn't care for them. We were unanimous in our praise for the potato bread with coffee butter, the Crab Chileatole, and the Selva Lacandona; the Tamal de Bola wasn't anyone's favorite. But in some way, each dish gave us a [literal] taste of the region, one that none of us were that familiar with.
Chiapas Tasting Menu
Potato Bread — coffee cultured butter, chile morita, vanilla salt
Crab Chileatole (a thick soup) — masa, dry chiles, crab
Ceviche de Jamaica — hibiscus, avocado, swordfish
Tamal de Bola — shrimp, epazote (aromatic herb), mole de cameron (shrimp mole)
Ocosingo (a Chiapan municipality) — queso de bola (soft cheese), vegetable picadillo, dried fruits
Selva Lacandona (a Chiapan rainforest) — banana, black beans, acocil (crayfish)
Arroz Verde — wood mushrooms, poblano, flowers
Costillas Chiapanecas — pork ribs, mole Chiapaneco, dried papaya and pineapple
Dessert — chimbo (honey water soaked cake), cafe de olli (spiced coffee), cajeta (caramel sauce)
Mignardises (petit fours)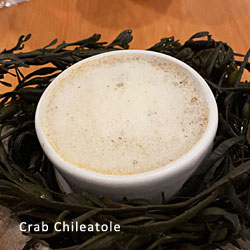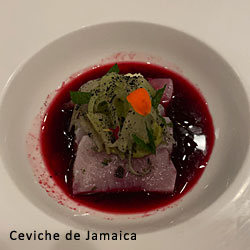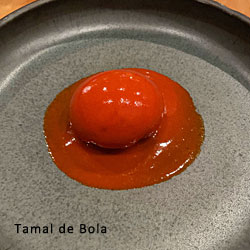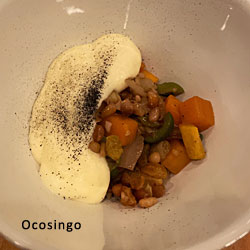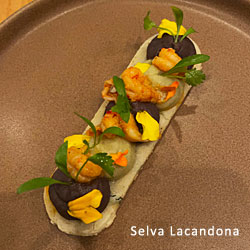 We left sated, yet energized. We* also got lost going back to the hotel…and not for the last time, as it turned out.
[Note that when you make a reservation for dinner at Mixtli, you're buying a non-refundable ticket, not making a reservation for which you'll pay later if and when you show up.]
*And by "we" I mean, of course, me.
Saturday, October 30
Debbie and I headed out for a run at daybreak, something we would repeat the next two mornings as well. We were not the only runners and walkers on the Riverwalk paths, but our route was also far from crowded. The weather was ideal…temperatures in the upper 50s-to-lower 60s and no wind. And, unlike our normal running routes, there are no hills.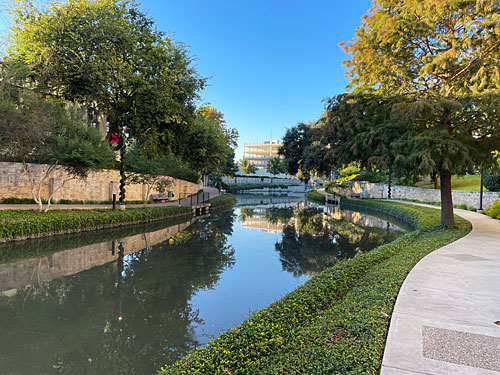 The Riverwalk view to the south of our hotel; the locks are at the top of the photo.
Below is a view looking to the north. The careful observer will spot Christmas decorations already in place.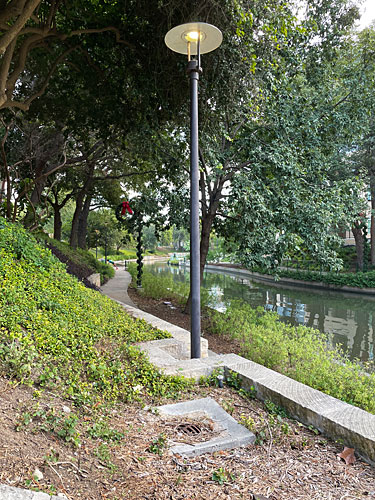 Afterward, the four of us walked a long block to the newest location of local chain Tia's Taco Hut on St. Mary's Street, the Wyndham choosing to not provide a hot breakfast. That turned out to be a blessing because TTH was an exceptional choice for a good, inexpensive desayuno. This became our daily morning habit.
After breakfast, we walked to the Pearl District, where we found the weekly Farmer's Market in full swing. It being the [extended] weekend of Halloween and Día de los Muertos, the people watching was good, and the dog watching was even better. We wandered through the booths and stores for a couple of hours before heading back down the Riverwalk in search of lunch, and finally landed at Elsewhere Kitchen, an uber-casual, outdoor dining establishment with pretty good food.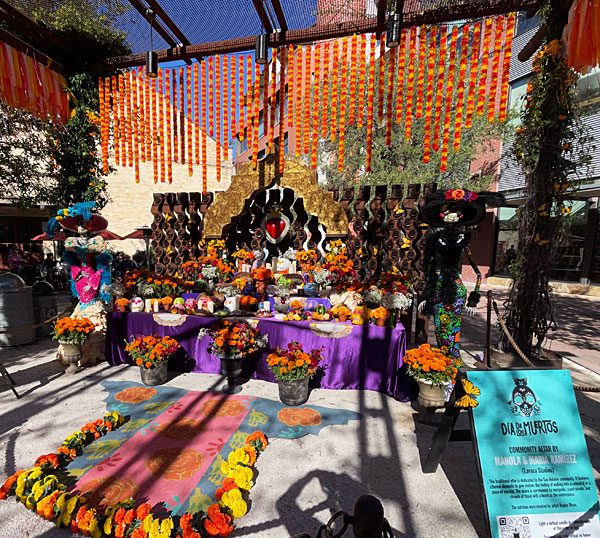 This elaborate display is the Pearl District's
Día de los Muertos
altar.
We then strolled another quarter mile or so south to the Tobin Center for the Performing Arts, where Octobinfest was underway. This is a free annual event that celebrates the German and Mexican influences that combined to help create San Antonio's rather unique culture. This was our first time to attend, and I had flagged it on my calendar because of the appearance of three musical acts: Off The Grid (an Austin based polka trio that also does rock-and-roll covers set to polka arrangements), Los Texmaniacs (a San Antonio-based, Grammy award winning Tejano/Conjunto/Tex-Mex quartet), and Leonardo "Flaco" Jiménez (possibly the world's greatest accordionist and former member of the Texas Tornados super-group). [Some Horseshoe Bayans reading this might recall that Los Texmaniacs did an outdoor concert at Quail Point about a year ago as a part of the Cultural Enrichment program…and they were a big hit.]
The common thread connecting these three acts is the accordion, which in the hands of virtuosos like Flaco, or Josh Baca, or Joe Klaus will put to rest the ridicule heaped upon the instrument thanks to mediocre wedding bands in the Catskills. Besides hearing some terrific music, we also got a bit of education, e.g. learning the difference between chromatic and diatonic accordions (the latter plays different notes on the push and pull — i.e. the reeds are bisonoric, while the former plays the same note). Off The Grid utilizes a chromatic accordion, while Los Texmaniacs and Flaco use diatonics.  [Check this website if you want to learn more about this topic…because I know you do.]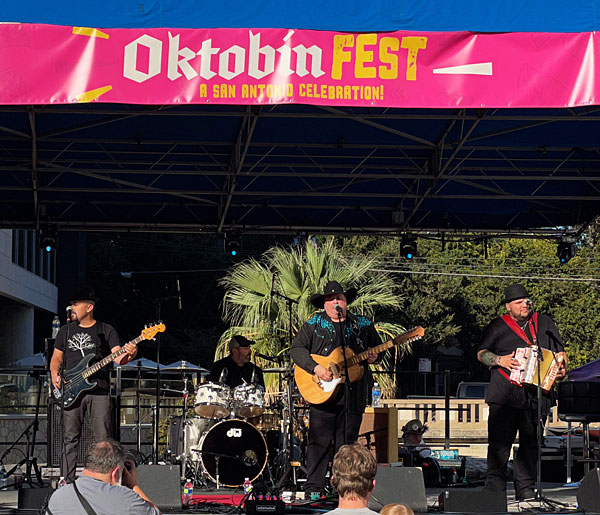 Above: Max Baca (playing the 12-string 
bajo sexto
), and his nephew Josh Baca (on the accordion), are the heart of Los Texmaniacs.
Below: Flaco Jiménez may be in his 80s, but he still knows his way around a squeeze-box.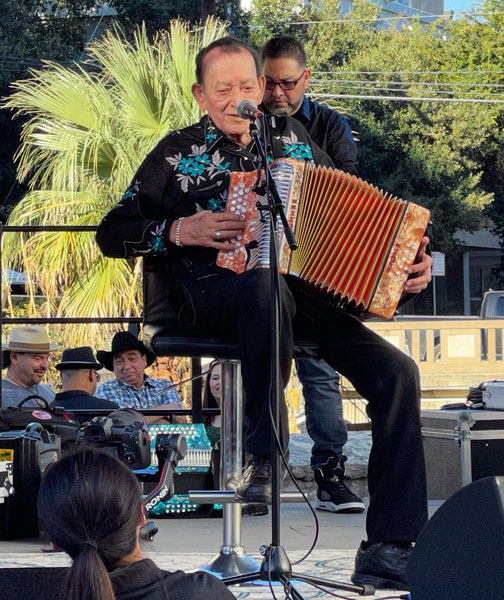 We didn't stay for the entire program because we weren't finished with the day's musical adventures. We walked back to the hotel and got some rest — I think by this time I had clocked almost eleven miles on my fitness app — and around 8:30 we piled into the truck and headed for the Pearl District. That's normally a three minute drive from the hotel, assuming that the first thing you don't do is turn the wrong way at the first intersection you come to. That minor fiasco was quickly corrected with a Fast and Furious drift and a U-turn, and we made it to the Pearl in time for our reservation for the late show at Jazz Texas.
I'm pretty sure I've raved about Jazz Texas before on these pages. But for you newcomers, the venue is a smallish, classy basement speakeasy/restaurant/jazz club with a huge bar, excellent kitchen, and absolutely wonderful music. On weeknights, the music is provided by a variety of groups representing a variety of genres, but on the weekends, the draw is the Doc Watkins Orchestra, a ten-piece ensemble (plus vocalist, usually) that plays everything from classic jazz to western swing. Doc Watkins — a well-known figure in the San Antonio music scene — is the pianist and also just happens to own the club. We've been to Jazz Texas on numerous occasions and have never been disappointed by the music (or the food, for that matter).
This evening was no exception (although we were hoping for another performance of Sing, Sing, Sing, because they absolutely kill that swing standard).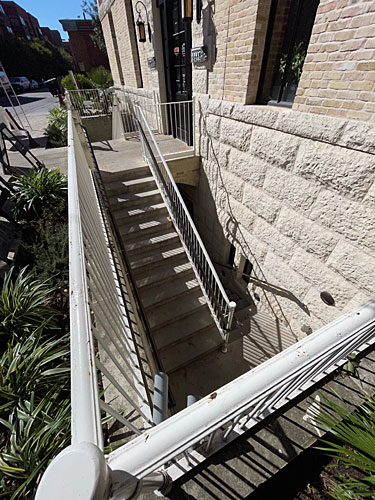 Above: These stairs lead down to Jazz Texas, in the basement of the food court at the Pearl District.
Below: The Doc Watkins Orchestra, featuring vocals by Meg Bodi, in full swing mode at Jazz Texas.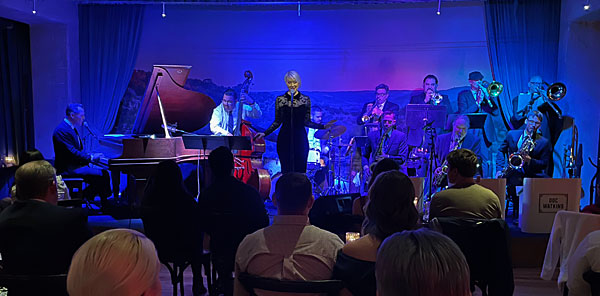 This was a fine ending to a busy day, and we were back at the hotel well before midnight, thanks in large part to my unerring ability to retrace my automotive steps…finally.
Sunday
Sunday dawned cool and clear, and Debbie and I did our usual daybreak run up and down the Riverwalk, then we all walked back to Tia's Taco Hut for another leisurely breakfast. The only thing on our agenda was a visit to San Antonio's very fine zoo. Debbie and I had been there in May for a fundraiser ("Zoo La-La!") but it took place at night and a lot of the animals had gone to bed by the time we arrived. Plus, the reptile house wasn't open at all, and I'd been moping about that for months. (Watching the US Congress at work wasn't really the acceptable substitute one would expect.)
Unlike in March when we had to park a half mile away, we actually scored a parking spot in the main lot and soon thereafter started our tour. We quickly discovered that the zoo was literally overrun with dinosaurs.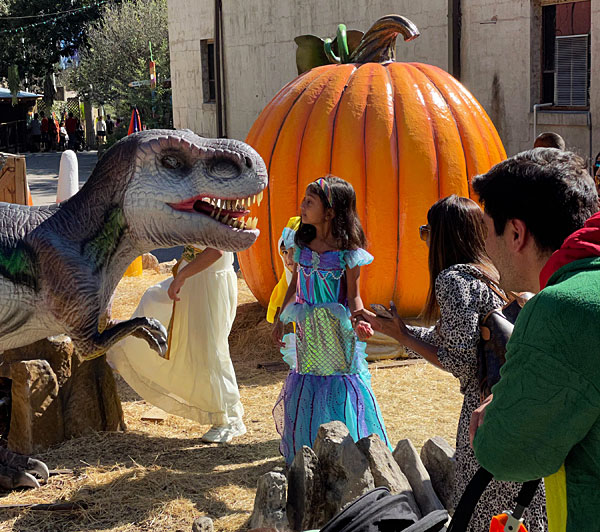 This princess was determined to make friends with the animatronic raptor.
These dinosaurs — some of them much larger than the little guy pictured above — are probably part of a temporary exhibit, although that's just a guess. There was probably a sign explaining their presence but I was too excited to notice.
Since this was Halloween, fully half of the zoo patrons were in costume, which again made for good people watching. But we were there for the four-legged (and two-winged, and no-legged) animals and we spent a few hours taking in the sights.
One of my favorite displays was in the aquarium. Have you ever heard of upside-down jellyfish? If teenagers were invertebrates, they would likely have evolved from these jellyfish, as they spend most of their time resting on the ocean floor — upside down, of course, tentacles floating above them, waiting for food to float into their whatever-passes-for-jellyfish-mouths. I admired their commitment to doing nothing, and they were quite pretty.
We watched a 12-foot long alligator climb out of the water and find a good spot in the sun for a nap. We saw a huge male jaguar emerge from his den and heard him howl lustily for the female that is housed nearby (the new jaguar habitat is a work of architectural and ecological art, and must be seen to understand how cool it is). We observed flamingos duel with each other over some perceived slight until one slinked away in pink shame. And by the end of the day — a rather hot and humid one — we finally found our spirit animal: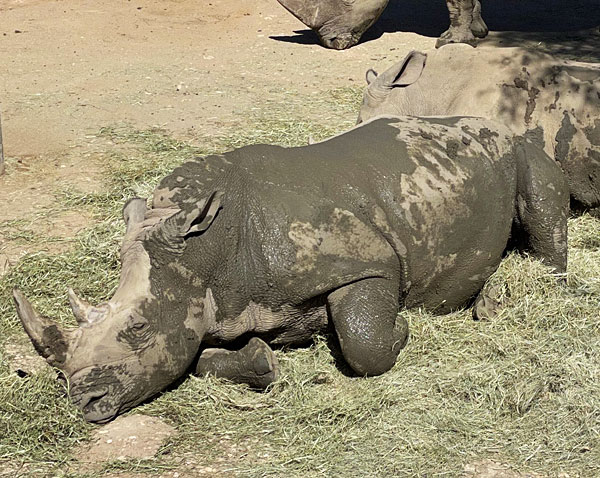 This rhino simply collapsed and went to sleep on its lunch, sort of like what I almost did during the 10-course dinner on Friday.
We left the zoo around 3:00 or so and headed in search of something cold and Mexicany, and ended up at Mi Tierra. No visit to San Antonio is complete with a stop at that fabled restaurante, although thinking we could get a table in less than an hour on a Sunday afternoon was the height of naivety. Still, we persisted and we overcame.
The rest of the afternoon and early evening was spent in serious downtime mode, with much reading through closed eyelids taking place. We did break long enough to visit the hotel restaurant for a glass of Cab and some dessert; we were the only people in the joint besides the bored waitstaff. I guess most people head home on Sundays.
The next morning was a rinse-and-repeat cycle for Debbie and me: dawn run, a final Taco Hut breakfast with our friends, then pack and load and say our goodbyes. They headed south and we headed north. We were all tired and ready to get home, and, I suspect, looking forward to when we can return and do it again. (Oh look! There's already a date on our January 2022 calendar.)