The Gazette once again seems to be a clearinghouse of sorts for news regarding the massive collection of artwork assembled by Atlantic Richfield Company ("ARCO"). I recently received an email from a representative of Jeff Martin Auctioneers Inc. announcing an online auction of a number of pieces formerly owned by ARCO.
Hi Eric,
I found your website while doing research on some pieces in our upcoming art collection auction. I'm amazed by the history of the ARCO pieces and how they came to the Dallas, Texas area. As of now, I have been able to confidently identify 59 pieces in the auction that are from this collection with most having complimentary pieces in the auction. There are many more pieces in the collection that have ARCO and an "ID Number" written by hand on them but no longer have or never had a certificate of authenticity attached.
I hope you enjoy seeing these pieces as much as we have. We would like to see if you wouldn't mind adding this to your updates about the collection and how it has moved since the ARCO building was sold and where the art is now being displayed.
This is a link to the full auction: https://jeffmartinauctioneers.proxibid.com/Jeff-Martin-Auctioneers-Inc/ONLINE-ONLY-VISTRA-ENERGY-ART-AUCTION/event-catalog/213873?#0019
The representative went on to list the lot numbers of the pieces that had been confirmed as originating from ARCO's collection:
0019, 0036, 0037, 0040, 0041, 0042, 0043, 0044, 0049, 0051C, 0051D, 0057A, 0061, 0064, 0065, 0067, 0068, 0075, 0077, 0078, 0079, 0084, 0085, 0086, 0087, 0088, 0090, 0091, 0093, 0094B, 0099, 0100, 0101, 0105, 0107, 0109, 0113A, 0114, 0115, 0116, 0117, 0120, 0125, 0134, 0139, 0141, 0153, 0158A, 0159, 0165, 0167, 0168, 0166A, 0166B, 0173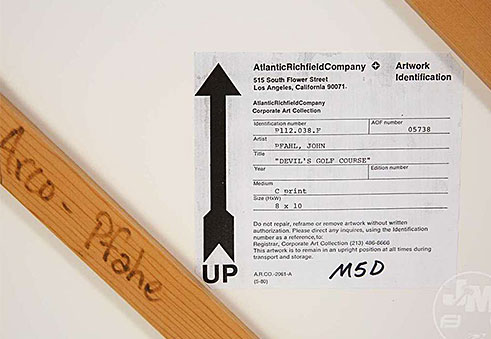 Documentation of the provenance of one of the pieces being auctioned
This artwork is currently owned by Vistra Energy, which I believe is the parent company of TXU Energy. The artwork was acquired as a part of the purchase of ARCO's downtown Dallas office building by TXU in 1994.
If you're interested in bidding, note that the items must be picked up at their current location in Plano, Texas. The bidding begins closing in a few days, so move quickly.
At the time of this posting, there are some apparent bargains to be had. I saw one piece with an appraised value of $9,000 and a current high bid of $5.00. Of course, in this type of auction much if not most of the bidding will take place immediately before the closing time.
[Note: If you want to know more about the ARCO corporate artwork collection, I've made a separate archive category for the subject. Just click on the "ARCO Corporate Collection" link in the Archives dropdown menu at the bottom of this page (or, even easier, here).]