Editor's Note: The following is the kind of hard-hitting, insightful reportage that the Gazette is known for. You, our faithful reader, can count on our commitment to continue to strive to meet the highest of journalistic and bloggeristic standards in order to enhance your quality of life via our expert professionalism and — uh, what's that? I've used up my daily allotment of pixels? Why, I oughta
It's taken me years to learn some lessons about picking my battles. It was relatively easy to remember not to spit into the wind, and pulling Superman's cape was never on my bucket list to begin with. But such personal growth and self-discipline is rarely without stops and starts, and I was reminded of this unalterable fact today by none other than TwitFacesterGram, the benevolent dispenser of social media crack that everyone loves to hate.
OK, I jest…it was actually just Facebook (but all the rest of that is true). I've recently started to delurk a bit on FB, realizing that if the cesspool is ever going to be drained, I'll have to put on my waders and start pulling on the plug. But baby steps, you know…I don't often post anything other than links to this here blog-like thing and the occasional humorous and/or maudlin header photo.
Anyway, you know those Memories that FB foists upon you each day…those throwbacks to the halcyon days of yore when the most controversial thing on social media was a dress color or whether a baby was dancing or actually needed to be dewormed? Well, every now and then, one of those "memories" strikes a chord, stirring deeply repressed memories (duh) and emotions, and I experienced just that today*. Here's what did it, from eleven years in the past: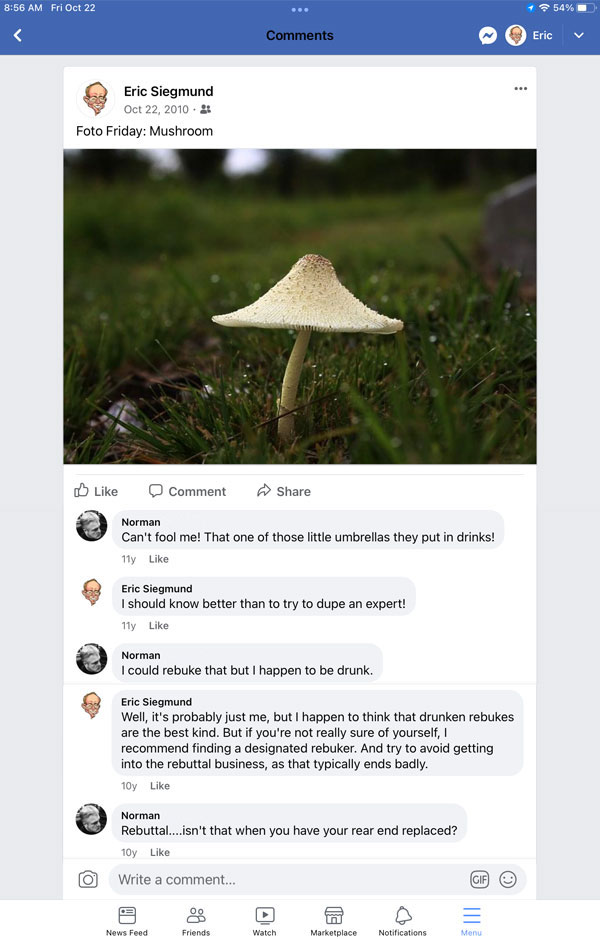 There are a few things you need to know. If you've stuck with me since the Midland days (bless your heart) you likely know Norman [last name redacted, but this has nothing whatsoever to do with Federal Witness Protection protocol, nosireebob], the Count of Comics, the Archduke of Animation, the Prince of Paint, the…uh…Viscount of Visuals. Anyway, Norman and his extremely lovely and competent helpmate go way back with me and MLB, not only in time but in geography. We are all native West Texans who have grudgingly fled the wind and dust and Walmart bag-lined ranch fencing of Midland for greener spaces, where the road goes on forever and the armadillo carcasses never end. And, for a bit of metaverse trivia, Norman is responsible for the exceedingly handsome visage I wear on FB, avatar-wise.
This comment thread shown above is simply one example of engaging Norman in a battle of wits. Just as you wouldn't get involved in a land war in Asia or challenge Mike Tyson to an ear-biting contest, you don't go brain-to-brain with Norman. There's just no possible positive outcome, other than providing some idiot with blog fodder.
So, I say to Norman and all the other Norman wannabes that grace my libro de cara and/or this blog: live long, prosper, and never give up; never surrender!** The sanity of the world depends on it!
*"Today" being a pretty loose term, given that it's taken me almost three months to actually post this. In my defense, I did start writing it way back when; I'm planning to work on my procrastination tendencies pretty soon.
**Extra credit for identifying the sources of these motivational phrases.