The 9th annual Beer By The Bay festival at the Horseshoe Bay Resort was last weekend, and, as usual, featured some very good food and music, along with multiple tents sheltering Texas craft brewers providing samples of their products.
Some of the past BBTB events have included musical acts from genres other than country, but the organizers seem to have given up on musical diversity and gone all in on country…not that there's anything wrong with that, and the thousand or so people who show up every year seem to agree. The event continues to attract excellent musicians from the deep talent pool that is Austin, plus some nationally-known names (Asleep At The Wheel, Leann Rimes, Sara Evans, and Pat Green come to mind).
I did an in-depth review of last year's BBTB, and ended with the affirmation that this year's event would improve on last year's occasionally disappointing production. That turned out to be an accurate prediction.
I'm not going to dwell on the food this time around, as the menu was almost identical to last year's, and quite good. But I will say that the Blond Beer Battered Blondies, despite the naming redundancy, continue to be Awe. Some.
Here's my take on the event's music.
Day One: Friday, August 12
Curtis Grimes was the opening act on Friday evening. Grimes is a young and personable singer and song writer backed by a solid group of musicians. According to his website, he was a Top 8 finalist in Season 1 of The Voice (coached by the classic country artist CeeLo Green), and later was named "Entertainer of the Year" by the Texas Country Music Association. He has also been named Texas "Christian Country Artist of the Year," and several of his songs, as well as his monologues during his performance gave ample support to for that recognition.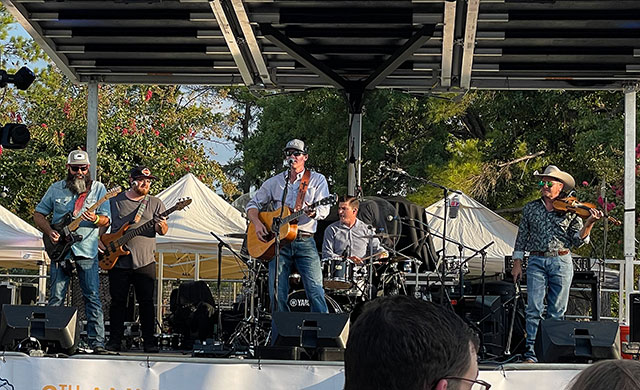 Curtis Grimes onstage; I don't know the Massive Headed Guy.
Grimes & Co. put on a lively and entertaining show, despite the 97º temperatures (I was amazed that the drummer didn't pass out by the end of the set).

The following act was one that is familiar to anyone with the slightest interest in the Texas country music scene…and especially those around Austin (the band appears regularly at The Continental Club). Dale Watson has been a classic honky-tonk musician for more than 20 years, and has appeared on Jimmy Kimmel Live!, The David Letterman Show, Austin City Limits, and National Public Radio's All Things Considered.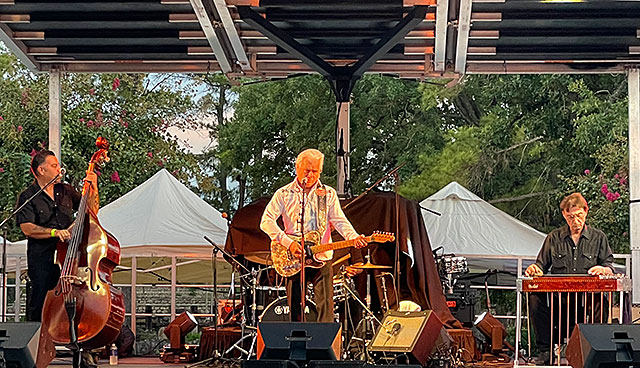 Dale Watson and the Lone Stars
Appearance-wise, Watson is a cross between Billy Idol and Conway Twitty and his ongoing schtick through a performance is a pitch for the wonders of Lone Star beer, the "National Beer of Texas" as he put it, and a nod to his band's name. We couldn't help wondering how the craft brewers at the festival felt about his praise of a decidedly non-craft beer.
Watson's performance was a polished and pleasing mixture of classic country, rockabilly, and Texas blues, and it was our favorite act of the evening. He's a gifted vocalist and can absolutely shred that Fender Telecaster. (His sentimental favorite, a 30-year-old custom Telecaster-style Tomkins, was recently stolen in Houston.)

The headliner of the evening was Lauren Alaina who, frankly, we knew almost nothing about, despite a plethora of appearance on national TV and the recipient of multiple music awards since her runner-up appearance on American Idol in 2011. We were apparently in the minority, judging by the enthusiastic crowd standing in front of the stage for the entire performance (I assume; see below).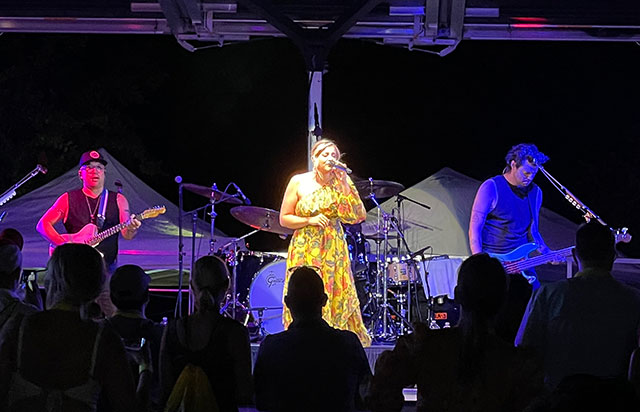 Lauren Alaina & Co.
As one might expect, her act was polished and highly-scripted…every gesture seemed so natural that it was obviously practiced. Her voice is powerful (occasionally reminded me of Miranda Lambert) and her songs were mostly country-pop-ish (not that there's anything wrong with that…I prefer that to the bro-country style that permeates current country radio). The highlight for us — which also served to highlight our age — was her arrangement of King Harvest's Dancing In The Moonlight, but which she had converted to a country genre by dropping the first "g" in favor of a " ' ", because all of us in flyover country never pronounce a trailing "g." But, the song was fun.
To be honest, after about 45 minutes the songs started to sound alike, which might have been a function of my approaching bed time, so we headed for home.
Day Two: Saturday, August 13
It was another hot and sticky August evening…98º at 7:00 when Kate Watson (no relation to Dale, AFAIK) took the stage. She's a Texas native and another American Idol veteran (2019). And, like Curtis Grimes, she's a Christian and continues to sing at the largest cowboy church in the world, located in Montgomery, Texas.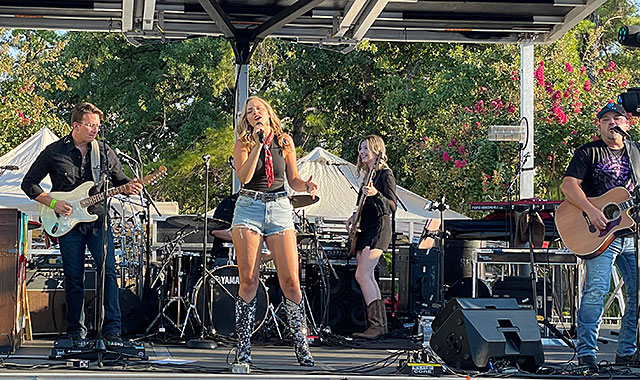 Kate Watson. I have boots just like that.
Watson's voice is plenty strong and she's backed by some excellent musicians (the guitarists who are reading this are invited to enlighten me as to what the heck is going on with the lead guy's instrument, though), but her songs were not our cup o'tea. She spent way too much time explaining what they mean to her, and maybe more time than was wise promoting herself (she never introduced her bandmates), but she's young and has time to mature in those areas.

Next up was Texas Hill, a relatively new act (formed in 2020) and yet another that made its way to us via American Idol and The Voice, albeit not as its current configuration as a trio. Two of the three are Texans — DFW Metroplex, to be more precise — and you might think they are the source of the group's name, but it actually came from the road where the third member grew up in rural New Hampshire (!): Texas Hill Road.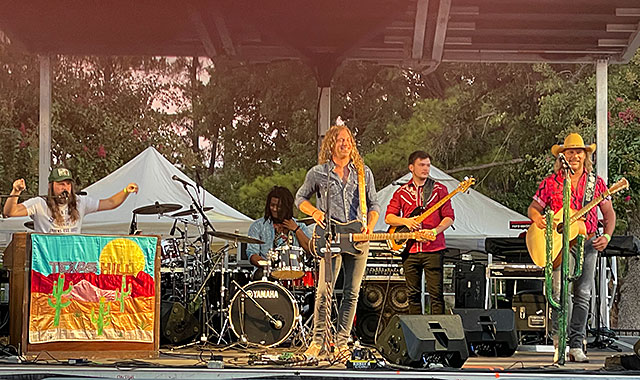 Texas Hill onstage. These guys rock.
We didn't know what to expect from these guys, but it would be an understatement to say we were impressed. The three leads could successfully front their own bands, but in combination, they're a powerhouse. They're all over the map in terms of musical genres…classic country, straight ahead rock, blues, jazz, and even edging into pop. They were Debbie's favorite group of the weekend, and tied with Dale Watson for my top pick. If you get a chance to see them in person, I recommend taking it.

Saturday night's headliner was arguably the most well-known of the entire lineup, as you might expect. Joe Nichols — a multiple Grammy nominee and ACM & CMA award winner — has been churning out hits for almost twenty years (and might be best known for Tequila Makes Her Clothes Fall Off, a tender cautionary tale about the dangers of spilling alcohol on a Barbie doll, although I might have misheard the lyrics).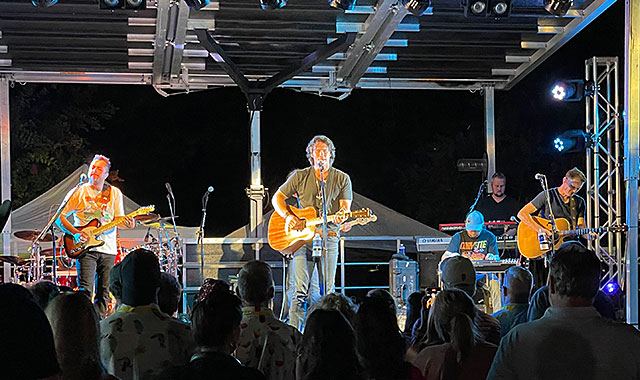 Joe Nichols and band w/hidden drummer
This was our second time to catch Nichols's act, the first being a decade or so ago at an American Cancer Society fundraiser in Midland, Texas. I came away from that performance thinking "gee, that guy sure spends a lot of time in the weight room for a musician."
Nichols puts out a Matthew McConaughey vibe (he's only seven years younger than MM), and has a great stage presence — has just the right balance of self-deprecating humor and swagger. The band is just as tight as you would expect, and their music was a nice balance of his old and new songs, plus some classic covers (Merle Haggard and Alan Jackson).
As is our habit, as old people not wanting to contend with the traffic, we left a bit before the end of the set, and I assume we missed his Tequila song. But strictly as a Public Service (we're all about public service here at the Gazette), below is Nichols's original video of this song. [Note: The editors of the Gazette wish to express their deep disapproval of the voyeuristic depiction of nubile females in this video.] [Note #2: The rest of the Gazette staff wish the editors would shut up.]

In summary, the musical portion of BBTB 2022 was an improvement over the previous year, and we enjoyed hearing some new acts. Next year will be the tenth anniversary and the organizers are already teasing us with their plans…we look forward to seeing what's to come.