¡Feliz jueves, amigos! ¡Hoy es el día nacional de fajita y la vida es muy buena…especialmente si tiene las fajitas!
So, last week I spent some time describing a couple of DIY projects in our garage. I now can't remember exactly why I thought I should do that, but I guess it seemed like a good idea at the time.
Anyway, we've now gotten our easy projects out of the way and it's time to focus on the ones that require someone who knows what they're doing, and who gets paid for doing it. (And, really, someday I'll learn that almost everything that needs doing around here falls into that category.)
But first…it's time for that game that all America loves to play: Let's Mock Local Media!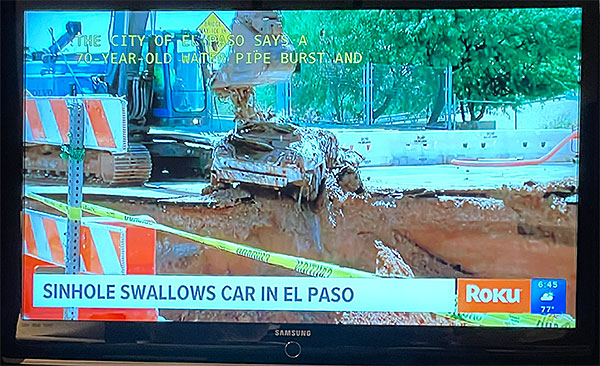 No Longer Playing With A Full Deck
There are some (which is a woeful understatement, by the way) endeavors that vastly exceed my skill and/or energy level, and possibly our bank account balance, and one of those got underway last week: we're having our deck replaced and expanded.
It began, logically enough, with the ritual setting of the porta-potty, followed by the demo of the existing deck, presented dramatically in the following series of photos.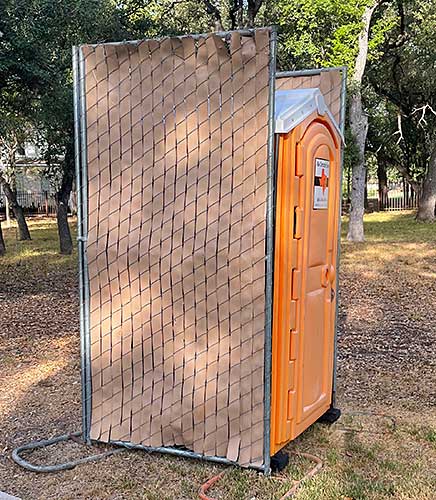 Putting a screen around portable toilets is a citywide requirement, so that people won't realize there's a portable toilet in their neighborhood.

The old wooden deck was deteriorating.

Another view of the old deck.

A post-demo view.
We were curious and a bit apprehensive about what the removal of the 20+ year old deck would reveal. After all, shortly after we moved into the house, I had to extricate a quite dead and malodorous opossum from beneath it. But the reveal was quite anticlimactic: no skeletons, no dens of writhing serpents, no gold bullions or missing dentures. Maybe we'll have better luck with the new deck.

Another post-demo view.
We were a little surprised at the tree ring, designed to protect the aged pecan tree that will also grace the new installation.

This was previously hidden from view.
The new deck will be larger, comprised of Trex composite planking and rail system, and will sport a pergola. Steps from the deck will down to a concrete patio overlooking the creek, and will eventually be home to a fire pit or table. Stay tuned for the progress!
Upgrading the Grill
After 20+ years of use, we decided it was time to upgrade our grill.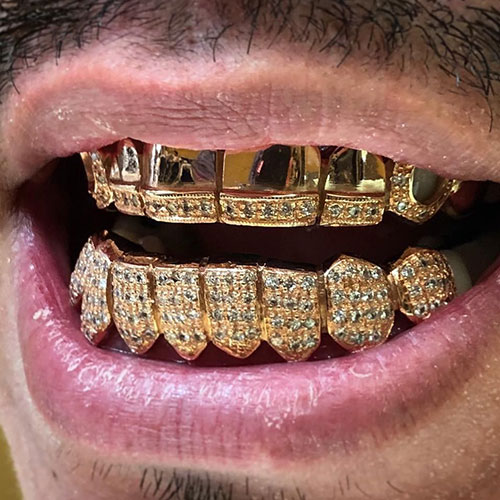 No, not THAT kind of grill!
Our house came with a high-end Wolf gas (propane) grill, built into a pretty nice stone and granite outdoor kitchen, and I assume that it was part of the original construction in 2000. Over the years it had deteriorated — the igniters no longer ignited, the grates were no longer great, and the burners didn't get hot enough to put a sear on anything tougher than the back of my hand (but that's another story). So, as long as we were upgrading our outdoor space, we decided to include the grill.
We chose a Hestan built-in grill, which came highly recommended (and *cough* highly priced…repeat to yourself, however illogically, resale value…resale value…). It could drop right into the space once occupied by the old grill with just a wee bit of modification.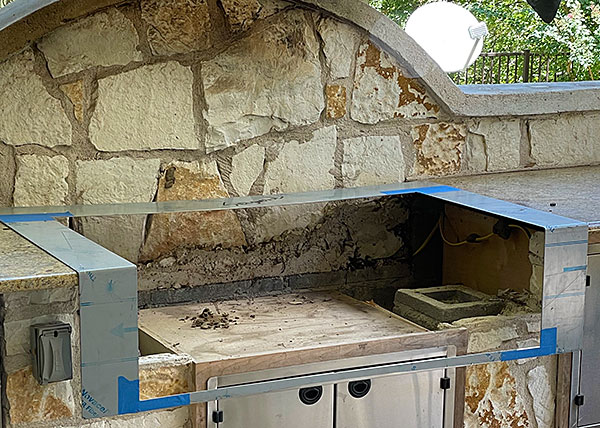 Seeing how the old grill was installed was like looking through a sausage factory. Never do that.
The new grill is slightly smaller than the old one…it has more internal cooking surface but lacks the exterior burner of the old one, which I never used. Because of the size difference, a stainless steel collar was fabricated, shown in the above photo with the protective overlay still in place. And for the collar to fit correctly and provide the needed support for the grill, a horizontal slot in the slot had to be cut onsite so the collar could slide back into place.
The installation process was more involved than I expected, but after three hours, it was finished and we were very happy with the final result.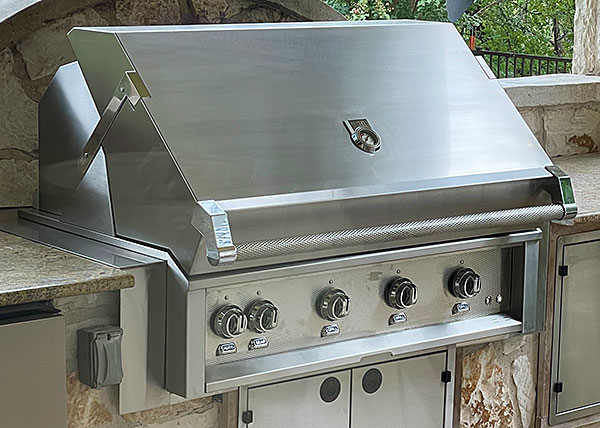 The newly installed grill looks like it was made for that exact spot.
It now remains to be seen whether I have the chops — no pun intended — to effectively use this colossal chunk of culinary craftsmanship. A friend advised me to start with a cheap cut of meat, but there now is no such thing.