This post is dedicated to mi amigo bueno who, along with his lovely bride, was scheduled to attend this event with Debbie and me. Unfortunately, they both came down with COVID a couple of weeks earlier and thus had to bow out (they're recovering nicely now; thanks for asking). I promised him a report, and I figured as long as I was doing it for him, I might as well get some blogging mileage out of it.
Beer By The Bay (BBTB) is an annual two-day music festival organized by the Horseshoe Bay Resort in Central Texas (about 50 miles from Austin). This year's event was the eighth in the series; last year's was canceled for unknown reasons. Just kidding; we all know why.
Debbie and I have attended four or five of these festivals, and we've heard some great performers, including Asleep At The Wheel, Jo Dee Messina, Roger Creager, Pat Green, and LeeAnn Rimes. Most of the music falls firmly in the country genre, although in past years there have been a sprinkling of pop, funk, and rock/blues acts.
This year's lineup was mostly country; there was one act that defied categorization…more on that later. Below, in lovely photographic form, is the lineup. (It's obvious that I didn't go out of my way to get the perfect photo with my phone; if you want better pictures, visit their respective websites.)
Friday's Musical Lineup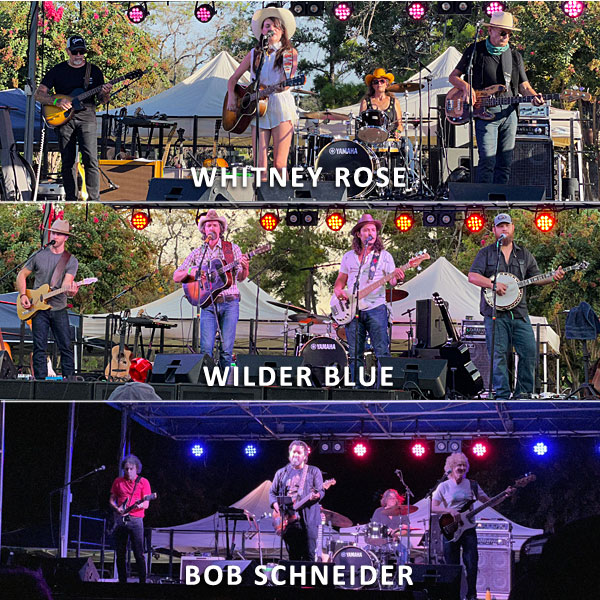 Canadian-born Whitney Rose is based in Austin and is a regular at The Continental Club in that weird city. According to Wikipedia, she has toured with The Mavericks (one of my favorite bands) and has a guitar named Aggie, so she has that going for her.
Fronted by Zane Williams (a performer at a previous BBTB, albeit with a different band), The Wilder Blue was perhaps our favorite act of this year's festival.  With harmonies as tight as groups such as The Eagles and CSN&Y — you may have heard of those guys — they brought a touch of bluegrass plus solid country music to the event.
The last act of the evening was Bob Schneider. Schneider is another Austin-based musician, and he's the performer I mentioned whose music sort of defies characterization. We made it through two-and-a-half songs, then called it a night…just not our musical cup o'tea. (FWIW, we visited with some professed Bob Schneider fans the next night who deemed the performance disappointing, albeit for reasons not shared.)
Saturday's Musical Lineup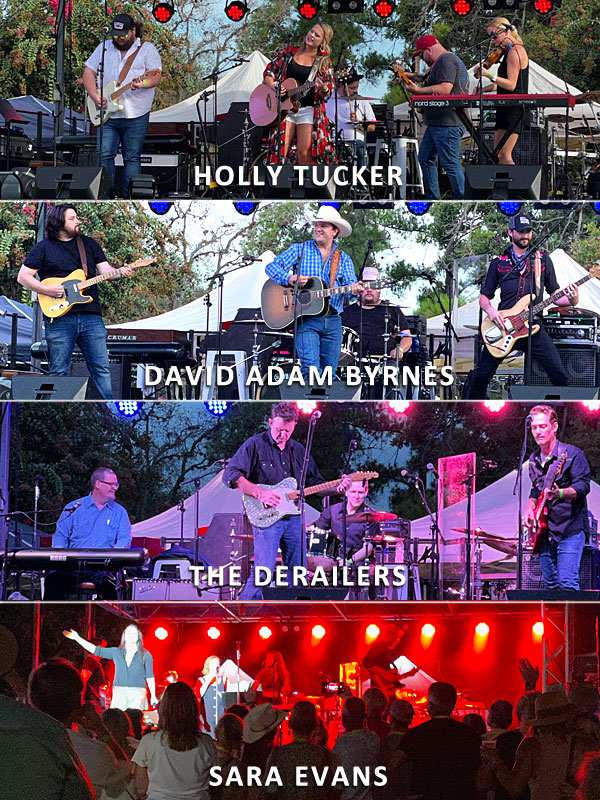 The BBTB gates opened earlier on Saturday so we were treated to one extra group.
Texan Holly Tucker opened the show. You might remember her from season four (2013) of The Voice, where she got a four-chair turn, landed on Blake Shelton's team, and made the final six in that competition. Tucker and her band put on a great show, and her traditional finale of How Great Thou Art elicited a standing ovation from the crowd.
Fort Worth singer/songwriter David Adam Byrnes was up next. (I couldn't help wondering if he uses his full name to keep from being confused with Talking Heads frontman David Byrne.) Byrnes was born in Arkansas, spent part of his career in the Nashville music scene, and then came to his senses by ditching the bro-country and moving to Texas to focus on more traditional honky-tonk. He's had five consecutive #1 songs on Texas Country Radio, and he and his band provided our favorite music of the evening. How can you go wrong with songs like Beer Bucket List and lyrics like "I'm on an alcoholiday"?
The next act is going to take some diplomatic 'splaining. We've seen The Derailers multiple times before in various dance halls, and they had become one of our favorite bands. So, we were enthusiastic evangelists to our friends at BBTB who didn't know the band, urging them not to miss Saturday night's performance.  I'm not sure how to put this, so I'll just quote one of those friends who walked up to where I was sitting and asked this question: "Are they having an off night?"
I have no idea what was going on with the lead vocalist and guitarist. He spent the first ten minutes of the set tuning his guitar while the rest of the band bravely soldiered on with instrumental music (they were terrific, btw, but still…). Even after he seemed to get things back on track, he put on one of the most uninspiring performances we've ever seen, and it was pretty embarrassing to think that we'd hyped them so much to various friends. To its credit, the crowd never booed, but the sparse half-hearted applause at the end of the set was an obvious contrast to the reactions for the other acts of the evening. I'd be really surprised if they get invited back to BBTB.
The headliner act for the evening, and, really, for the whole festival was Sara Evans. You've probably heard of Evans, as she's won multiple awards through the years for her music, which tends toward the pop side of country (as evidenced by having seven records cross over to the Billboard Top 40 pop charts). She brought the slickest show to the stage, with two backup singers (one of which was her daughter), two lead guitarists, and all the other usual instrumentalists. As you can see by the photo above, she got the crowd on its feet and, um, crowding the stage (making it pretty hard for the folks on the front five or six rows to see what was going on). Howsomeever…as with Bob Schneider the previous night, her musical style just isn't our favorite, and, once again, we headed home, mid-set. Not her fault at all, just different strokes for…well, you know.
So, BBTB was, for us, primarily about the music, which seemed to be all over the map, quality-wise, this year. But it was also about the food and the beer.
About a dozen Texas breweries had booths dispensing samples of their wares. One might think that a music festival offering unlimited free beer* would be plagued by all sorts of bad behavior; one would be wrong in the case of BBTB. In fact, in all of our years of attendance, only one episode required police intervention, and that was in 2019. I'm not saying there weren't instances of overindulgence; I'm sure there were, but they didn't result in any public disruptions that I'm aware of.
The food, like the music, varied in quality. We thought the Friday offerings — which skewed to the barbecue end of cuisine trend line — were superior to those on Saturday, which were more Germanesque. Below, I've posted a couple of collages showing most of the food choices and my totally subjective-but-still-authoritative star ratings for each item.
*Totally free…well, not counting the $149 – $199 per pass entry fee.
Friday's Food Lineup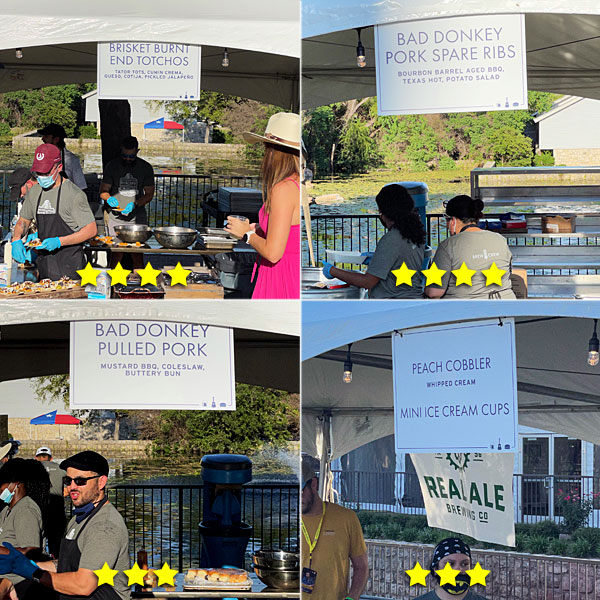 I left out the watermelon salad booth, because I don't like watermelon and this is my blog (but Debbie thought it was delightful). By the way, the references to "Bad Donkey" don't refer to any ingredients; I think that's the Resort's internal branding of its barbecue offerings.
Saturday's Food Lineup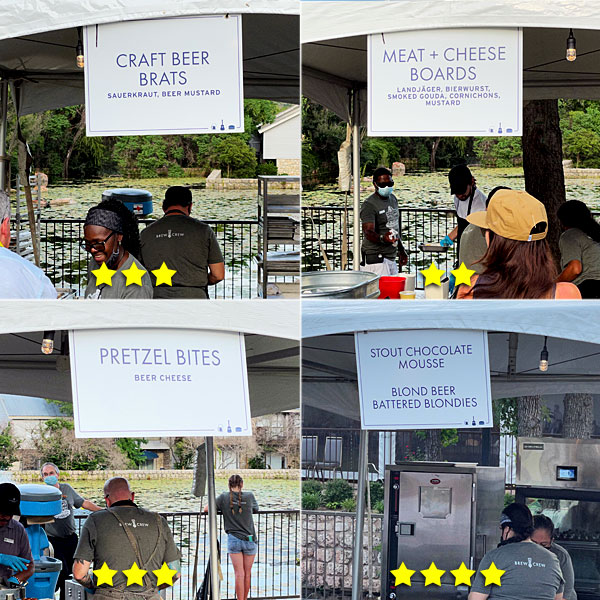 As with Friday's lineup, I left out the beet salad (and this time, Debbie was in agreement), because I don't like beets and you know the rest. Also, the sign said it contained "local goat," and while I'm pretty sure they inadvertently omitted "cheese," I didn't want to take a chance. Our local goats deserve a better fate.
Now, Saturday may have fallen a bit short of Friday in the area of food, but the dessert was a home run. The beer battered blond brownies were State Fair of Texas worthy, IYKWIM.
Overall, this was not our best BBTB experience. The COVID Delta surge had something to do with that; some of the usual amenities weren't available this year, and that's understandable. And it could certainly be the case that some of the performers that were crowd favorites in the past were no longer available (or weren't yet comfortable in getting back on stage). Yet the crowds were big and enthusiastic, and I suspect that, in spite of the challenges, BBTB was probably a success for The Resort.  2022 will surely be even better.