My wife and I aren't exactly what you'd call hard-core runners. Sure, we head out before sunrise during the summer, but that's just because we want to avoid the Texas heat. If it's raining when we wake up, we make other plans that involve an absence of running and a prevalence of coffee. And if we encounter sprinkles during the first quarter mile of a run, we head back home and, once again, go to Plan B for the day, which usually focuses on more coffee. That philosophy has worked well for us, lo this many years.
Until today, that is.

The end of daylight savings time means an earlier start than we've been accustomed to for the past couple of months. We're always a little slower to get going on Mondays, so we didn't get out the door until around 7:15 this morning.
The weather was foggy (as you can see in the header photo which I captured via my drone at ~400′ altitude) and unusually warm for a November morning — conditions quantified by WeatherBug as 71º and 100% humidity — but still making for a nice morning for a workout.
Our usual Monday route takes us out of the neighborhood, up the hill, across highway 2147, and through Sienna Creek where we then get on the Summit Rock golf course cart path. Summit Rock is closed on Mondays so we don't have to fear the Path Police that presumably guard the other courses. (I say "presumably" because we see people running and walking on the other cart paths well past the 7:30 a.m. cutoff; Debbie and I are apparently the only people who actually honor the signs prohibiting such scofflaw behavior.)
The Summit Rock route is also relatively flat. A four mile out-and-back run involves an elevation change of less than 200′, according to my Apple watch. I think it's more than that but perhaps that's just my out-of-shape body lying to me.

We hit the two mile mark and made a u-turn, and Debbie remarked that she felt a few sprinkles. I thought I was just slinging sweat around, but a few steps later I, too, could tell that it was starting to sprinkle a bit. A half mile later, we were back on the cart path and heading for home, and the intermittent sprinkles turned into a steady-but-still-light drizzle. But the drizzle then turned into a steady rainfall, and by the time we began the last mile, we were already soaked.
Fortunately, the weather was warm so we weren't uncomfortable. Coming down the hill into our neighborhood, we talked about the mythical endorphins that are said to kick in while running…which neither of us had ever experienced in 30+ years. But Debbie had recently read something that said those endorphins actually presented themselves following a run, in the form of what we have routinely experienced: that nice feeling of "well, we got that over with and we're really happy that it's finished." We were pretty sure that that's what would greet us at the end of this run.
And we were right.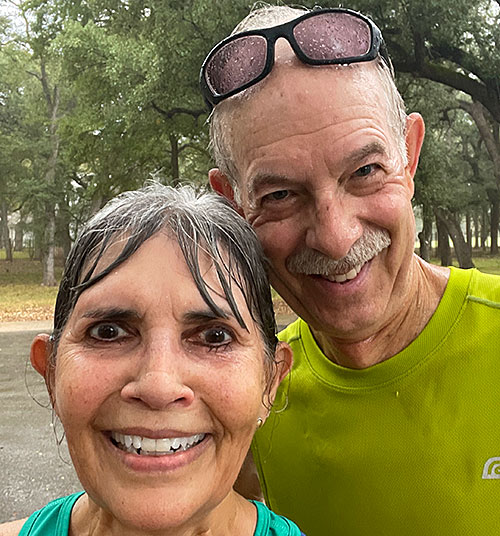 Soaked but happy…happy that it's over!
I hope the meaning behind the title of this post is now obvious, but if I've been too oblique, it's this: had we still been in Daylight Savings Time, we would have canceled the run because it would have been raining when we were ready to start. And that would have been a shame.
This was our first time to run four miles in months, as we've both been dealing with physical challenges that have limited our activities. So those grins are for more than just getting through a rain-soaked outing…they're evidence of God's grace and healing, and we're so thankful for that!