Debbie and I spent last weekend in Luckenbach, Fredericksburg, and Johnson City, Texas. Even after decades of visiting those areas, we still discover new things, and I thought those of you within striking distance of the Texas Hill Country might like to read about some of them. So…giddyup!

The Lodging
Planning for our trip started several weeks ago when I saw an announcement for an Elvis Presley cover band appearance at Luckenbach. We're both fans of Presley's music, especially if there's a dance floor involved, and once I confirmed with the mysterious powers-that-be at the Official Luckenbach Music Headquarters (which I just made up so don't try googling it) that there would be a dance floor, I bought tickets to the event.
It was scheduled for Saturday, February 4, and we decided to make a weekend of it rather than drive back home after the concert. Luckenbach is only about 50 miles from our house, but late night drives on deer-populated highways are beginning to lose their luster. So we decided to book a room at a 7-room B&B, spread over several building and located less than a mile from Luckenbach: the Full Moon Inn.
Besides its proximity to Luckenbach, the Full Moon Inn has the added attraction of actually honoring the second "B" in "B&B" by providing a full home-cooked breakfast. This is an increasingly rare offering in our experience. Most B&Bs nowadays simply offer a voucher for a meal (not even necessarily a breakfast) at a local restaurant, which isn't as convenient as dining on the premises.
Anyway, we ended up in the Texas Prohibition Room, so-called because it was adorned with a large number of prohibition era memorabilia. This is the smallest and least expensive of the rooms but it was fine for our two-night stay. A tiny living room and bathroom are downstairs, and an equally cozy bedroom upstairs; the narrow, steep stairwell makes it non-ADA-compliant and, really, not for anyone who might be a little unsteady on their feet.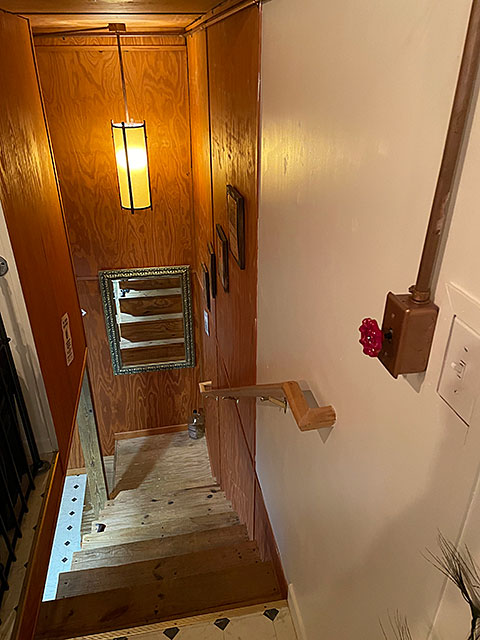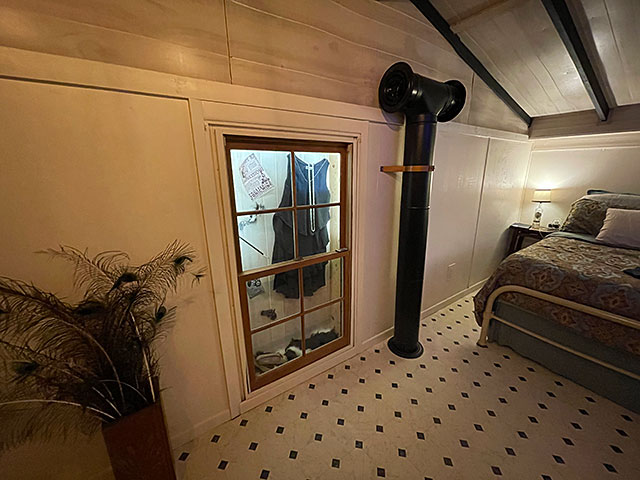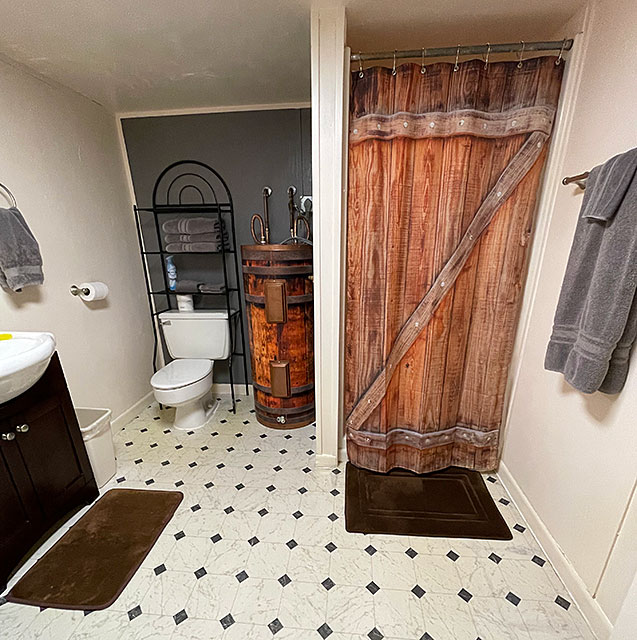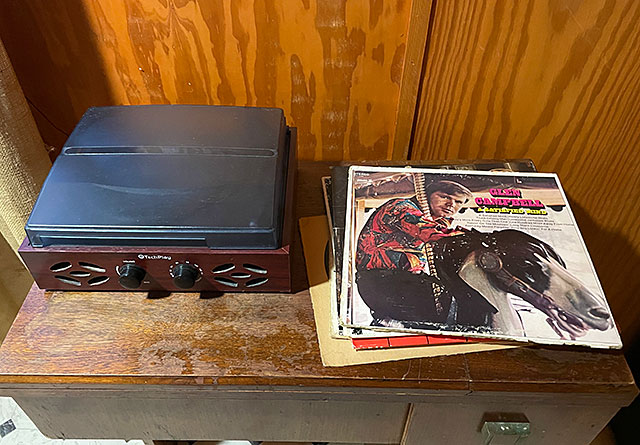 Seating at breakfast at the B&B is family-style, and everyone gets the same meal each morning…one of two offered on alternate days. They are pretty hearty breakfasts and quite good. A bottle of champagne is placed on the table for anyone who wants to turn their orange juice into a mimosa. The seating arrangement might not be ideal for the introverted, but it provided a good opportunity to meet the other guests at the Inn (there were eight of us on Saturday morning, and eleven on Sunday, all from various parts of Texas).
Full Moon also functions as an event venue. It has a couple of large, covered concrete pads that could serve for outdoor dining and/or dancing; it even has a tiny chapel onsite.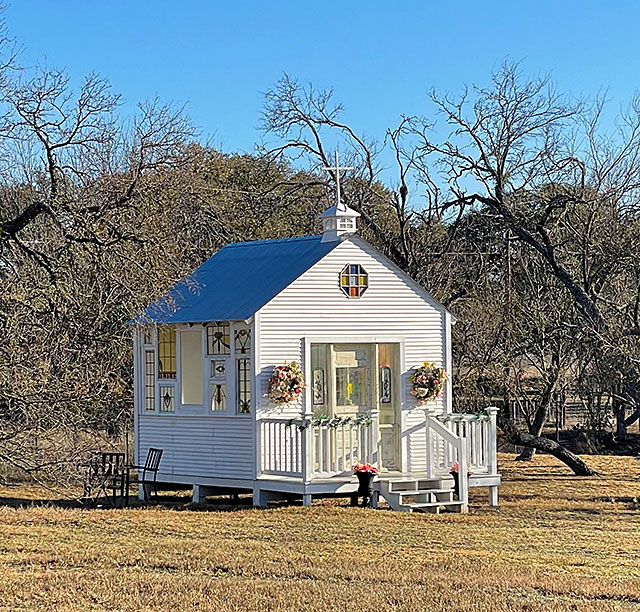 One of the big draws to this location is the escape from the noise and traffic that have come to characterize a weekend in nearby Fredericksburg, a ten-minute drive away. Luckenbach Road is relatively undeveloped and the Inn is mostly surrounded by farmland or woods. Given the popularity of the general area, this is bound to change in time, but for now it offers a nice getaway while still being convenient to the attractions of Luckenbach and Fredericksburg.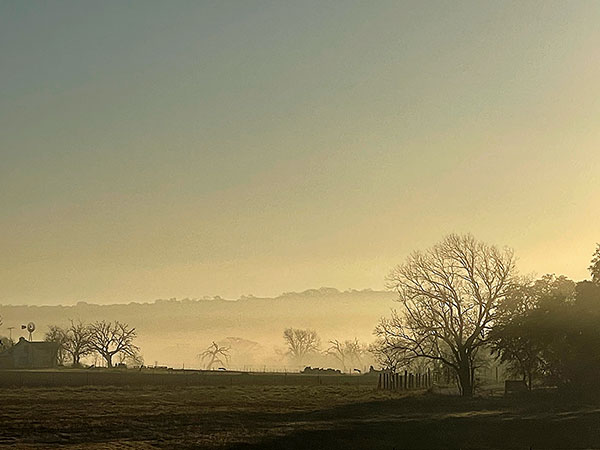 One downside to the location, at least for us, is that it is not ideal for running or bicycling. Luckenbach Road is not usually heavily traveled, but it has no paved shoulder and there are no convenient cross roads of any suitable length, especially for a bike ride. So, each morning we simply headed out for a pre-breakfast walk from the Inn to Luckenbach.
The weekend weather was chilly and the mornings were a bit foggy. This presented a fantastic photo opportunity on Sunday morning when we arrived at the beginning of Luckenbach Town Loop (a pretty fancy name for a road that might be a half mile long, and only half of that actually being in a "town"). As we glanced over at Grape Creek, which runs behind Luckenbach, we saw a flock of at least twenty wild turkeys foraging among the woods.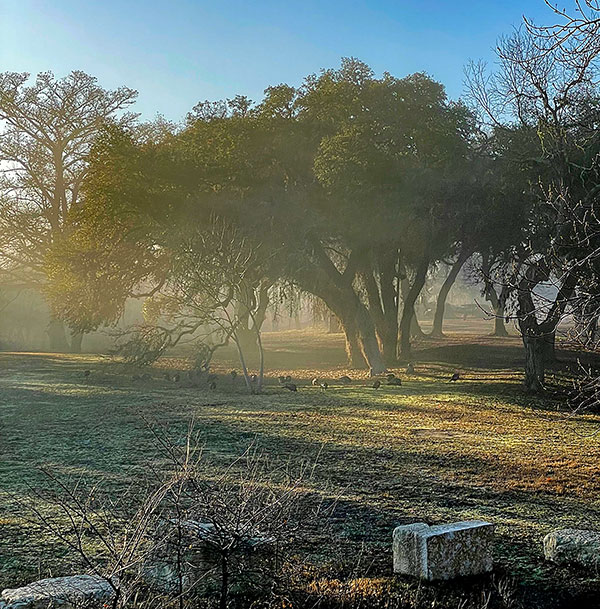 The birds were about a hundred yards away, and unperturbed by our presence. I was able to get quite a bit closer without raising an alarm, and managed to capture what I think is a rather dramatic image of the turkeys against a backdrop of the sunrise illuminated fog. Some of you may have already seen this photo on my Facebook feed.
The Dining
After we checked into the B&B on Friday afternoon, we drove into Fredericksburg where the monthly Art Walk was taking place. A few of the art galleries in town stay open later than usual and offer snacks and wine to people perusing their wares. We mostly window shopped, although we did buy a small mesquite wood candy dish from Artisans, a gallery where we've bought a number of pieces over the years.
We then headed to the Hill Country Herb Garden restaurant for dinner. Those of you who have been visiting the town for a decade or two will possibly recall the Herb Garden, which was sort of an institution in Fredericksburg, with a small-but-respected restaurant with a greenhouse vibe, which was fitting considering that it was placed in the middle of an actual herb farm. Over the years, the Herb Farm morphed into something entirely different. The garden/farm was replaced by cottages; the restaurant was completely remodeled, updated, and expanded, a wine bar and spa was added, and it became the Herb Garden.
The food and service at the restaurant are excellent and we recommend it. It's located smack dab in the middle of an older part of Fredericksburg…easy to get to, but a half mile or so off the main drag.
On Saturday, we went back to town and drove through some neighborhoods in the north part of town where we once thought we might retire (until we realized that the touristy vibe of the town was not exactly what we were looking for). We then traveled over some of the county and ranch roads that we'd bicycled in years past, reliving some moments and marveling that we were ever able to ride 50 or 75 or 100 miles in a day.
At the end of that ramble, we returned to town for lunch, and chose Hill & Vine, located where the well-known and well-loved Peach Tree Tea Room and Gift Shop was up until about three or so years ago. Hill & Vine is a modern, upscale restaurant and bar with a great reputation, despite being relatively new, and we walked in fully expecting a long wait. It was our lucky day, and we were seated after only a ten minute wait. The lunch menu on weekends is actually a brunch menu, although it's still pretty eclectic and imaginative.
Later that evening we were still full from lunch, so we grabbed a burger (for me) and a pulled pork sandwich (for Debbie) from the food truck at Luckenbach prior to the show.
The Entertainment
I mentioned at the outset that the primary motivation for the trip was to catch a performance by The Presley Project, a ten-piece group that covered Elvis's music. This is not an Elvis impersonation act, like you might see in Vegas…no sequined jump suits, no sideburns, no glittering shades…it's "just" a group of musicians paying homage to the King's music, and having a blast while doing so.
The show spanned a full three hours, with a break halfway through. The lead singer and founder, Jerry Griffin, has all the classic moves, and a powerful voice that represents the music well, without trying to be an Elvis clone. Check out this interview with Griffin from an Austin TV station (via YouTube) for more about the group's origins and motivations.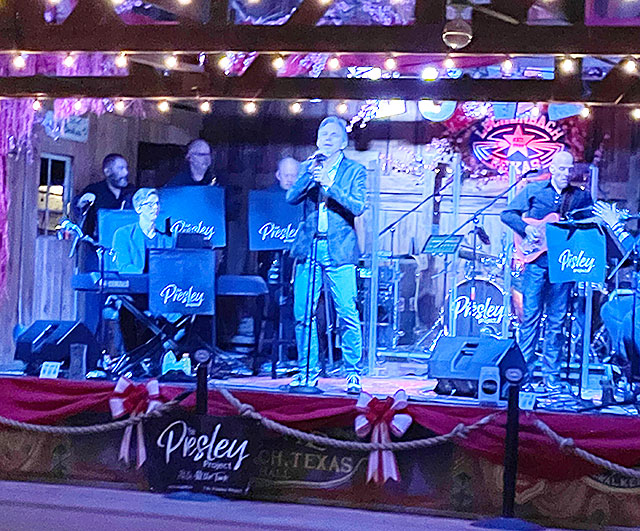 We were surprised at the relatively sparse crowd — maybe 150 people — but the upside was that there was a larger-than-usual dance floor, and we took advantage of it.
The Presley Project lived up to and even exceeded our expectations; if you get a chance to catch their act, don't pass it up.
The Unexpected Surprise
We checked out and headed home around 10:30 on Sunday morning, and made a stop in Johnson City. As we passed through that town on Friday, we noticed that the antique store at the corner of Highway 290 and Nugent Avenue (the street that runs on the west side of the courthouse) had an intriguing new identity — the Texas Vintage Motorcycle Museum — and we had decided to check it out on the return trip: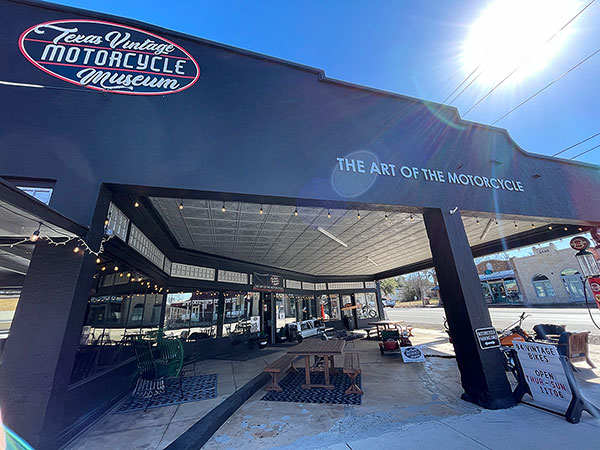 The museum had just opened when we arrived, and the owner took our $6.50/person admission fee and after a brief introduction to the museum, turned us loose to browse the 94 (!) vintage motorcycles on display.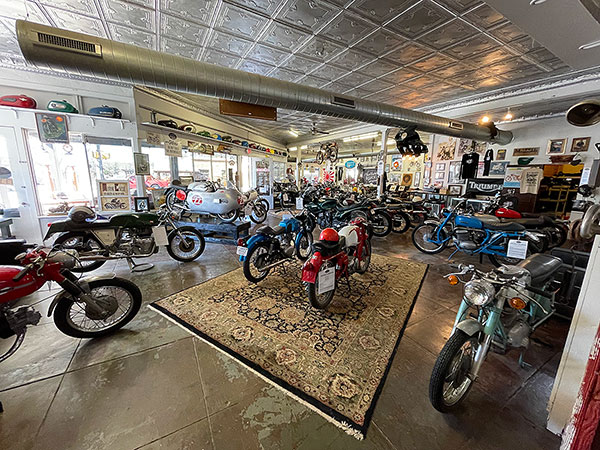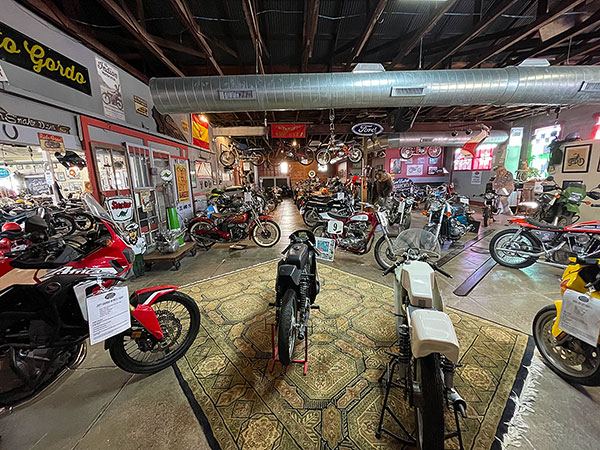 This was truly a revelation…the variety and quality and sheer number of motorcycles on display was surprising, especially as it's located in a town of fewer than 2,000 residents. But the region is well-known to motorcyclists and many of them pass through Johnson City, so I suspect it will be a popular attraction.
Every bike has a fact sheet attached to it describing its basic attributes (e.g. horsepower, top speed, country of origin) as well as anything that made that particular model unique. Almost all of the bikes are street models (vs. off-road).
It brought back some great memories for me. One of the cycles was a Honda 450, which was my first real motorcycle back in the early 70s (the Honda 70 I shared with my brother didn't really count, even though it was a blast to ride). I later graduated to a Yamaha 1100 (the museum didn't have one of those in its collection), which I rode during our time in the Metroplex and sold when we moved to Midland. I'm still a motorcycle fan, even though I have no real desire to ride one anymore.
The museum's founder is a fellow named Gordon Massie and we had a good visit with him during our meandering through the installation. He grew up in northern California, eventually ended up working in the financial sector, and moved to Johnson City from the Houston area a couple of years ago. This article from the August, 2022 edition of Texas Highways Magazine will give you more details about his very interesting life, including how he became a "whistleblower" and subsequently published a book about the experience.
Massie is, of course, an avid and knowledgeable motorcyclist, and the 2017 V-Twin engined Honda Africa bike that took him on a 3,500 mile trip around Canada is on display in the 6,500 square foot museum.
This museum is a great addition to a small town that already offers a number of attractions for travelers, and we both enjoyed the time we spent there.

That wraps up our weekend trip report. I hope I've adequately covered some new things to see and do in our neck of the woods, so we'll catch you later…oh, wait…did I forget to mention Reptilandia, the new and pretty terrific museum just north of Johnson City on Highway 281, featuring reptiles and amphibians from around the world? If Ray Wylie Hubbard's first experience with such a facility had been here, his well-known (to Texans, anyway) song, Snake Farm, might have turned out completely different.
Well, maybe next time…