We ended August with no measurable rainfall at our house for the month. The last measurable rainfall was forty days ago, when we received .4″ of rain.
For the year, our rainfall total as of today is 16.3″. That number is misleading, as almost 7.5″ came in May; we've received 1.0″ since July 1. When you couple that with a long string of triple digit temperatures, it's no wonder that our landscape is looking stressed.
Here's how our neighborhood looked from the air at the end of May: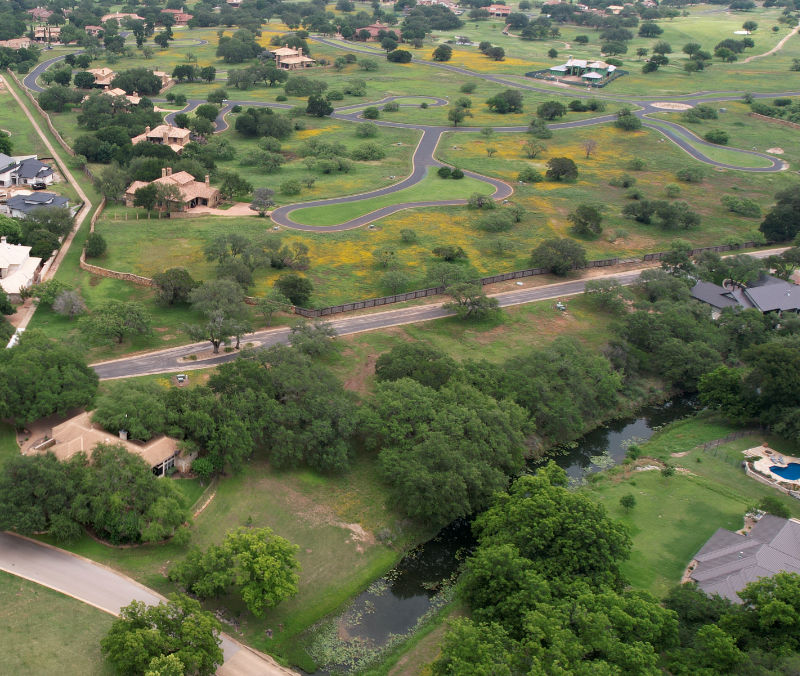 Here's a similar view as of yesterday morning: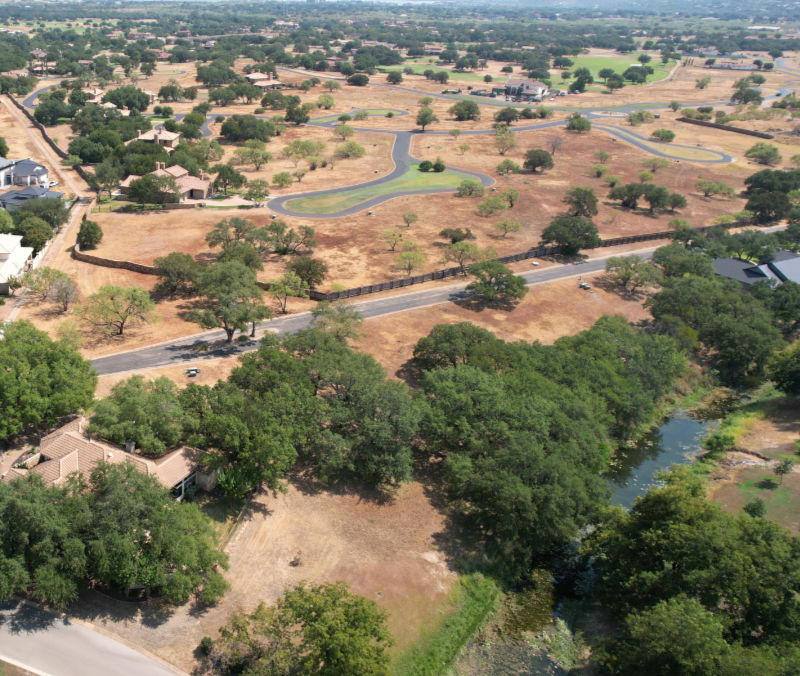 Pecan Creek, which runs directly behind our house, stopped flowing more than a month ago and the water level is receding daily. There are long stretches of the creek — which winds its way for about 2.5 miles before it eventually empties into Lake LBJ — is completely dry for long stretches. This is a very sad situation, of course.
However…
While this hot and dry spell is perhaps a bit worse than usual, the effects are not unique. Here's how the low water crossing in our neighborhood, a block from our house, looks today: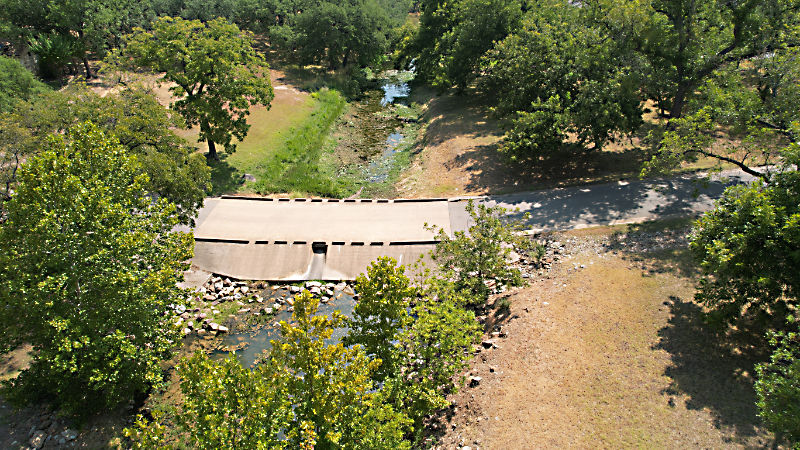 And here's how it looked a year ago: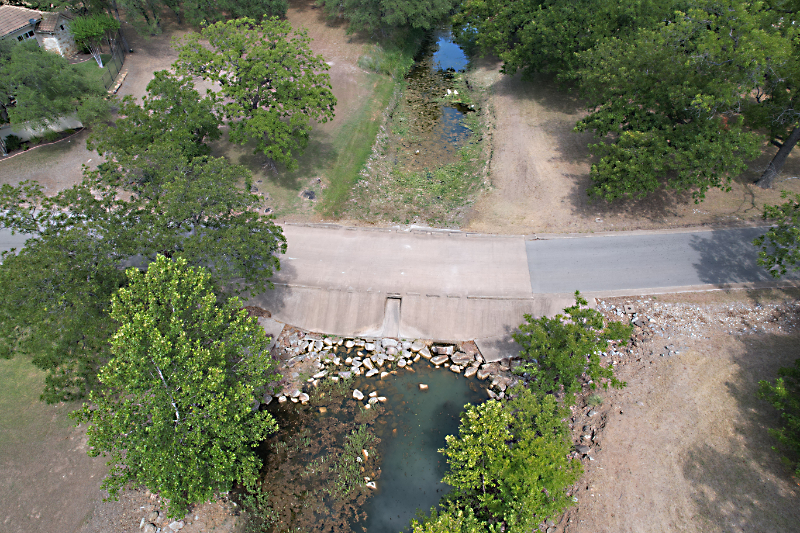 While the details are hard to make out, it should be obvious that there's not a lot of difference, and in fact, the water level in 2022 was probably a tiny bit lower than it is now. The drought was actually worse in 2022. At the end of August, we had received less than 9″ of rain, and we ended the year with a total of only 16″ (our "normal" annual total is over 30″).
I retrieved the Gazette's crack team of statisticians from their weekly bar crawl and they delved deep into the historical records to create the following elaborate chart showing annual rainfall totals at Casa Fire Ant since 2018, our first full year here. The chart also compares the rainfall total at the end of August for those six years.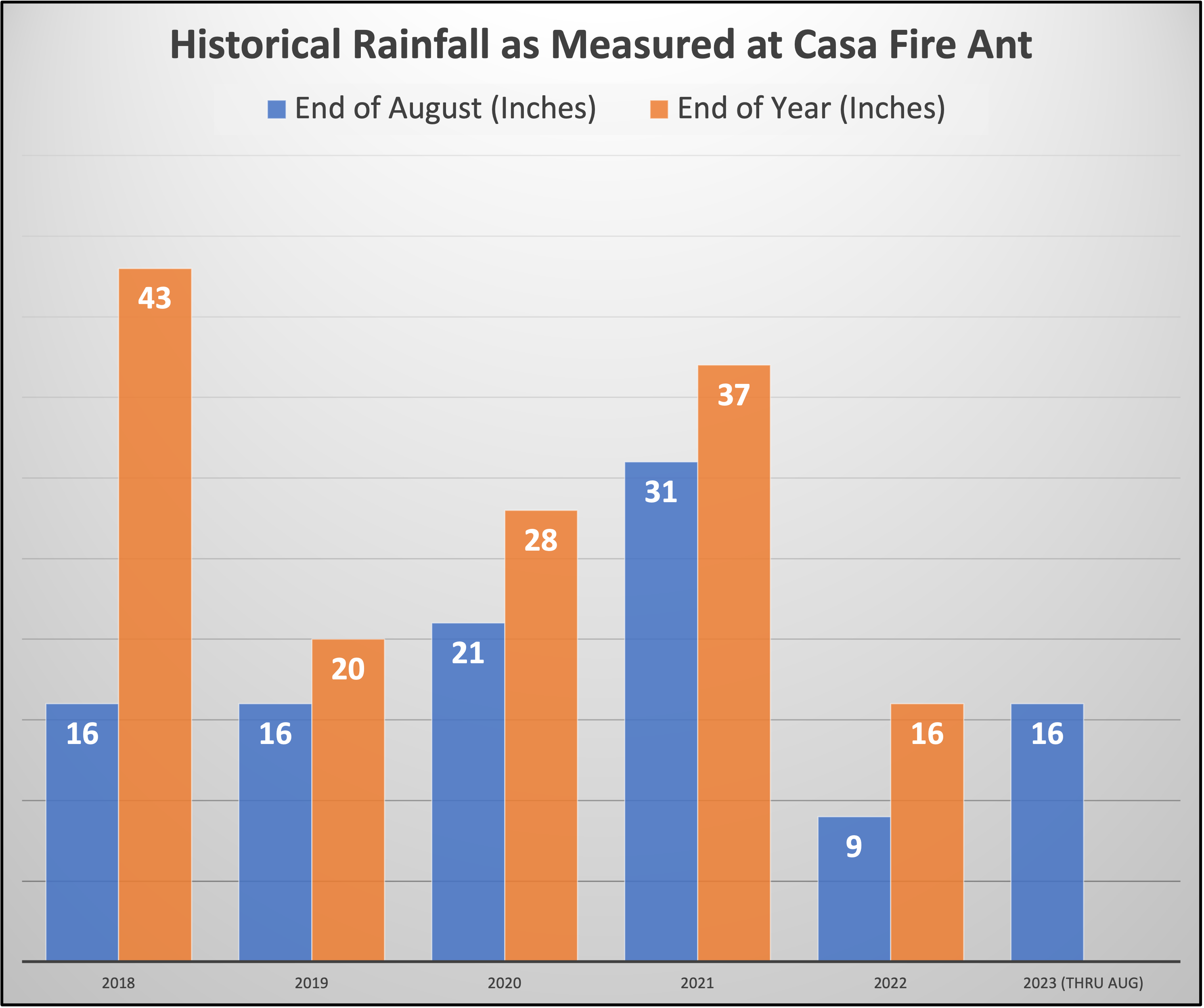 It's pretty obvious that past performance is no indication of anything meaningful at all when it comes to weather in Texas. We might end the year with no significant additional rainfall, or we might exceed the 2018 total (an infamous year in which we received 20″ in September and October alone). We're also already ahead of 2011, which set the bar for heat and drought in the modern era. According to this website, the rainfall total for that year was less than 13″, with 60% of that total coming in the 4th quarter of the year. (Disclaimer: The 2011 data is derived from the ABIA weather station in Austin, 50 miles or so from Horseshoe Bay.)
Given the predictions of a strong El Niño weather pattern beginning later in the fall, we can be optimistic that even if 2023 falls short, 2024 will surely — surely — be a much better year. [Ed. — File that under "Famous Last Words," or something to that effect.]