We're back from our annual pilgrimage to Fredericksburg (hereinafter referred to as "Fburg") and Kerrville ("Kville") to participate in the Easter Hill Country Tour, a series of supported bike rides through the Texas countryside. While there is no theme for each year's event, the 2005 edition can legitimately be labeled as a Wash-Out. This made it a bit of a disappointment in some ways, but overall the long weekend was quite nice.
Due to the early arrival of Easter this year (here's some related trivia; according to this website, Easter has fallen or will fall on March 27th only five times during the 250-year span from 1875 through 2124), the fabled Hill Country wildflowers were a no-show. We saw a mere sprinkling of overachieving bluebonnets scattered about, a far cry from the literal blankets we encountered last year. Judging from the way the flowers were budding, I'd guess that the view will be spectacular in about two weeks. Lord knows they've gotten enough rain.
Which brings us to the literal washout, which occurred on Saturday…which is the big riding day of the tour. The weather forecasts had been predicting the arrival of a cool front and a chance of rain and when we arose on Saturday morning the skies were threatening. We had to make a decision: take a chance and head to Kville for the formal ride, stick closer to home and ride around Fburg in order to bailout if the weather turned really nasty, or just call off the whole thing. I always hate canceling a ride, especially when we've come so far, but I hate riding in bad weather even more, so we decided not to chance it. Perhaps we could get in an afternoon ride, since the front was supposed to be moving fast.
Good call. About 10:00 the skies opened up, first with rain, then with hail, then with really heavy rain. We'd have been miserable, if not in actual pain, if we'd taken a chance. It continued to sprinkle on and off throughout the day, the wind stayed up, and the temps never got past the mid-50s. It was a good day to walk around town and generally veg out.
We did manage to get in a self-paced 30 mile ride on Thursday, before the formal tour began, and we had a very enjoyable 47 miler on Friday, over various ranch roads north of Kville. Seems like there was more interest than usual in our 10′ dual-lounge chair bicycle; we spent a lot of time at the rest stops answering questions about it.
Since there weren't any wildflowers to speak of (other than blanketing the countryside for a solid 90 miles from Midland to Iraan, of all places! I'll provide some photographic evidence in another post.), I have no breathtaking photos to share with you. However, here are a couple of pics that capture some of the flavor of the weekend. The first one is a view from the front porch of our B&B. If you look closely, you can make out the layer of mist into which the dirt road disappears. Very spooky. The second photo is taken from an ant's eye level…a fire ant, to be exact. That's a fire ant mound in the foreground, probably 10″ tall. MLB is astride the longbike in the background, along with the south end of a north-facing cow who was, apparently, a bit camera-shy.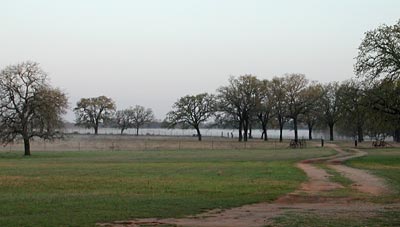 This will not go into the history books as our best EHCT ever, but we stayed safe and healthy, and the countryside was still beautiful even without the wildflowers. (Never underestimate…or take for granted…the blessing of the color of green in the Texas landscape.)
We had lots of good food (dinner at the Herb Farm in Fburg was a highlight), although it remains a mystery to me why you can't get any decent TexMex in a town that's only 60 miles from San Antonio.
Abbye got to play like a farm dog (which is OK except for those blasted falling leaves!), we lingered in the hot tub under clear blue Texas skies on Friday, and we got to spend some quality time with my parents (who stayed in the Hangar Hotel which is right on the Fburg municipal airstrip). So, in the end, it was a good way to spend an extended Easter weekend.
Technorati tags: Texas Hill Country | EHCT | Bicycle Tours