I just got a warning ticket from the Blogging Police…something about impersonating a blogger. So I guess I'd better get busy and post something, if for no other reason than Jimmy Patterson has a page to fill next Monday. (That's an inside joke — such as it is — for the locals.)
So, what's been going on lately? Oh, here's one I never saw coming: the pneumatic Pamela Anderson is splitsville with Kid Rock. If those two can't make it, I'm not sure there's hope for any of us.
On the other hand, there's Will Smith. Now, I've always been a fan of his acting (The Wild Wild West notwithstanding), and he strikes me as a pretty decent guy, to boot, but I'm ready to join a fan club after reading his interview in Reader's Digest (yeah…so what? Wanna make something of it?). Here's Will on marriage:
RD
: You and Jada have been married nine years and, by all accounts, are very happy. What's the key?
Smith:
Communication. And divorce cannot be an option.
RD: Your first marriage ended in divorce.
Smith: That is probably the most painful loss of my life. I quit. I could have fixed it. It really was not that bad.
RD: Some would say there's no reason to stay if a marriage isn't good.
Smith: Once you say that, you've lost. With Jada, I stood up in front of God and my family and friends and said, "Till death do us part." So there are two possible outcomes: We are going to be together till death, or I am dead.
RD: But people do have problems in marriage.
Smith: Jada and I have problems; everybody has problems. People ask, "What happens if you made a mistake?" Well, you should be a little more careful before you stand up in front of God and your family and friends and say, "Till death do us part."

I guess I'll close with the obligatory Thanksgiving report, sort of. Here's a question: what do you get when you combine a digital camera with a motor drive, a tripod, a long lens, a 2gb SD card, and a bunch of handguns? Well, for one thing, this type of thing…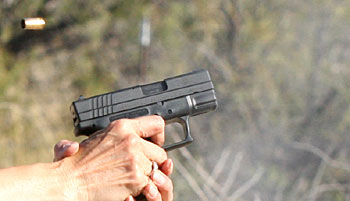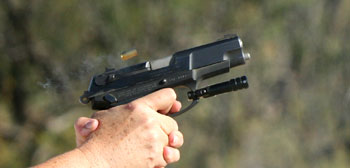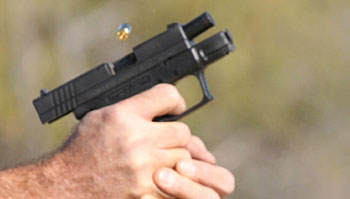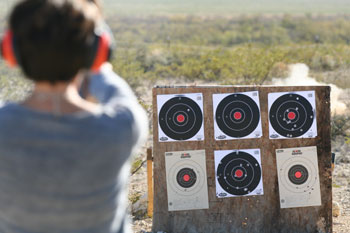 That last photo is MLB wreaking havoc with our new Springfield pistol. I love the way the photo includes the dirt kicking up behind the targets.
In closing, here's another obligatory photo, this one of turkeys: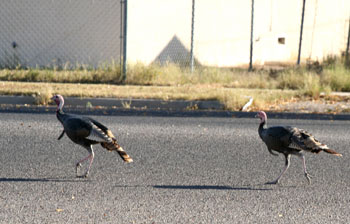 These two gobblers were striding down the middle of Rio Street in Fort Stockton on Saturday morning, following Thanksgiving. We saw the whole flock (about 10 birds) during our morning run the day after Thanksgiving but didn't have a camera with us. Anyway, they were obviously breathing easy, having escaped the dining table for another year.
OK, does this get me back on track? Even if I had to resort to quoting Reader's Digest?