So, I was perusing my Twitter feed because it's much easier to get ideas from other people than come up with them myself and I ran across this article about how our salmon gets colored. As a frequent eater of salmon, I found it interesting that unless the fish was caught by aging hippie outdoorsmen channeling the spirit of Euell Gibbons, it got its pleasing salmon color by eating crayolas. OK, that's a loose interpretation, but, yeah, they feed "ranch grown" salmon a kind of pigment along with the regular salmon chow, otherwise we persnickety consumers would never buy it because it would be gray and not match our dining décor.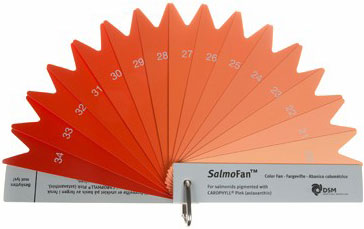 But here's where it really gets fascinating. Someone has come up with a salmon color chart, which even has a trademarked and elegantly provocative name, the DSM SalmoFan™. The SalmoFan™ comes in two varieties, one that's – wait for it – fan-shaped, with little colored "fingers" (not unlike the spark plug gap gauges back when such things mattered, or paint fan decks for those with limited automotive knowledge), and another that's a row of possible salmon colors. It's called SalmoFan™ Lineal, because, well, you know.
The SalmoFan™ has an array of 15 strips, each of which is numbered from 20 to 34, with the lower numbers being lighter shades of salmon, and the higher numbers being darker, almost but not quite getting to red. According to sophisticated market research, darker colored salmon commands a higher price.
You can actually order SalmoFan™s from the DSM website, and they're free, although you have to give them a bunch of information that they may use to confirm that you're in the salmon color grading business or something, so I didn't bother, primarily because I couldn't come up with a convincing cover story about why someone in West Texas would have a commercial concern about fish pigmentation. But I still fantasize about how cool it would be to whip out my personal SalmoFan™ at the local sushi bar and quiz the server about whether she really believes that California Roll made with number 25 salmon warrants such an exorbitant price. Much professional winking and hilarity would ensue, I suspect.
Anyway, I was amazed and alarmed to discover that even though someone had gone to considerable trouble to identify 15 shades of potential salmon pigmentation, nobody has taken the next logical step and provided the hexadecimal equivalents for those shades. I suspect this has caused grief for countless designers building salmon-themed websites, because they've had to basically shoot in the dark and hope that by sheer chance they've picked the correct shade for their particular salmon-consuming demographic target. I aim to rectify this gap in human knowledge, and therefore submit for your consideration the EDS SalmoHex Chart of Pinkish Colors. The following chart has been prepared following rigorous proprietary analysis, drawing extensively on both my years of Photoshop experience and minutes of DSM SalmoFan study.
SalmoFan™
Color

Hexadecimal Equivalent

SalmoFan™
Color

Hexadecimal Equivalent

SalmoFan™
Color

Hexadecimal Equivalent

34

A81503

33

BC1301

32

CA2603

31

D02D06

30

DA3A13

29

DD4C22

28

DF572F

27

E7683F

26

EA6C43

25

ED734B

24

EB7C56

23

ED825E

22

ED8C62

21

F29B77

20

F2AD87
I realize that as helpful as the preceding cross reference may be, it will still not meet the needs of those who must have just the right shade of invitation for their fish-themed wedding, but coming up with Pantone equivalents is too much work. I can't do everything, folks.