MLB and I spent last week at Horseshoe Bay, and it turned into quite a busy time. (Important Note: The following is the equivalent of showing blurry vacation slides from that trip with your parents to Knott's Berry Farm to captive friends who reciprocate by never coming back to your house, even when tempted by a Pecan Log from Stuckey's. If it will help, try to imagine me narrating this in Samuel L. Jackson's voice.)
Horseshoe Bay is a little different than many places this time of year…it's less crowded and quieter because a lot of folks with lake houses aren't particularly interested in boating or skiing in winter weather (although the typical Hill Country winter isn't what you'd call brutal). Nevertheless, we managed to fill our schedule with some memorable events. Here are some of the highlights:
Saturday
We were invited by friends to attend a Celtic music concert in nearby Marble Falls. None of us knew what to expect from the event, which was a fundraiser for The Phoenix Center, a local nonprofit that provides mental health services to children and their parents. The concert, billed as "A Celtic Christmas," was held in the Uptown Theater, a renovated 40s-era movie theater which, despite its name, is located smack dab in the middle of downtown Marble Falls. It's a funky little place, very cool in its own way, and provided an intimate setting for what turned out to be a surprisingly delightful three hours of music.
The evening featured two musical groups. First to perform was The Here & Now, a quartet of Austin- and Dallas-based musicians. The fiddle player, Niamh Fahy, is an Irish lass who serves as a music therapist for The Phoenix Center. She was also the driving force behind organizing the event.
The Here & Now perform what I'd call traditional Irish music, although I'm hardly an expert in the genre. It's contemplative and lively by turns, and always lyrical.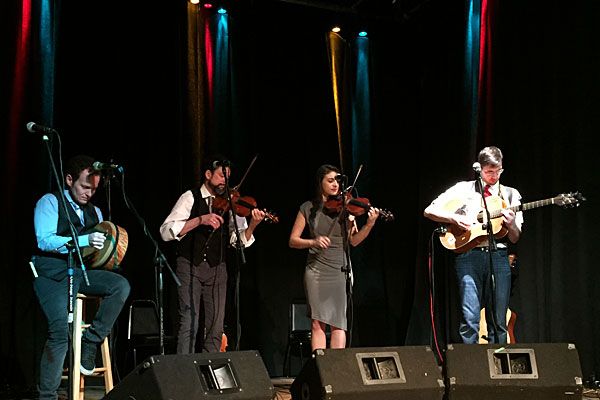 The Here & Now
It's worth mentioning that we were seated next to the stage, so we had a great view of the proceedings, which included some impressive dancing by Emily and Gavin, a couple of youngsters with extremely quick feet.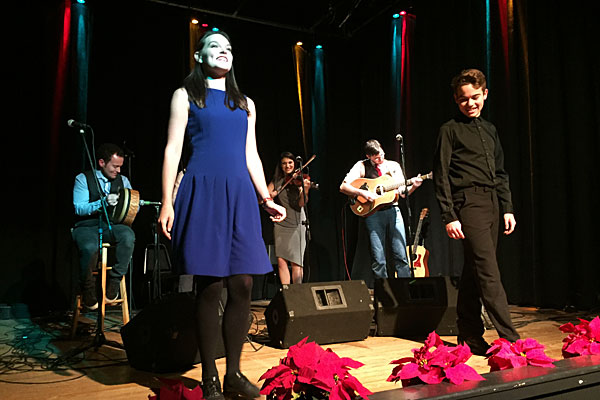 Irish dancers Emily and Gavin
Gavin did step dancing (usually associated with productions like Riverdance), while Emily's specialty was old-style. I know this only because I visited with her during intermission where I succumbed to her atomic-powered dimple and bought one of the group's CDs.
Following that intermission, the trio known as Celjun took the stage. Celjun is a band based in Lafayette, Louisiana, and they specialize in a music amalgam of Celtic and Cajun genres (hence their name, right?). Their music is a bit more raucous…probably something you'd expect to hear around midnight in an Irish pub (not that I'm personally knowledgeable about that). I was most impressed with the skills of Pete Dawson, the flautist/whistle player (whistleist?) who hails from Baton Rouge. If you want a sample of his music, check out this video beginning at the 3 minute mark.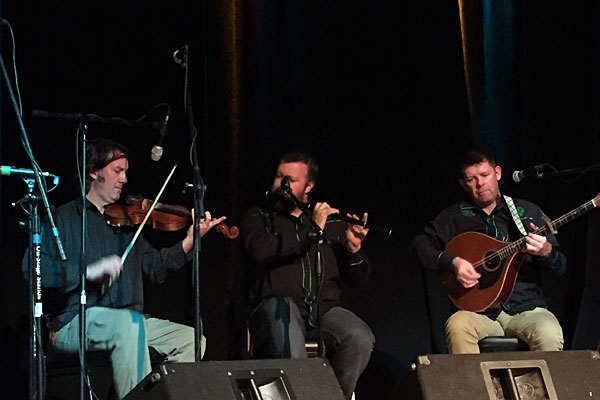 Ireland + Cajun Country = Celjun
Sunday
We took a day of rest from social activities and enjoyed some beautiful weather and a nice afternoon bike ride. And, as usual, Mother Nature provided some entertainment.
The Hill Country isn't really known for its fall foliage, but you can run across some spectacular, if isolated, examples.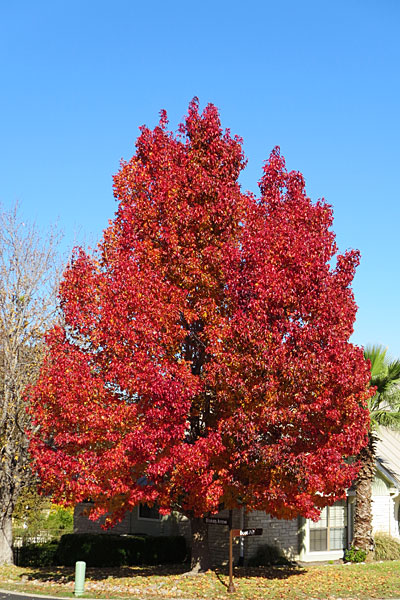 Beautiful fall color
Beauty in nature comes in different shapes and sizes. MLB spotted this amazing fungus during one of our bike rides, and I later returned to photograph it.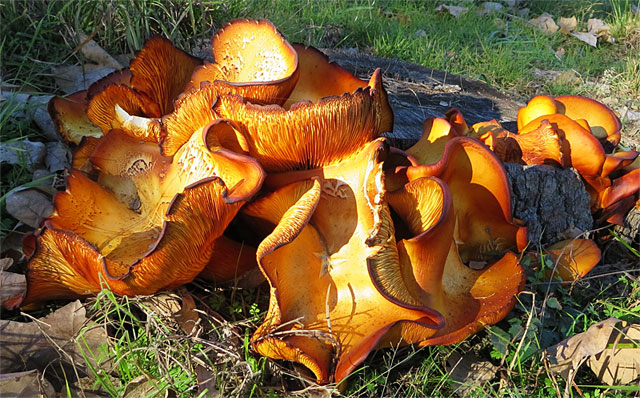 It Came From Beyond: fungus growing on tree stump
There's an owl who (get it…"who…who…" OK, never mind.) hangs around our house. He (or she) is elusive, and I generally spot her (him) only as a shadow gliding through the trees…until now:

The Watched watches the Watcher
There's one more encounter with the animal kingdom I want to share, but in the interest of building suspense, it will come at the end. Please try to stay awake.
Monday
One of the primary purposes of this trip was to attend the annual Horseshoe Bay Members Christmas Party, a free dinner and dance held at the resort. It occurs on a Monday to reduce attendance (my theory, anyway), but if that's an effective strategy, it was difficult to discern based on the turnout. Anyway, we enjoyed the company of close friends as well as acquaintances old and new, and even got to do a little dancing.
Music was provided by the David Young Band, an Austin-based group featuring musicians who can play basically anything in any genre (we got everything from At Last to Uptown Funk).
This was our third time to attend this event, and we learned early on that a 20′ x 20′ dance floor doesn't accommodate the 500 or so people who want to dance, so our best bet was to get in some steps early on, while most people were still in the buffet lines. But the evening had an inauspicious start, because some sound system problems seemed to have the keyboard player doing a different song than the rest of the band, and we were all confused.
They finally got that sorted out and we were treated to a song we could actually dance to. But…it was a tango. Nobody outside of the movies plays a tango at a party…primarily because nobody actually knows how to do a tango. OK, that's an exaggeration, because, well…WE do. And so we did, alone on the floor (until mid-way through the song, an(other) older couple joined us). It was actually pretty great, and someone claimed that one table gave us a standing ovation at the end, although I'm pretty sure they were just heading for the open bar for vodka shots.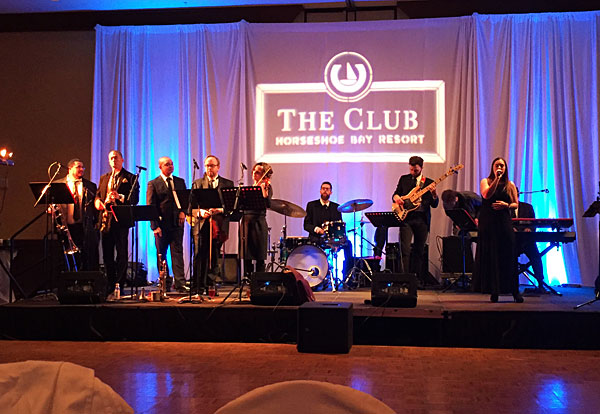 The David Young Band – Don't be fooled by the suits; they can boogie.
Later in the evening, the dance floor resembled a mosh pit, if mosh pits are ever populated by over-50 affluent wine-infused white folks in sparkly clothes. But I admit when the band led the crowd in doing The Stroll during an extended version of Uptown Funk, it was magically surreal.
Oh, did I mention that the whole thing was free?
Tuesday (hang in there; we're almost halfway finished)
Tuesday's plans centered around Christmas lights. But we first had a significant civic event to attend.
Today was the ribbon cutting for the new Horseshoe Creek Hiking Trail, and a pretty good crowd turned out in beautiful sunny weather for the event.
The trail begins near the Horseshoe Bay Mausoleum ("New niches coming soon!"), located on one of the highest spots overlooking Lake LBJ, and meanders along the Creek for just over two miles, down to Highway 2147. It's not a treacherous trek, but it is strenuous…hiking boots and a sturdy stick are recommended. We haven't yet done the hike, but it's on our "definite to-do" list.
The land for the trail was donated by Wayne and Eileen Hurd, who have donated untold amounts of acreage for civic use in the area. Mr. Hurd passed away in 2011, but Mrs. Hurd was present for the ribbon cutting.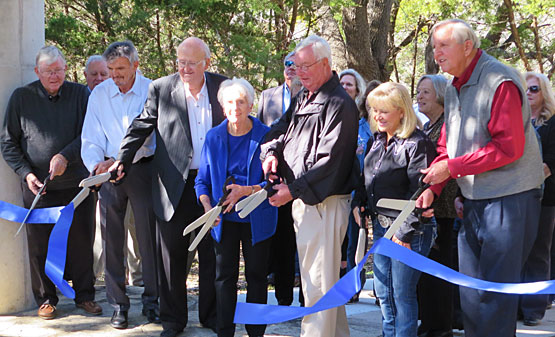 Eileen Hurd (center) cuts the ribbon to open the Horseshoe Creek Trail
I didn't even know that Horseshoe Creek existed, and it was a revelation to see (and hear) the live water coursing down and through the hills. I'm not sure it's always so energetic, but recent heavy rainfall had a wondrous effect.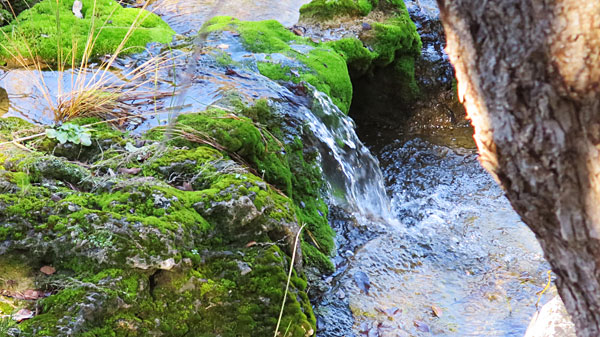 Horseshoe Creek – a view from the new trail
That evening, we headed 20 minutes south to Johnson City with friends to take in the vaunted downtown square display. Each year, the courthouse and surrounding businesses go all out with lighted displays; the courthouse alone is draped with more than 100,00 lights.
We ate dinner at the Pecan Street Brewery (I heartily recommend the Pecan Sweet Fried Chicken), located directly across from the courthouse. After dinner, we braved the chill wind to walk around the square before heading back to HSB.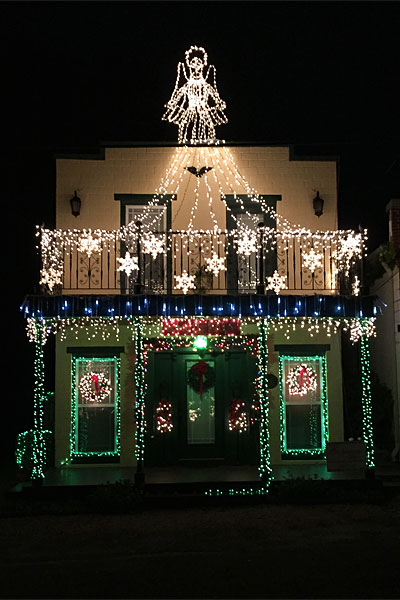 A Christmas display on the Johnson City square

The lighted courthouse
The display was impressive enough to make the trip worthwhile. But wait! There's more!
On the way out of town, we pulled onto Highway 290 and something caught our eyes a couple of blocks away. Well, it would have been difficult to miss it, as it resembled nothing less than a premature sunrise, or perhaps a nuclear plant meltdown. Intrigued, we drove to the display on the grounds of the Pedernales Electric Cooperative headquarters, where we were greeted by a score of huge oak trees adorned with what we would later learn are 1.2 MILLION LED lights. Holy cow…I earlier described something as surreal, but this took the concept to a whole new level.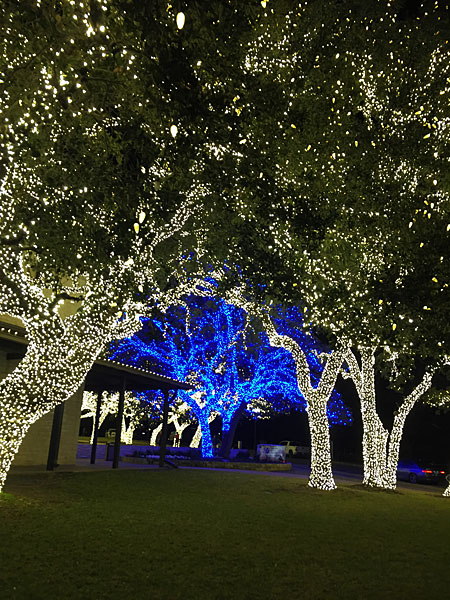 Our electric bill payments at work
PEC has been doing this display for more than a quarter century; the blue lights were added in celebration of the organization's 75th anniversary a few years ago, and they apparently were popular enough (or difficult enough to remove) that they've remained.
Once our retinas recovered enough to drive safely back home, we resolved to drive into Mable Falls to view that community's annual Christmas display. In retrospect, we should have done that first, because pretty much anything will pale in comparison (both figuratively and literally) to the PEC installation.
The town's "Walkway of Lights" has a gorgeous setting on the bank of Marble Falls Lake, and it's laid out as an out-and-back route of perhaps a quarter mile through hundreds of random holiday displays. It's a pretty impressive installation for a small town. It boasts of more than 2 million lights and 400 displays, but frankly, spread out over such a wide area, it's not as dramatic as some others (*cough* PEC *cough*).

The entrance to the Walkway of Lights
On the other hand, it probably is more kid-friendly (not quite as overwhelming to the senses), and there were quite a few families exploring the trail.
We were a bit disappointed at how many "sculptures" had non-functioning lights; I guess it's hard to stay on top of 2 million of them. And the displays became a little repetitive. You can have only so many Santa-and-reindeer tableaus before they start to run together. There were some imaginative ones, though: Santa riding a jet ski; Santa in a helicopter; Santa gutting a reindeer to make jerky. OK, I made that last one up. But this is hunting country, so…
Wednesday
Nothing happened on Wednesday. Well, other than…
We made a day trip to San Antonio to do some Christmas shopping at La Cantera and The Rim. Despite the proximity to Christmas, both areas were remarkably calm, which was a pleasant surprise.
By the way, if you're driving in from the north on Highway 281 and that area is your general destination, I strongly recommend exiting onto FM 473 a few miles south of Blanco and driving through Kendalia, then on to I-10, where you'll enter the interstate just a couple of miles from the Fiesta Texas exit. Believe me, even with the winding road and lower speed limit, you'll come out ahead by avoiding 281 as it enters San Antonio. Plus it's a much more scenic drive. Just try to come back before dark, as the deer encounters might be a bit intense.
On the way home, shortly before 5:00, MLB was noodling around on her phone and discovered that Andy Armendariz and 8 From the Gate were playing that evening at Pardner's in Lake Buchanan. Pardner's is an old-fashioned honky-tonk that features a decent dance floor, a live band every Wednesday night, and a crowd demographic that skews AARP-wardly. (The live music begins at 6:30 and ends at 9:30, so that should give you a clue.)
If you've never heard of 8 From the Gate (Quick…can you identify the source of the band's name? The answer is helpfully provided below.), don't feel bad; neither had we. But the music that MLB streamed sounded danceable, and we decided to forego dinner to get in some two-stepping before heading over to some friends' home to drop off a gift.
We arrived around 6:45 and the dance was in full swing. We recognized several of the folks in attendance, either from other dance venues, or from previous trips to Pardner's. It's a place for regulars, and you can count on most of the same people showing up every Wednesday.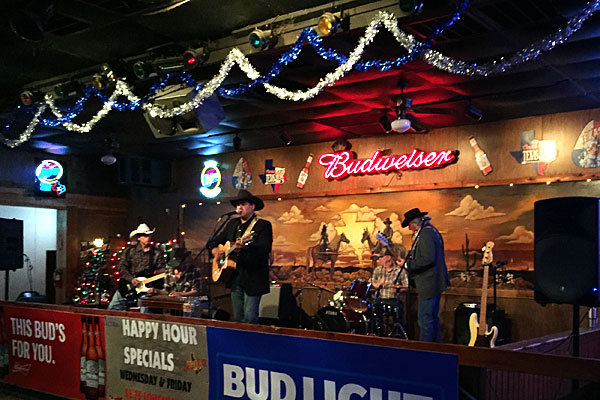 Can't see it in the photo, but it was almost a cliche that the steel guitarist played with a lit cigarette in his hand
It's a great place for people watching (we were particularly intrigued this night by the man pushing 80 years and 300 pounds, sporting a straw hat and denim overalls tucked inside cowboy boots, whose dance style was primarily limited to walking around the floor with much younger women…that is, until the band played Dwight Yoakam's Fast As You, and then he absolutely rocked out), and everyone is pretty friendly. As you might expect, the crowd isn't rowdy; the biggest downside is that it's not a non-smoking venue, and despite having a good ventilation system, we always leave feeling a little smoky.
The music was good, and we got in more than an hour of dancing before heading back to our appointment in HSB.
I mentioned that we had skipped dinner; dancing always trumps eating, but we were a bit peckish and intended to go to Marble Falls for a Whataburger or something equally…fast…after a quick visit with our friends.
However, it's good to have a gourmet cook for a friend, because they also had not eaten and were laying out a spread of leftovers that rivaled anything we had consumed thus far on the trip (up to and including chorizo-stuffed, bacon-wrapped dates and homemade chocolate-and-coconut truffles). Maybe next time, Whataburger.
Thursday (at last)
We spent the day at home taking care of some chores. The high point of the day (and perhaps the week) was when I discovered – following several frustrating nights of lukewarm-to-cold showers – that the hot and cold water connections on the shower were actually reversed, and all the work I had done to recalibrate the scald preventer in an attempt to get more hot water was actually just providing more cold. Sometimes, the best solutions are the easiest; I'm just glad I didn't give in to the impulse to call out a plumber, who would no doubt be blogging now about yet another idiot customer.
And, incidentally, those of you who are more deeply steeped in the arcane plumbing arts are probably wondering what good a scald preventer does in a case like that. I can answer that with an assertive "none." In my defense, the mere presence of that device kept me from trying the ultimate solution until I simply ran out of options.
Following a wonderfully steaming shower, we headed for nearby Spicewood with our dear friends to observe a long-standing Christmas tradition of buying each others' dinners instead of exchanging gifts. They had recommended Apis as a good place for a special dinner, and it was.
Apis is one of those farm-to-table eateries that are all the rage nowadays; it's also an apiary, in case you're into bees (and who isn't?). Their menus are prix fixe, which is French for "you're gonna need a bigger wallet," so it's probably never going to be a replacement for the Bluebonnet Cafe. However, it serves nicely as a celebratory spot for special occasions.
Apis specializes in what I refer to as foo-foo food. You know, the dishes that are comprised of ingredients that require several adjectives to impress upon you their elegance and sophistication: it's not just crab, it's "Peekytoe Crab"; why serve mere pastrami when you have access to "Veal Brisket Pastrami"; and a simple radish can never compete with an "Easter Egg Radish." In other words, you pay by the adjective.
All kidding aside, the food was great, the atmosphere warm, and the service knowledgeable with just the right amount of solicitousness. Highlights for me included an appetizer of charred Spanish octopus (a whole tentacle, and I was able to resist the temptation to wrestle it, Lloyd Bridges-style, much to the relief of my table mates), and the Honey and Crème Fraiche Gateau, a dessert topped with a tiny curl of crispy honeycomb. OTOH, there was a small miss: I couldn't resist trying a sardine-based "snack" (which was sort of a pre-appetizer appetizer). I was interested to see what kind of magic they could work with sardines, but just as a pig with lipstick is still, at the end of the day, a pig…well, you can figure out the rest. (And no offense to pigs; your bacon is delicious.)
All in all, it was a great way to end a great week…and this seems to be a great way to end an endless blog post. So…
Not So Fast…
Those brave few of you who are indeed still awake may recall that I promised one last thing.
I grew up in Fort Stockton, about an hour's drive from Alpine where the high school football team is known as The Fightin' Bucks. Most of you may understand that that nickname comes honestly, as deer of the buck persuasion are known to lock horns, literally, to assert dominance and win a date with the homecoming queen, if you'll pardon the mixed metaphor.
We were returning home at HSB one evening before dusk and, as usual, there were a number of whitetail deer doing deery things in the open field across the street from our house. It so happened that a couple of them were engaged in the aforementioned ritual, and I managed to get a short video of the epic struggle on my phone. The quality is poor – we were 50 yards away in low light – but you should still be able to get a sense of how, well, ridiculous bucks look when they fight. I did speed up the video considerably; two minutes of this action is 90 seconds too long. (And keep your comments about the length of this post to yourselves.)
"8 From the Gate" is a rodeo reference. If you can stay on a bull for eight seconds after the gate opens to release your mount, then you've achieved a qualified ride. Good luck with all that, and let me know how it goes. [Return to the riveting account]