[Ed. note — This is actually a Random Thursday (Monday edition) post, but the author has overridden staff protests in order to use, in his words, "an ever-so-cute" headline.]
First, please feel free to ignore my editor's snarky comment, which stems from an obvious case of envy. Those who can't write, edit.
The Artwork Detective Saga Continues
Alert Gazette readers will recall a couple of previous posts — here and here — about Atlantic Richfield's Corporate artwork collection and my minor role in helping to dispose of it following BP's devouring acquisition of ARCO. Even though it all took place more than a decade ago, I still get occasional inquiries about it from various "stakeholders" who have apparently exhausted all legitimate and credible sources of information. A lot of these inquiries originate in California, where ARCO was headquartered, and I'm able to answer almost none of their questions since I only dealt with the artwork in the Midland (Texas) office.
But I received an email last week from someone in Midland asking about a specific piece that they had acquired. They had the artist's last name and an ARCO-assigned serial number and asked if I had any additional information about the piece. I pulled up the old inventory and, sure enough, found the artwork in question (an intaglio print from 1972). The person expressed excitement over the new info, but then asked if I had any information regarding the value of the print.
I did have an appraisal spreadsheet provided by the Corporate department, but when I opened it, there was no value assigned to the piece in question. A review of the spreadsheet showed that only artwork appraised at more than $150 was assigned a value (there were pieces valued at up to $35,000 in our office, by the way), and thus if a piece had no appraisal, it was deemed to be of little value. I conveyed this information to the owner, expecting a response of disappointment.
Instead, I received this in reply:
Thanks Eric for all of your help! I don't feel as nervous to give it to my grandson for his college dorm room now and he loves it!
I'm now excessively proud of the work I'm doing to decorate dorm rooms. I think I'll add this skill to my LinkedIn profile.
The Armadillo Destruction Continues
Alert Gazette readers will…ah, never mind. I've beat that one senseless. Anyway, despite having trapped four armadillos in the last week (I'm up to 29 in total), they continue to wreak havoc on our newly sodded front lawn. Lest you accuse me of exaggeration (which, admittedly, is almost always a sure bet), here's some photographic proof of the typical damage we find each morning.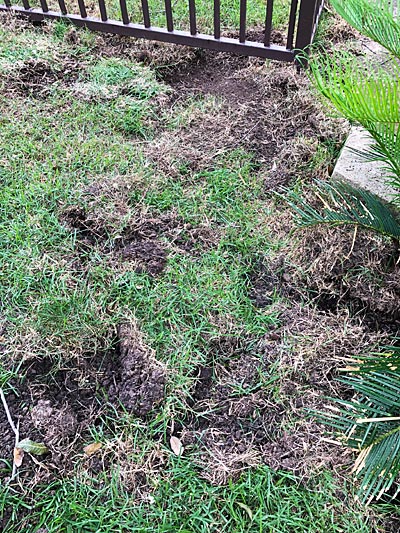 I don't have a "before" photo for comparison, as I never anticipated needing one, but I assure you that this area was nothing but smooth green turf, pre-armadillo. I confess to a complete loss of patience, and if I didn't think the neighbors would complain, there would be no future live catch-and-release in effect, if you know what I mean and I think you do.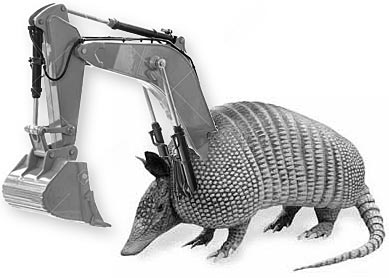 An actual unretouched photo of the Excavator sub-species of armadillo (Dasypodidae cavator horribilis)
The Fourth of July Decorating Commences
The city of Horseshoe Bay has an Independence Day parade* every year and it's open to anyone with a vehicle capable of going a couple of miles down city streets. So, last year MLB and I decorated our tandem recumbent bicycle and pedaled along the route, sandwiched between a Seventies-era Mustang convertible and a 1953 Mercury convertible. We hung a few flags from the bike, put some red, white and blue glittery wreaths on the rear rack and wrapped the frame with decorative ribbon, and we felt pretty festive.
We're planning to do it again this year, but obviously need to step it up a bit, so we hit the Michael's in Bee Cave and came away with more ribbon, plus the stuff pictured below. I'm especially excited about the double pinwheel, which I plan on mounting on the front of the bike. My only fear is that I'll be hypnotized by the spinning colors and we'll fall off in front of the throngs lining the street. Wouldn't be the first time, but that's another story for another time. Or never.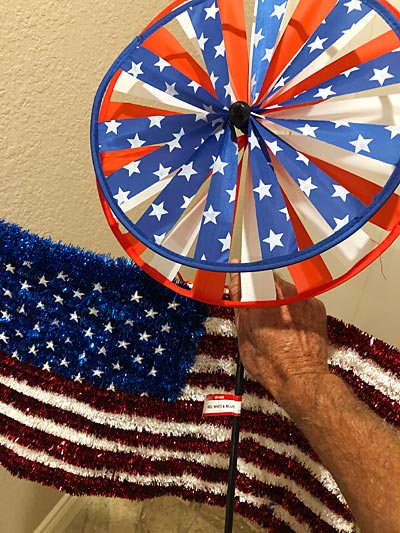 *They actually have three parades. One takes place on the lake and is for boats (duh), and another is a short jaunt for kids on bikes and trikes. Pretty sure we don't qualify for either of these.