I don't know whether it's because we've been stuck at home more this year, but I've noticed more evidence than ever before that spring in our neighborhood is a matter of life and death…and I'm not talking about COVID-19 at all.
If the Circle of Life was unrolled and laid flat in a trend line, we've spotted examples of the significant points along that line. To wit…
In the beginning
We have three species of lizards living in our neighborhood: the six-lined racerunner (Aspidoscelis sexlineatus) , the green anole (Anolis carolinensis) and its less-plentiful cousin, the brown anole, and the Texas spiny lizard (Sceloporus olivaceus). The three each have unique "personalities" and behaviors — the racerunners are like inquisitive two-year-olds around kitchen drawers, the anoles (at least the males) are pugnacious and territorial, and the TSLs are skittish and secretive. But they all have one thing in common: a strong desire to make little lizards. And, for some reason, our courtyard seems to be the preferred make-out location.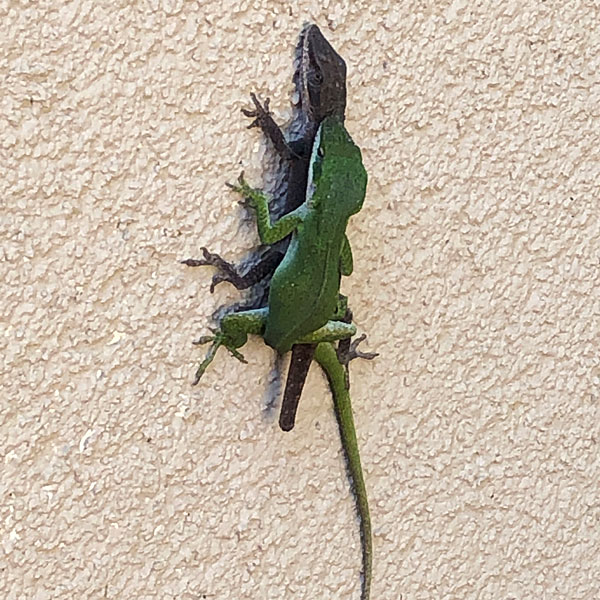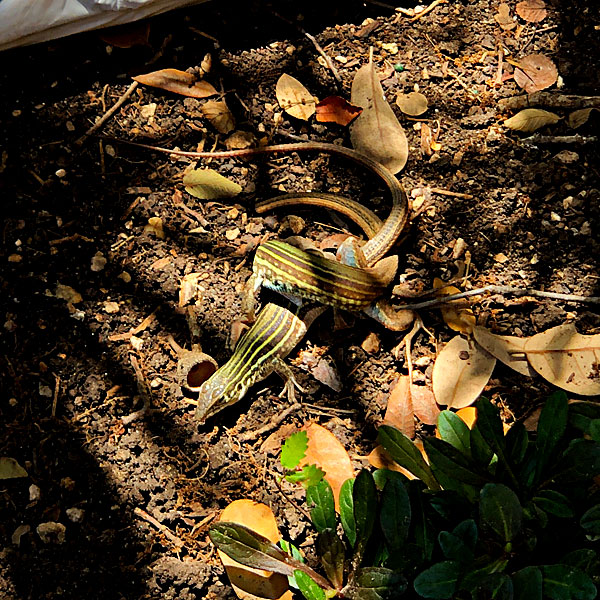 Both the anole (top photo) and racerunner (bottom) females will lay eggs that will hatch in less than two months.
By the way, I'm not sure why it is, but a noticeable percentage of the lizard population around here are missing parts of their tails, as you may have noticed with the female anole and the male racerunner. Fortunately, they'll both regenerate those tails.
New life…or not
So, after making whoopee, the next point along the Great Trend Line of Life (GTLL) is — can you guess? — babies…assuming everything goes according to plan. When it does, it's very cool. I've written at length about the new family of hawks next door, but not all the life stories end that happily.
About a year ago, I documented the nesting and egg-laying behavior of a river cooter, and the predation of that nest by an armadillo. I assumed this was a rather isolated event, but this spring I've found four such ravaged nests just in the vacant lot adjacent to ours. Here's an example, with the background faded to highlight the destroyed eggshells.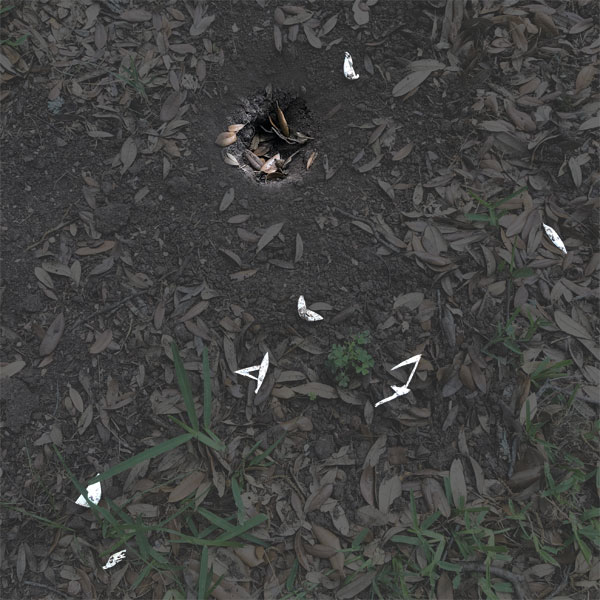 The hole at the top of the photo is where the eggs were originally buried; the white slivers are all that remain of the leathery eggs.
Fortunately, nature has a way of compensating for these destructive events via the sheer number of nests that are built and eggs laid, and our populations of red eared sliders and river cooters seems quite healthy. And so we occasionally get treated to scenes like the one below (excuse the poor long-distance phone photography) of a tiny turtle sunning itself atop a big one. Are they related? Who knows? But they both appear content.
Life is a gift, if you can keep it
But, of course, life can be a zero sum game in the world of nature. The food chain is pretty immutable; eaters get eaten, and sometimes bad decisions are fatal.
As an example of the latter, here's a hummingbird who kamikazied into one of our windows. I'm sure that everyone with a feeder has seen this happen at some point in the past, and it's always tragic.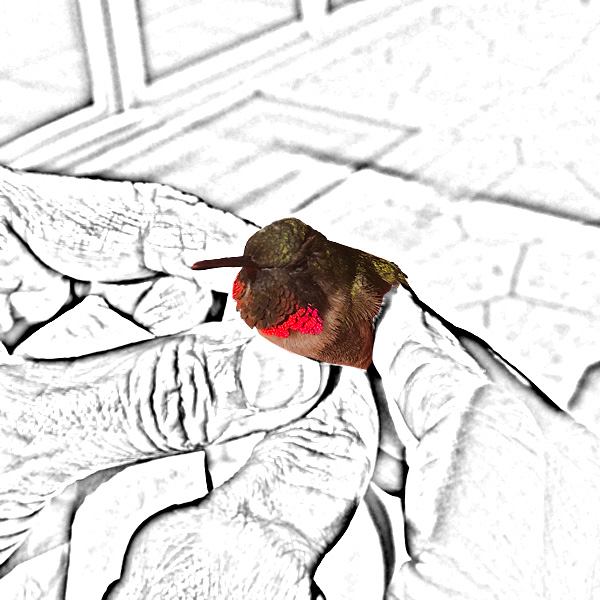 Life seems to be particularly nasty, brutish, and short if you're an insect (you're not, by the way, so don't worry). For example, you might encounter an assassin bug. When that happens, the prognosis is grim. Just ask the May beetle in the following photo (but don't expect an answer).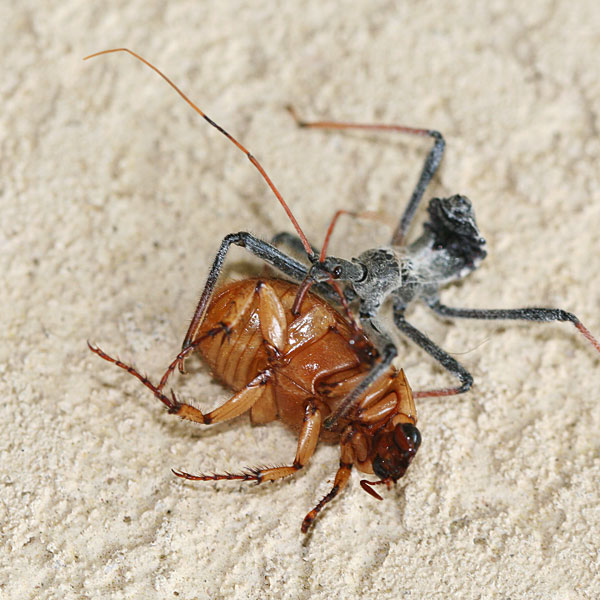 This pair was on our back porch. If you look closely, you'll see the assassin bug's proboscis inserted into the belly of the beetle, whose life is slowly being drained. We don't mourn this passing because the beetle is a pest, like much of the assassin bug's other prey, so the bug may be ugly (and it is capable of giving a human a nasty little puncture if handled) but it's a beneficial guest in a garden or yard.
The assassin bug is also tenacious. As I attempted to photograph this behavior, it tried to back away from my presence…but it never let go of its prey. You've got to admire someone (or something) that's willing to fight for its dinner.
Another occupant of the "death point" on the GTLL is the moth shown below…or at least, what's left of it.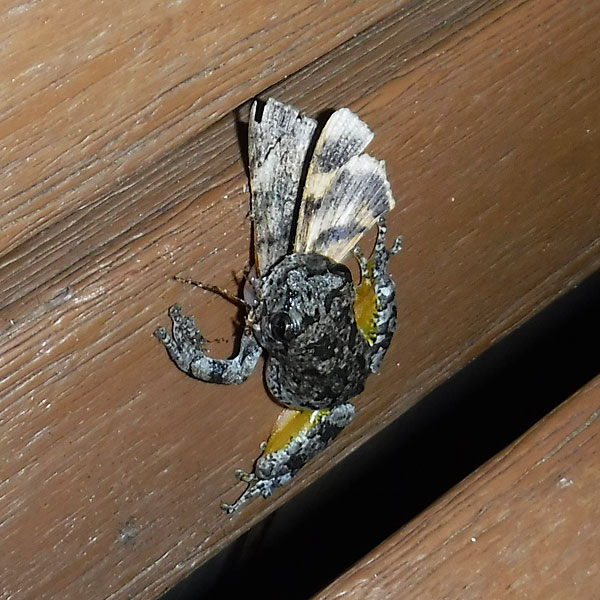 We've noticed that tree frogs have taken to hiding beneath the cushions of the chaise lounges on our deck, in obvious defiance of the dangers of being squished. So, we've started looking under the cushions to help them avoid any embarrassing flattening. Early one morning, I pulled a cushion back and uncovered this Cope's gray tree frog (Dryophytes chrysoscelis) in the middle of a tasty breakfast of moth.
So, in this version of the zero sum game, the moth's life energy is converted into the frog's ability to continue waking us up in the middle of the night by singing its unique arrangement of Bohemian Rhapsody outside our bedroom window.
By the way, there are actually two almost identical species of gray tree frogs, and they can be distinguished pretty much only by their calls. Both have that bright orange or gold stripe on each back leg that you can see in the photo. I'm guessing that this one is a Cope's gray tree frog, but that's only because the Wikipedia photos look similar. And, really, from the moth's perspective, it's not important.
So, there you have it — the amazing and intriguing and disturbing facets of natural life in the Fire Ant neighborhood. If there's a silver lining in the COVID cloud, it's the [forced] opportunity to slow down and observe more closely what's going on around us.
I leave you with one last tree frog photo. You'll have to guess what happened to him/her/it.