Disclaimer: The following contains what might appear to be disparaging and/or disrespectful observations regarding that peculiar breed of humanity known collectively as "golfers." In truth, no disrespect is intended; some of my best friends and many of my beloved relatives (two of whom are PGA Tour winners) are golfers. Nevertheless, even they will admit that there's something in their brains' wiring that just isn't natural. But who am I to judge? After all, while they're searching for missing golf balls, I'm in the same vicinity searching for snakes.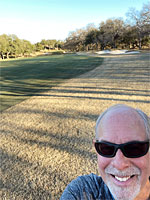 Why am I smiling? Well, I finished a run and didn't die. Always a good thing.
I don't recall why, after six years of living here, we suddenly decided to try running on the local golf courses. But I do know precisely when it happened.
It was the morning of November 23, 2020 — a Monday — and Debbie and I were running up Bay West Boulevard, as we had done hundreds of times before. But this time, as we neared the intersection with Broken Hills, instead of continuing on another mile or so to the Cap Rock clubhouse, or making a u-turn and heading back home, I suggested going left on Broken Hills, and then making another left onto the cart path leading to Ram Rock #7. And, as they say, the rest is history.
OK, let's back up. Unless you live in Horseshoe Bay (or visit here often), you have no idea what I'm talking about, so let me provide some context.
Our house is strategically located so that within a half mile radius, ATBF, there are four private 18-hole golf courses (see the locator map below). We can actually use the cart paths of three of them: the aforementioned Ram Rock, its close (and easier, by all accounts) Apple Rock, and the spectacular Summit Rock. (Escondido is the exception, as guards will chase off anyone without a chip embedded in their neck. OK, I jest…probably. They're trying to live up to their name, but the joke's on them; we all know where it is.)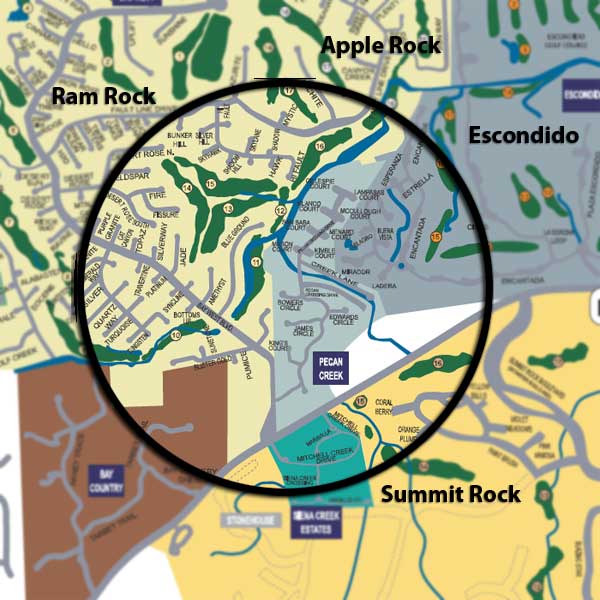 Our house is located in the center of the half-mile radius circle.
Our house is ~150′ from the cart path on Ram #11 (that's how all the golfers I know refer to locations on the courses; some of them with homes adjacent to the courses don't even know their own street addresses…they simply say, "oh, we're on Apple #4" and if you get a blank look on your face, they know that you're not One Of Them and not to be trusted. OK, I jest…probably.). From that point, there are a multitude of running route options that vary significantly in terms of distance and elevation change.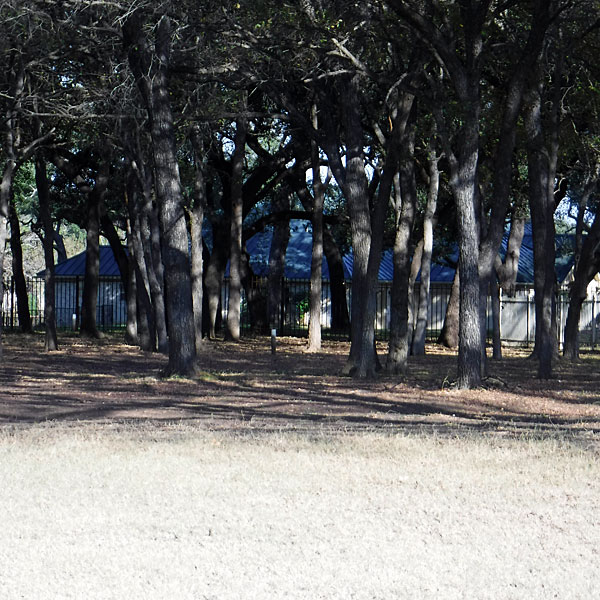 This is a view of the side of our house as seen from the Ram Rock #11 fairway. The perspective is deceiving; there's actually a vacant lot between our house and the fence marking the boundary of our neighborhood.
For example, turning left on that path takes you up the front half of Ram Rock for 1.5 miles, with an increase in elevation of about 100'/mile. That's nothing if you live in Colorado or the Himalayas, but if you grew up in the flatlands of West Texas, it's a brutal eye-opener.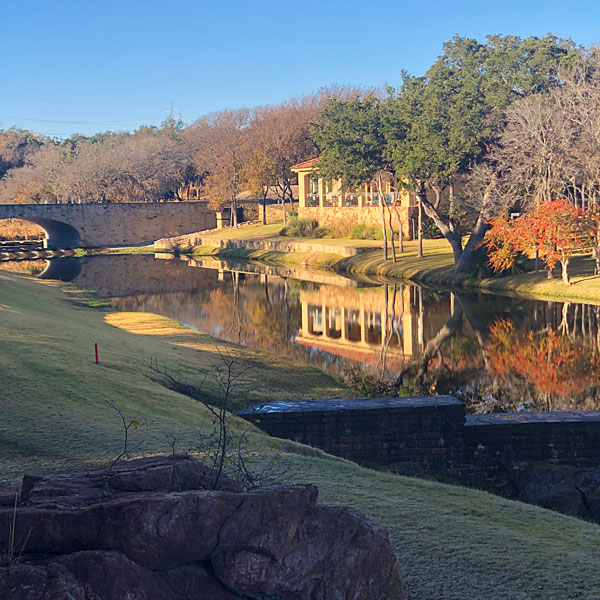 The aforementioned left turn starts out deceptively flat, and very pretty. This is the creek that flows under the bridge on Bay West Blvd.
But turning right takes you on a relatively flat 4-mile out-and-back course that winds past four Ram Rock holes and continues onto the Apple Rock cart path for five additional holes; the midway point is a turnaround that looks out over Lake LBJ.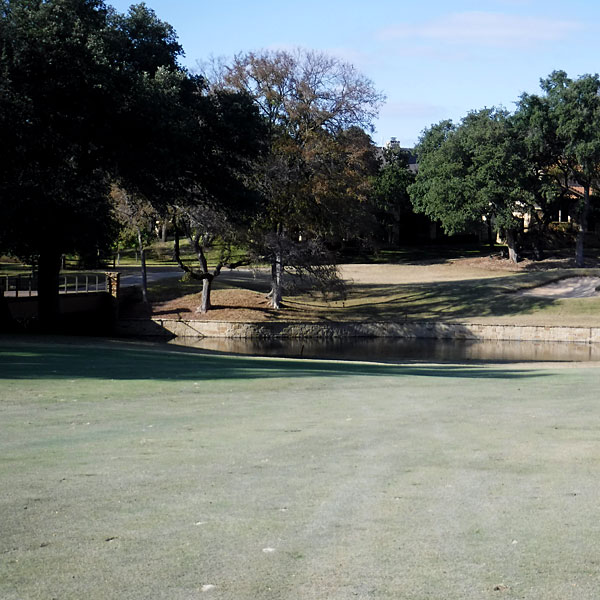 Making that right turn takes you along a wooded neighborhood with multiple creek crossings. This is a view of part of the Ram Rock #11 fairway and green. And speaking of green…they put colorant on the fairways in the winter.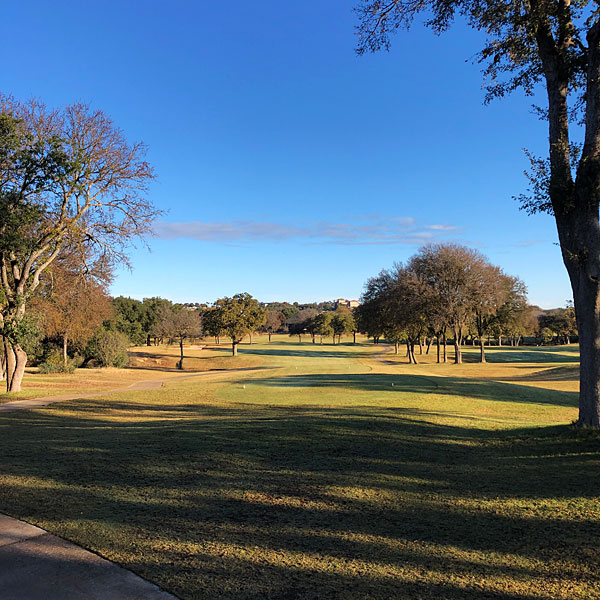 There's a spot on this route where you can see the fairways of three holes: Ram Rock #s 13, 14, and 15.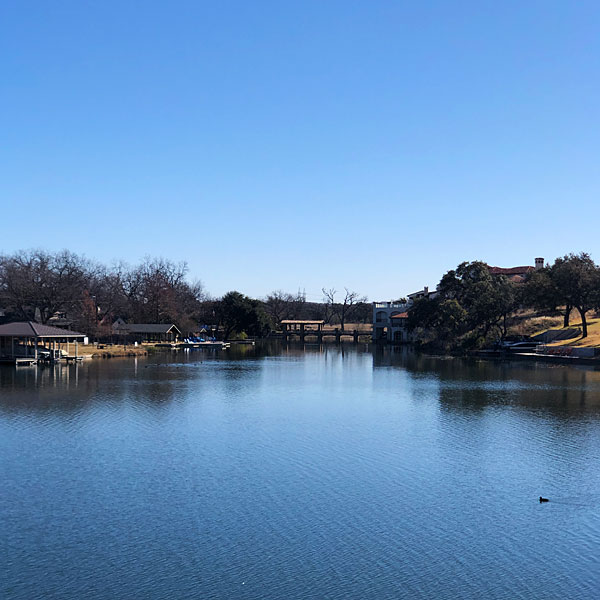 This is one of the views of Lake LBJ from the Apple Rock #12 tee box, access to which entails crossing two short bridges over lake inlets.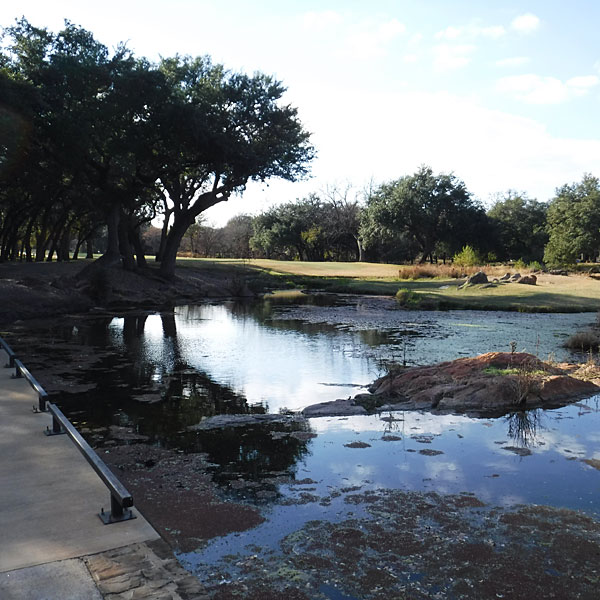 The return trip from Apple Rock #12 takes us over not one, but two crossings of the winding Pecan Creek. This is the fairway on Apple Rock #16.
Summit Rock is a bit of an exception, as we can access it only by running on streets for a mile (and by crossing the main east-west highway that splits Horseshoe Bay), but once there, the route is a bit less developed than the more established Ram and Apple courses. Parts of the Summit Rock cart path are staggeringly steep, and although the views of Lake LBJ plus another twenty miles of the Texas Hill Country are unequaled, running them is a masochistic endeavor (so we don't). Instead, we wind through some very pretty neighborhoods where traffic is essentially non-existent. Either we're too early for the residents, or nobody actually lives in those million-dollar-plus homes.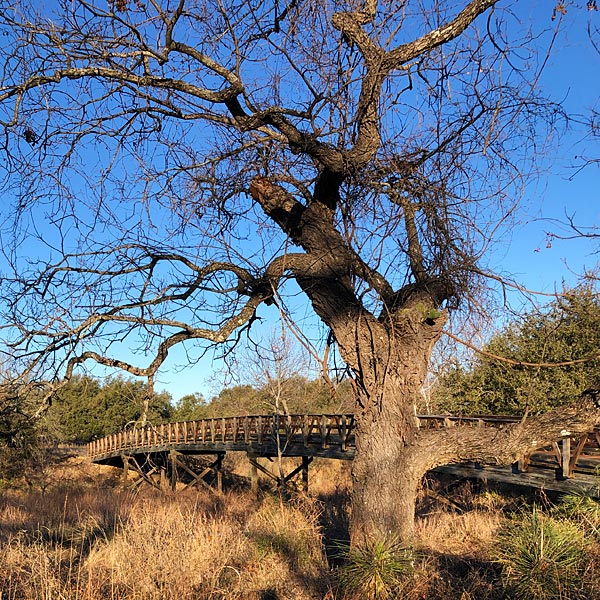 Above: The wooden bridge spanning Pecan Creek and leading to the Summit Rock #14 fairway.
Below: A view of Pecan Creek (which eventually flows just behind our house) from the Summit Rock bridge.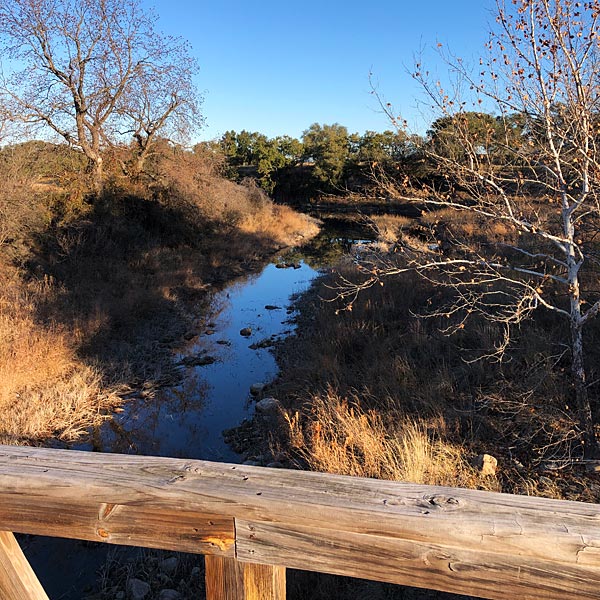 One significant benefit of where our house is located is that the closest access point of each of these three golf courses is past the midpoint of an 18-hole round. So, we don't have to hit the trails at the crack of dawn to avoid golfers. By the time they make it to anything past #12, we're already home eating bacon and eggs and biscuits. (Don't judge us. Why do you think we run, anyway?)
Besides avoiding traffic on the streets — which, granted, is never all that heavy, but still… — we've gotten to know the other regulars who are out early walking their dogs or just walking for exercise (we seem to be the only runners). Of course, when I say "know," I don't really mean KNOW as in "we know their names." We've just seen each other enough now to merit friendly smiles and waves, and in the infrequent times Debbie or I run solo, some of them remark on that fact that our partner is missing. That's pretty cool, I think.
We've also enjoyed seeing the backs of houses that we've seen from the fronts for years. Some houses look fairly mundane in the front, but have spectacular living areas in the back overlooking the golf courses. We also get to experience up close some features of nature — like the creek crossings mentioned above — that are otherwise inaccessible from the street. Oh, and did I mention that there are restrooms — with heat and a/c — about every mile or so?
Not everything about running on the cart paths is perfect. The concrete can be hard on one's feet and joints (I'm not sure it's much worse than the asphalt of the street, but my wife disagrees). Running on the grass can mitigate that but that has its own challenges. We also often have to dodge the course maintenance crews that tend to the greens and sand traps every morning. They're pretty good about yielding the right of way, but there are spots where it's tough for them to get off the path in order to let us by. We try not to impose on their work responsibilities.
The real attraction of the cart paths is the scenery. Views like the ones I've shared today make us feel a continual sense of blessing that we get to live in surroundings like these, and that we're healthy enough to get out and enjoy them.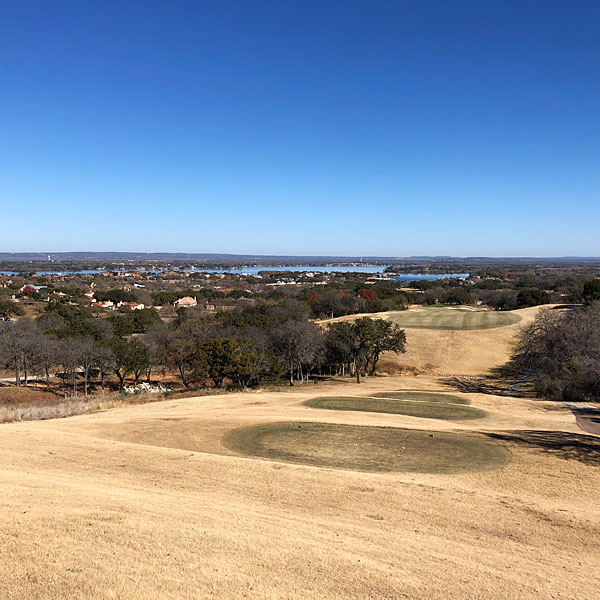 This is the 10th fairway of Apple Rock. It is NOT on our regular route.
If you could see it in person, you'd know why. It's far steeper than it looks. Even the view of Lake LBJ doesn't motivate us to run there.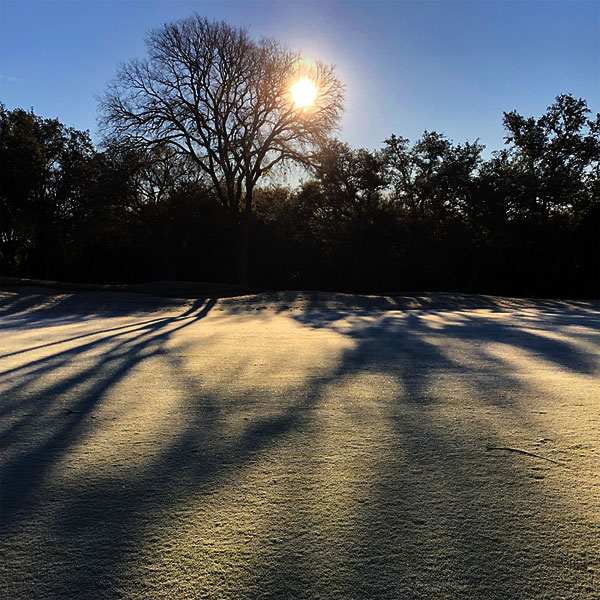 Sunrise over the Ram Rock #16 fairway on a frosty January morning.