So, I was doing some spring cleaning, hosing down the Gazette archives, when I ran across some articles that I never got around to publishing, due to my incredibly busy regimen of being retired. And I realized that the Gazette's Food & Drink category was more lacking in nutrients than a Fletcher's corn dog at the State Fair. I'm not sure why that is, although it could be that I'd rather eat than write about eating. Anyway, here's something from last May to bulk up the category.
Like almost everyone else in America, we've done considerably more cooking and eating at home since the advent of COVID-19. Of course, by "we" I mean Debbie. She's a very good cook and I'm not, so my role is assistant/table setting/salad maker/dish washer (OK, I am in charge of the outdoor grilling, but I'm not sure that really qualifies as cooking). I do have my own knife, and that's not nothing.
Our BC (Before Covid) meal rotation didn't vary that much: cedar plank salmon on the grill, spaghetti (her scratch-made sauce is better than anything we've ever gotten from a jar), the occasional rotisserie chicken or slow cooker roast. The AC (After Covid) menu has expanded considerably, and it's gotten more adventurous. Case in point: earlier this week, we made chile rellenos (I had to look it up to make sure it's not "chiles relleno").
Debbie found some really pretty poblano peppers, and with a recipe in hand harvested from the internet, we embarked on this culinary adventure. And this time, I was an active participant, albeit one serving at the behest of the head chef.
What follows is not a recipe…just a primarily pictorial presentation of pepper preparation as we personally processed the prescribed program.
The first step is to roast the peppers in order to more easily peel them. Two minutes per side under a broiler is sufficient; I was in charge of this task and I left them in a bit too long. No harm done, except the peppers were more delicate which made the stuffing messier than it needed to be.
The roasted chiles were allowed to cool for five minutes under a dish towel (this softens the skin), then they were peeled and sliced open.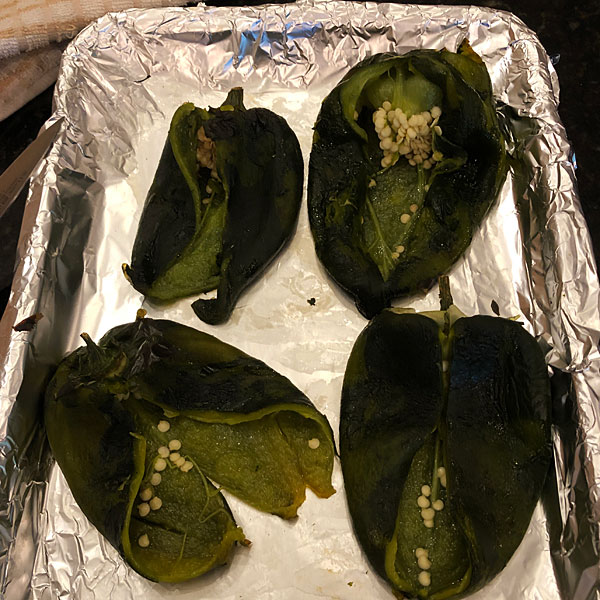 Over-roasting makes the peppers dangerously soft and subject to tearing.
The core and seeds were removed with a spoon, and the peppers were stuffed. We used a "Mexican style blend" of shredded cheese and some leftover rotisserie chicken.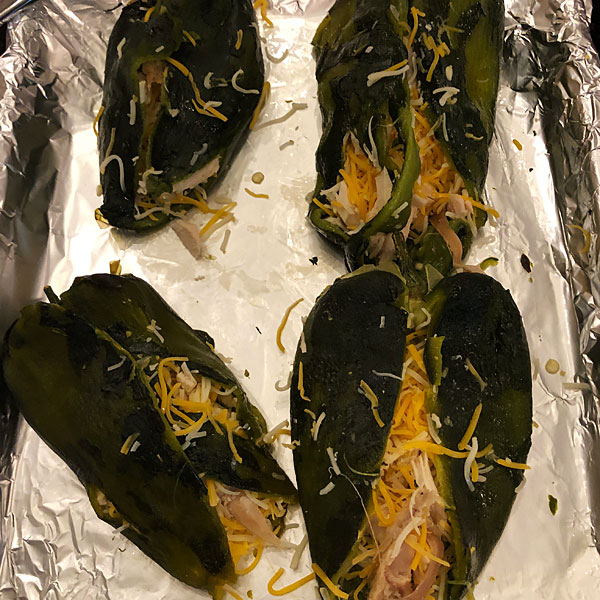 Overstuffed chairs and peppers are both wonderful inventions.
Debbie used toothpicks to keep the stuffing in place. The stuffed peppers were coated with flour and then slathered with whipped egg whites, in preparation for frying.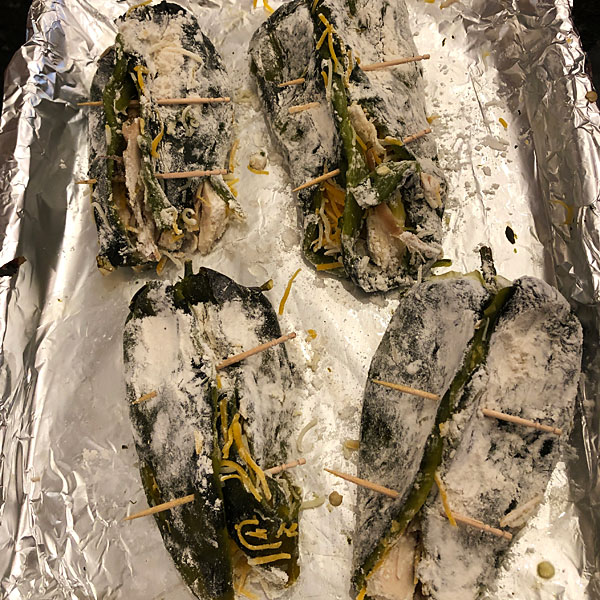 Ready for the frying pan…
The coated peppers were fried in vegetable oil. They may not look like much, but looks are much less satisfying than taste.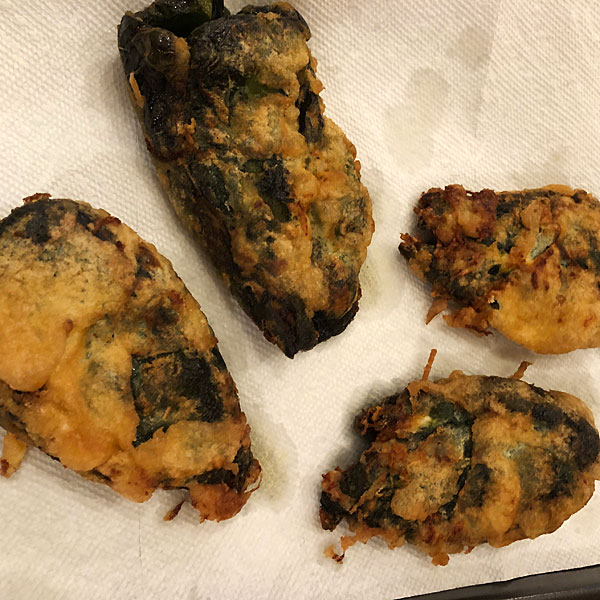 Ready for plating
Charro beans and Spanish rice were the side dishes. I know that in most Mexican restaurants, rellenos are served smothered with a so-called Spanish sauce or with queso, but these had plenty of flavor on their own.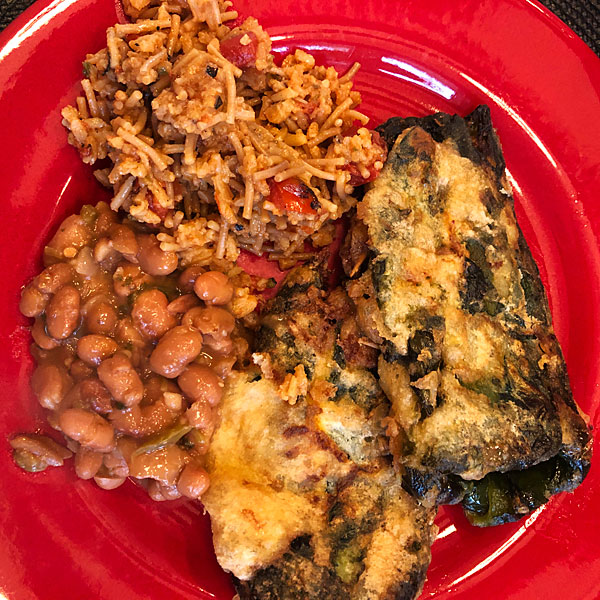 Classic beauty…amirite?
The verdict? The cleaned plate speaks for itself.
Next time, we'll be more careful with the roasting and stuffing, in order to get a more uniform coating of batter. (Of course, the batter isn't required if you prefer your rellenos shamelessly naked.) We may also add some queso fresco to the shredded cheese blend, and use shredded chicken instead of pieces. But one thing is for sure: there will be a next time.
Give it a try. ¡Buen provecho!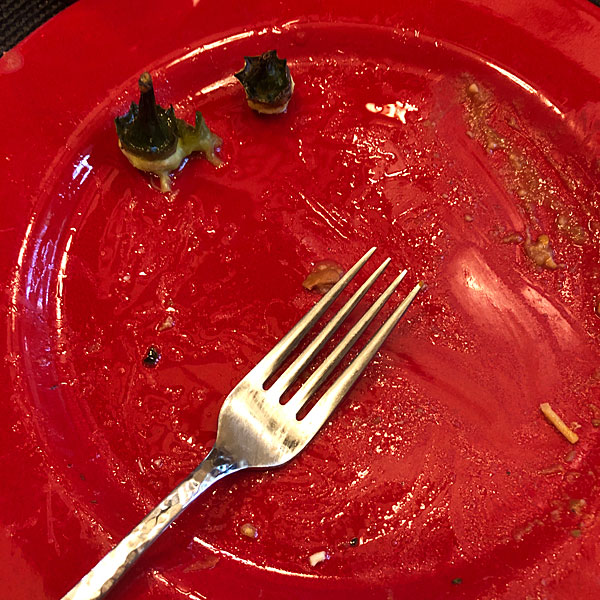 More, please.
Update: Despite my bravado, as of May, 2021, we have yet to undertake this culinary adventure again. But we've eaten lots of tacos. That should count for something, right?