Alert Gazette readers will recall this post from way back in February, when I extolled the virtues of early morning runs on the golf course cart paths that snake hither and yon through our fair city.
As those of us who are prone to pessimism and/or fatalism say, all good things must come to an end. A couple of months ago, these signs started sprouting like weeds at most of the entrances to cart paths from their intersections with streets.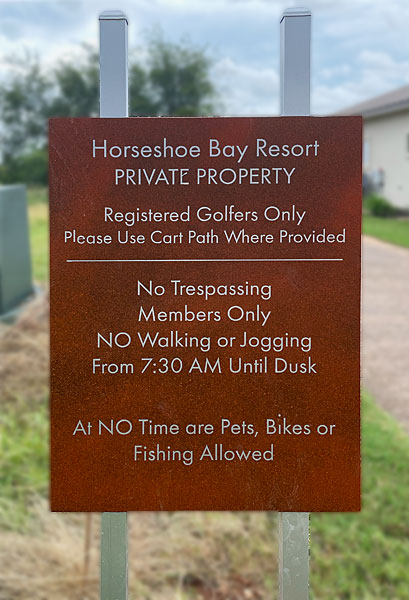 Not sure why
this song
came to mind…
Welp.
At first I was a bit outraged, but over time my emotions tempered to a sort of sympathetic melancholy. I understand the issue that the Resort is trying to address. We've seen families playing touch football and frisbee in the fairways, and kids playing in the bunkers. We've dodged the results of owners who didn't clean up after their dogs. We've even witnessed at least one runner who seem to feel that the middle of the fairway was her private track. Abuse by a few people have created this situation that unfortunately affects all of us who previously enjoyed the scenery from the cart paths before golfers appeared on the courses. (The first golfers don't show up on the back nines where we are until at least 9:00 a.m.)
No one I've talked to likes these restrictions, and some of those folks ignore them (we see them on the paths as we run on the street). But context is important. Horseshoe Bay is a resort city; if the Resort isn't healthy, the city will suffer in some fashion. For example, there are no restaurants within the city limits that aren't owned and managed by Horseshoe Bay Resort. The money that flows into city coffers via the occupancy tax is a significant contributor to maintaining the infrastructure and services all residents enjoy.
And, of course, the main draw to the Resort is golf. If the Resort feels that draconian measures are needed to protect its investment and accompanying revenue streams, it has every right to implement them.
This change has caused my wife and I to resume running exclusively on city streets. We did that for years before discovering the cart paths, so it's not a huge deal. There is a downside due to safety considerations; just this morning, I almost had to jump a curb to avoid an oncoming distracted driver. This is somewhat ironic since one of the justifications for the new policy was to increase safety on the golf courses; it was never obvious to me just whose safety was being jeopardized by our dawn runs.
Horseshoe Bay remains a beautiful and relatively tranquil place to walk and run, even if the cart paths are now off limits. And there will be a couple of months each year when it will be possible to get in a good run before 7:30 a.m. without stumbling around in the dark. In the end, this is what we call a First World Problem, and not even a significant one at that.