Before we get started, take a listen to this (length – 39 sec):
I've probably mentioned this before but I worked as a DJ at a small AM radio station in West Texas during my high school and early college years. That was back in the late 60s/early 70s, and the Viet Nam war was hot. And while the draft was still in effect, the various branches of the military were also stepping up their recruitment efforts.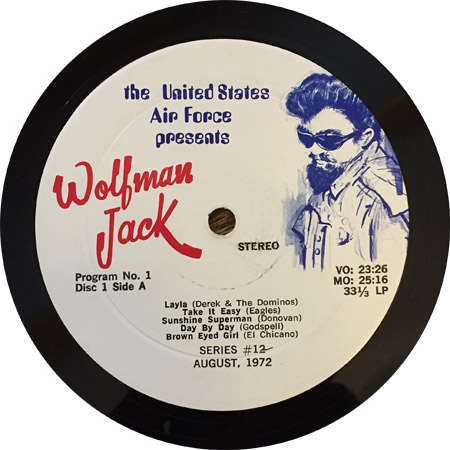 Part of those efforts entailed what we would today call infomercials, but which back then were referred to as public service announcements (PSA). They came in the form of prerecorded programs, usually musical, which were interspersed with promos for a specific branch of service. Radio stations were required to run a certain number of hours of PSAs each month, and the military recruiting programs were a good way to meet those requirements.
As you can imagine, stations didn't run these programs during prime time. Our station ran them on Sunday mornings. They came to us as 15-25 minute LP records (that's vinyl, kiddies), one PSA to a side. They were dated and once they were played, they were trashed.
I managed to "rescue" a half dozen or so of these PSA platters that came to us from the Air Force and from the Marine Corps. The Corps' programs were entitled Jazz on the Potomac, and were precisely 14 minutes and 30 seconds of, well, jazz. (Frankly, I never really grasped which demographic they were aiming at. Were there really that many 18-to-22 year old guys listening to jazz in the late Sixties?) They were narrated by Felix Grant, who had an almost fifty year career in radio, and whose voice was apparently created with jazz in mind. Grant's narration was educational, focusing on the music – the style and history. He made a single, low-keyed pitch for the Marine Corps during each program. Here's an example (length – 76 sec):
The USAF, on the other hand, took a different approach. Their programs were narrated by the (in)famous Wolfman Jack, and featured current rock and pop hits. The Wolfman's pitch was less polished but more lively, in keeping with the musical selections. Following is a good example, this one targeting young women (length – 1 min, 42 sec):
The music on the USAF's programs was a rather eclectic mix. I managed to save three LPs – six programs – and each had four-to-six songs. I'm not sure why I feel it's important to archive this information, but I guess it's partly for personal reference and partly to capture a bit of cultural history. In any event, here are the program listings for those three discs.
Series #11 – Program 1 – Disc 1 – Side A (July, 1972)
Layla – Derek & The Dominos
It's Too Late To Turn Back Now – Cornelius Bros. & Sister Rose
Sympathy For The Devil – Rolling Stones
Immigration Man – David Crosby & Graham Nash
Series #11 – Program 2 – Disc 1 – Side B (July, 1972)
Tumbling Dice – Rolling Stones
I Need You – America
Questions – Moody Blues
Hot Rod Lincoln – Commander Cody & His Lost Planet Airmen
I Didn't Get To Sleep At All Last Night – 5th Dimension
Hold Your Head Up – Argent
Series #11 – Program 3 – Disc 2 – Side A (July, 1972)
I Saw The Light – Todd Rundgren
Wolfman Jack – Todd Rundgren
What Is Life – George Harrison
Troglodyte – Jimmy Castor Bunch
Old Man – Neil Young
Blue Sky – Allman Brothers
Series #11 – Program 4 – Disc 2 – Side B (July, 1972)
30 Days In The Hole – Humble Pie
People Make The World Go 'Round – Stylistics
Sweet Hitch Hiker – Creedence Clearwater Revival
Someday Never Comes – Creedence Clearwater Revival
Sylvia's Mother – Dr. Hook & The Medicine Show
Series #12 – Program 1 – Disc 1 – Side A (August, 1972)
Layla – Derek & The Dominos
Take It Easy – Eagles
Sunshine Superman – Donovan
Day By Day – Godspell
Brown Eyed Girl – El Chicano
Series #12 – Program 2 – Disc 1 – Side B (August, 1972)
Rip This Joint – Rolling Stones
School's Out – Alice Cooper
Whole Lotta Love – Led Zeppelin
Long Cool Woman – Hollies
Conquistador – Procol Harum
It's Too Late To Turn Back Now – Cornelius Bros. & Sister Rose
As an aside, none of those songs would likely have made the radio station's regular playlist (with the possible exception of Day By Day). The station format was "variety" or "middle of the road," and featured primarily country (or "country & western," as it was known back then) and easy listening music. So, the USAF platters were actually pretty cool collections from my perspective.
I'm in the process of digitizing these LPs, again for whatever historical value they might have). They're in pretty bad shape; I was not able to get the album covers and didn't have the foresight to at least put them in sleeves so they've been rattling around loose and uncovered for the past four decades. The flaws add a certain authenticity and character to them (sort of like my reflection in the mirror, or so I keep telling myself). Copyright law prevents me from ever posting the entire content online, but I've done what I could.