One of my VIRPs (Very Important Retirement Projects) is digitizing my vinyl LPs. I don't have room in our media cabinet for a turntable and there's no point in storing albums that will never be listened to in their original format, so I'm converting them to AIFF files and importing them to iTunes. They still may not get listened to — I made some questionable musical decisions back in the 60s, 70s, and 80s — but at least they'll be accessible.
I've almost finished ripping my collection of about 150 records (I didn't deem all of them worth keeping, and some I had already downloaded in digital format, so the actual number is much less), and I've turned my attention to some albums that my parents owned.
My dad had a fairly extensive collection of classical music. I'm not sure why, as I don't recall that he listened to them very much. It could be that he joined one of those "record of the month" clubs and it took a while to get out of it. I confess that other than some Beethoven symphonies and some Mozart emo synthopop (I kid, I kid…but, who knows? maybe for his time, that's what it was), I'm not keeping any of them. Dvořák's music is boring to me, plus I hate having to copy his name from a Google search in order to get all the weird characters right.
My parents' record collection also included many old gospel albums, including Gospel Music's Top Ten for 1971 and an undated live concert recording by Cynthia Clawson at the First Baptist Church of Conroe, Texas (in which she managed to "Christianize" Paul McCartney's Let It Be). I'll digitize some of these albums and put them in my mom's iTunes collection next time I'm home.
They had a lot of other recordings which I'll charitably refer to as "unique," including one I really want to spotlight here. It's a special release ("PREMIUM RECORD PROMOTIONAL COPY ONLY!") by the Columbia Special Products division of Columbia Records, and it's entitled Famous Football Songs of the Southwest Conference.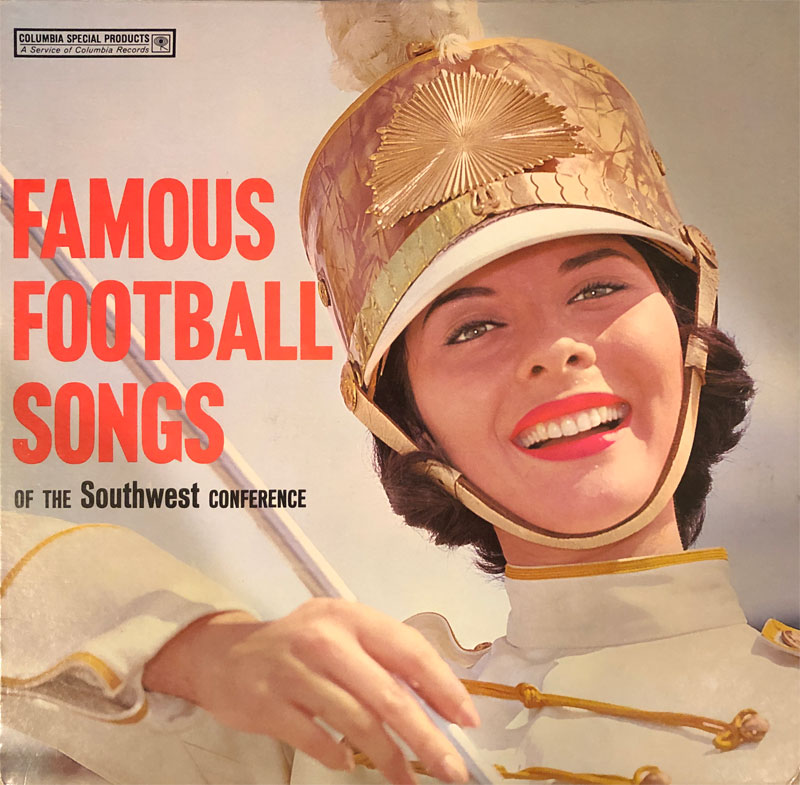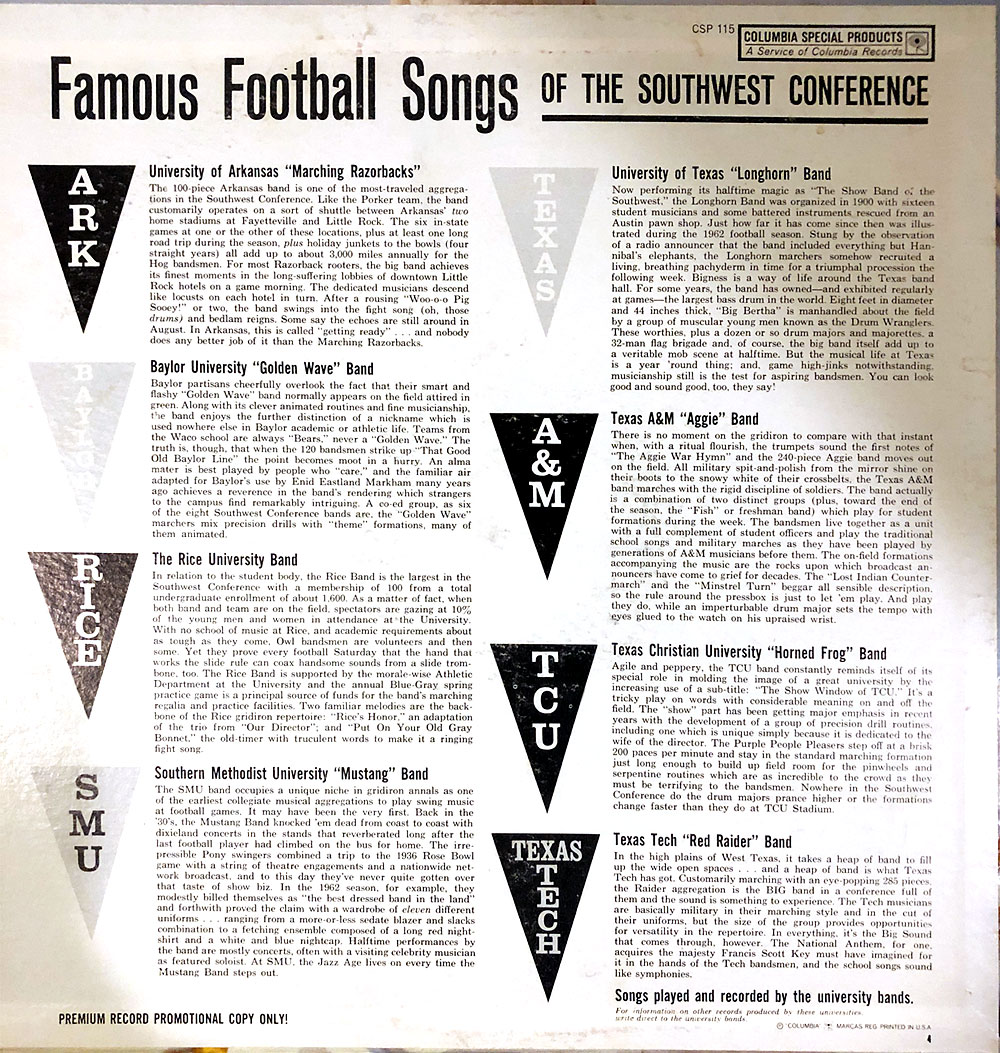 You remember the Southwest Conference, right? It existed for 82 years, until 1996 when it morphed into the Big 12 Conference and out of the national span of attention. Insert favorite "SEC SEC SEC" chant here.
Thirteen different universities were members of the SWC at one time or another, although most of us who remember the conference remember the eight "core members": the universities of Arkansas, Baylor, Rice, Southern Methodist, Texas, Texas A&M, Texas Christian, and Texas Tech.
The aforementioned record contains the school songs and the fight songs of each of the core eight, as played by each university band. Each band is given a paragraph of glowing praise on the album jacket (feel free to click on the small images above to see embiggened versions that you may or may not be able to read). If you're an alumnus of any of these institutions, you may find the descriptions interesting, either from what they do or don't mention (e.g. the Rice University Band is not described as the MOB, which stands for both "Marching Owl Band" and their gameday behavior on and off the field…or so I've been told), or for the dated information (e.g. the Fightin' Texas Aggie Band — an outfit with which I have some personal familiarity — now has more than 300 members).
The record is undated, but it must have been issued prior to 1972, because the University of Houston is not represented and that's the year it joined the SWC.
One last interesting tidbit. The record label carries this mention: "Specially prepared for Humble Oil & Refining Company and your neighborhood Enco dealer." I seem to recall that Enco was a broadcast sponsor for SWC football games; those of you with intact minds and memories should feel free to correct me if I'm mistaken.
So, enough of the chitchat. Here's what you've been waiting for. Here's an 8-second snippet of each university's fight song, brought to you in lovely Fire Ant Lo-Fi. If you can't pick out your alma mater's song, it's probably because your pretentious band director went for a fancy-schmancy cymbals-and-flourish intro longer than eight seconds.