This is the first in a series of four posts spotlighting music from the Fort Stockton (Texas) "Pride of Pantherland" High School band. These posts will span the school years from 1966-67 through 1969-70, corresponding to the time yours truly (and MLB) spent in the band. I'm doing this as a way of preserving some of the musical memories that were made in those years. I'm sure that not everyone who was in the band at that time kept the record albums that were issued after each spring concert.
If you were a band member during that era, please feel free to share your memories via the comments section below. A half century has passed, as have many of our schoolmates. This is a good time to record some history.
I was a freshman clarinetist entering high school in 1966, and being in the band was simultaneously exciting and terrifying. I don't have many specific memories of that year, but I do recall being rather intimidated by the director, James A. "Buddy" Jarrell. What I do remember is that Fort Stockton had a pretty good band, and we proved it by winning "Sweepstakes" that year. Sweepstakes was awarded to high school bands that received a "1" ("superior") from the judges in three separate contests: marching, sight-reading — playing never-seen-before music — and prepared concert.
I was a pretty good clarinet player in junior high, but high school was a whole other ballgame. Still, even as a freshman, I managed to work my way up to the middle of the section, playing the second part.
The best part of the year was when my future wife walked into the band hall. Little did I suspect that in seven years, we'd be married, and I'm sure she would have been aghast at the proposition at that point.
Here are photos of the band's album front sleeve and the record label. The song I've selected from this album is Incantation and Dance, composed by John Barnes Chance and premiered in 1960. Chance composed a number of pieces popular with high school bands, including Variations On a Korean Folksong which our band actually performed the next year. Chance died from accidental electrocution in 1972, at age 39.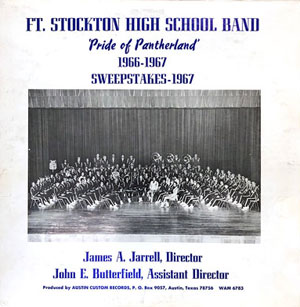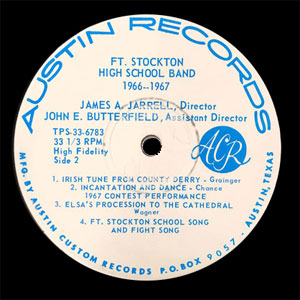 There I am…third row on the right, third from the end. You see me, right?
Here's the song, ripped directly from the original vinyl, in all its crackling glory. It starts slowly, but morphs into a pretty challenging piece.